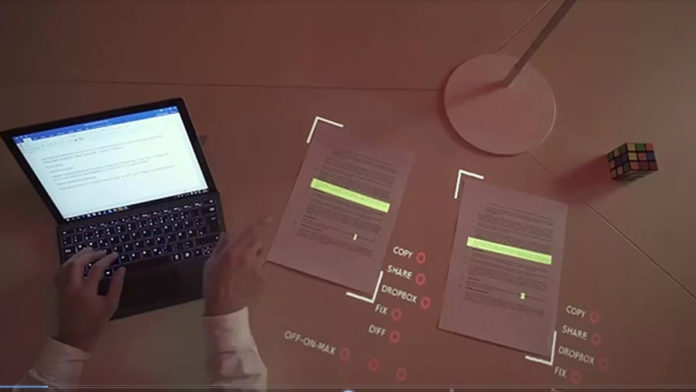 Lampix—a truly interactive tabletop augmented reality system that uses machine learning to recognize, reveal and react to the visual world—today officially launched its crowdfunding campaign on Kickstarter.
Lampix joins the revolutionary list of voice, virtual reality, augmented reality and IoT edge devices that are taking the promise of the digital era to a new realm—one that's centered on creating high-value experiences beyond desktop, laptop and even mobile screens.
At its core, Lampix looks like a fashionable LED table lamp, but it houses a high-definition projector and camera that does more than just display a screen on a flat surface. Lampix recognizes fine hand movements and intelligently responds to an ever-growing list of real-world objects, inviting interaction on a whole new scale.
Lampix has also released the PIX blockchain token system. PIX allows businesses and individuals to request and submit object reference images and category descriptions for the benefit of Lampix users and beyond. By building the robust object recognition platform this way, the system is decentralized and open to all users and developers. This will help generate a vast, always-growing database of images to power unique applications across industries.
"Lampix and our followers have been looking forward to this Kickstarter effort and we are very excited for the campaign to come to fruition," said Lampix Chief Executive Officer and co-founder George Popescu.
Lampix is looking to raise over $200,000 through the Kickstarter campaign, as well as distribute the Lampix Developer Edition to creators who will use the open API to grow the app ecosystem, generate user insights and provide feedback. Gordon Meyer, Vice President of Marketing for Lampix, said, "This is a key step in getting Lampix into the hands of developers and technology enthusiasts around the U.S. and, later, the world."
Back Lampix on their Kickstarter page.
---
About Lampix
Lampix is an augmented reality smart projector and camera system that recognizes hands and objects, transforming any existing horizontal surface into an interactive one with a dazzling digital display. Lampix was named winner of Highway 1 (2016), the AR/VR category in the Accelerator Pitch event at SXSW (2017) and was named Best Augmented Reality Display by Next Reality (2017). The company currently has offices in New York and San Francisco.