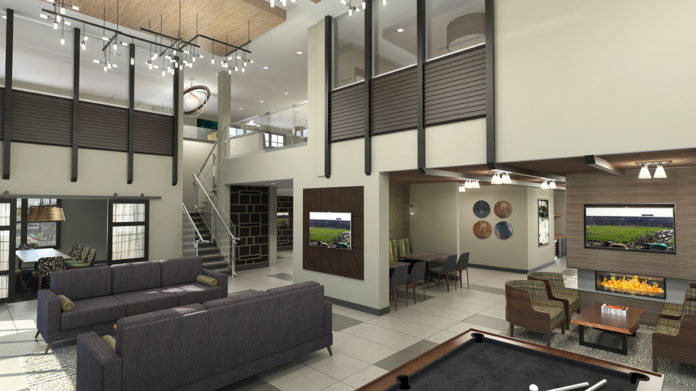 Chicago-based Mary Cook Associates (MCA), a national, award-winning commercial interior design firm, today announced it is working in partnership with Toll Brothers Apartment Living®, a subsidiary of Toll Brothers, Inc., on four new-construction multifamily projects.
"We are so excited to be a part of these projects as each offers special and unique design opportunities," said Mary Cook, founder and president of Mary Cook Associates. "Our process is to embrace each community and its individual influences – whether it's wellness, historical, cultural or something else entirely – and reflect that through our design approach. Toll Brothers Apartment Living has such a strong vision for each of these communities, so there's no shortage of inspiration to draw from as we design environments that will resonate with the intended residents."
Historic Railroad Relationship Drives Design for Frisco, Texas Rental Community
In Frisco, Texas, MCA is designing the lobby, club room, leasing and management office, fitness center, lounge areas, corridors, unit entries and apartment finishes for the new 258-unit luxury apartment community on Page and Grace streets, off the Dallas North Tollway, in the Frisco Square neighborhood. Frisco's historic relationship with the St. Louis-San Francisco Railway, which was built through the area in 1902, provided the inspiration for MCA's design, which features industrial influences and undertones, including a combination of raw woods and metals recalling details of the railroad's construction. The use of metal "X" detailing throughout also references the railroad connection. The Boxcar lounge combines metal detailing and heavy tufting in the fabrics to create the ambiance of an old club car.
"Older millennials, including both singles and couples, were especially top of mind for us with this design, and the flexible nature of the spaces we created reflects the social interaction and local connectivity that's so important to this tech-savvy group of trend-setting renters," said Cook. "For example a six-top table in a co-working space can also be used for socializing over coffee or a glass of wine."
Designed by Addison, Texas-based BGO Architects, the development is on track for completion by early 2020.
International Cultures Influence Design for West Windsor, N.J. Development
MCA is planning for an array of cultural diversity of future residents with its designs for the new development of 40 rental units and 192 corporate units in West Windsor, N.J. The firm is designing the building's entry, leasing office, lounge and game area, chef's kitchen, private dining spaces, conference rooms, social room, mail room, common space restrooms, fitness center and corridors.
According to Cook, the development is expected to appeal to international renters thanks to its short commute to more than 50 pharmaceutical and bio-tech companies with strong recruiting programs in Asia.
"Renting is such a popular option in this area for talent coming to the U.S. for short-term projects, so we wanted to ensure this development would be comfortable for everyone, including international residents," said Cook. "We thought carefully about possible cultural considerations as we designed common spaces. For example, we selected non-permeable textiles and materials for a chef's kitchen in the amenity lounge, in order to stand up to different international cooking styles that use oils in high heat."
The development is also expected to appeal to families thanks to West Windsor's rank as the No. 1 school district in the state. As such, MCA designed amenity spaces to be family-friendly, with the game room geared to children and conference rooms configured to do double duty as homework areas or study suites for Kumon learning (an ongoing learning enrichment program founded in Japan in the late 50s).
Additionally, the community reflects the overarching importance of technology in renters' lives. All common areas – including the club rooms, bar and gaming spaces – integrate spaces for working alone or with a group, while also allowing for those same spaces to be utilized for dinners with extended family or gatherings with a large group of friends.
Located in Princeton Junction, this development incorporates nine buildings, all designed by Philadelphia-based BartonPartners. The anticipated occupancy date is July 2018.
Noted Midcentury Architects' Style Informs Design at 31 E. Thomas in Phoenix
MCA will create multiple spaces for a new 256-unit four-story rental community at 31 E. Thomas in Phoenix's Midtown neighborhood. MCA is designing the development's amenity and common space areas, including the club room, fitness room, bike storage, main entry, lobby and mail corridor, leasing office and elevator landing, as well as an interior unit finish package and exterior finishes. Additionally, MCA is collaborating with the landscape architect on the courtyard and pool area.
Paying homage to the classic midcentury elements seen in the early work of noted Phoenix architects Al Beadle and Ralph Haver, MCA is combining those elements with modern, reclaimed and reused materials throughout the property, as well as work from local artisans.
"We incorporated these sophisticated midcentury touches and local references to resonate with Midtown renters, who are looking for a culturally rich, refined escape that stands apart and above the rest," explained Cook. "At the same time, this development's amenities such as the fitness room, pool and bike storage fit right in with these renters' active lifestyle and desire to explore."
The project architect is Phoenix-based Todd & Associates and occupancy is anticipated by early 2020.
Wellness Inspires Design at Development in Atlanta
MCA is highlighting the overarching theme of wellness with its designs for a new 343-unit multifamily community in Atlanta's Brookhaven area, which is home to Emory Sports Medicine Complex and numerous medical offices and facilities. The design firm is creating the rental property's amenity area, pool deck, two courtyards, a dog wash room, residential corridors and common areas, an interior unit finish package and model apartments.
"The development's proximity to so many medical facilities is expected to draw a number of health care professionals as residents, so wellness emerged as the natural design focus for the entire community," said Cook. "That is reflected not only in the materials and color palette we selected, but also in how we designed certain areas."
To bring this to life, MCA created calm and meditative spaces using a color palette and textiles with a refreshing effect. Those materials include natural woods and fibers, cool colors and clean lines.
Located at 10 Executive Park W, NE, in Brookhaven, the project is expected to open for occupancy in fall 2019. Atlanta-based Dwell Design Studio is the project architect.
---
About Mary Cook Associates:
Mary Cook Associates (MCA) is a national, award-winning commercial interior design firm acclaimed for work that yields measurable returns for real estate owners and developers. The firm is comprised of more than two dozen designers and architects offering strategic and imaginative designs for a wide variety of spaces that respond to the demographic, geographic and lifestyle influences of target markets. This results in smart spaces that establish immediate connections with their users and accelerate activity, occupancy rates and sales for marketers. After realizing that MCA has been consistently hired to 'fix' unsuccessful interior spaces done by other design professionals, founder Mary Cook wrote "The Art of Space," a textbook that breaks interior design into seven fundamentals. The book is used in design schools throughout the U.S., and its seven principles form a foundation that informs all of the design work MCA produces.
Cook is also credited with introducing the concept of Return on Environment (R.O.E.) to the design and development communities. The term reflects the measurable net benefits communities, organizations and individuals gain from environments that enable them to do, feel and be their best.