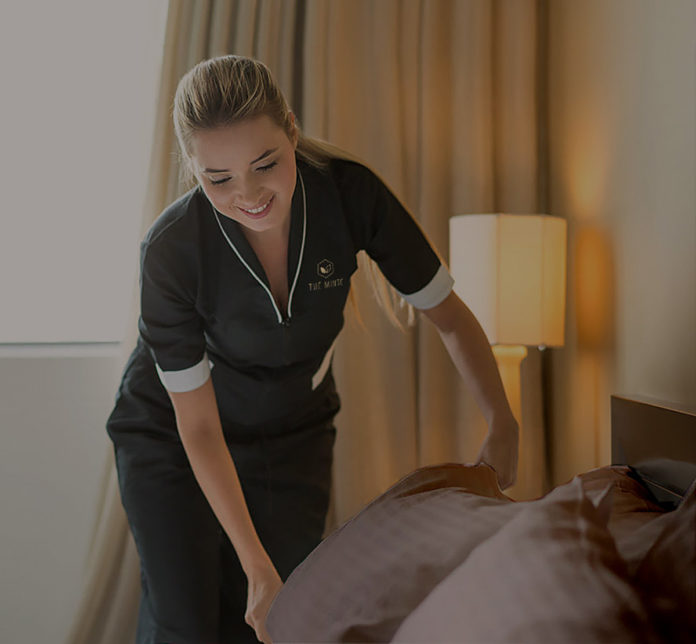 When it comes to feeling luxurious, the little things often go a long way. Who doesn't love returning to a tidy hotel room with a freshly made bed after a jam-packed day around town?
But what if you could treat yourself to that feeling without having to leave home? That's the premise behind The Minte — a Chicago-based on-demand housekeeping startup.
The Minte lets its users book speedy tidy-ups of their apartments. A typical visit includes a floor sweep and spot clean, countertop wipedown, loading the dishwasher, a quick decluttering, a bathroom refresh and a newly made bed.
In other words: what you'd do if you had people coming over in 45 minutes.
"The hotel-style clean is designed to help people affordably maintain their homes," said CEO Kathleen Wilson, who founded the company while she was an MBA student at University of Chicago's Booth School of Business. "Instead of spending $100 to $200 a pop to have someone come in and do spring cleaning, you can regularly have someone come in and clean the things you use every day."
After conceiving the idea, Wilson and one of her housemates started timing themselves while cleaning their friends' apartments. Upon finishing a tidy-up, they surveyed the "customers" to find out how much they'd be willing to pay for the service.
Following that proof of concept, The Minte made its way into the New Venture Challenge and the Elmspring Accelerator, a real-estate technology accelerator based in 1871. Soon after graduating from that program, the startup partnered with its first apartment building — and 12 new buildings signed up within a month.
"Once you're in one building, all the others start coming to you," Wilson said. "It really just exploded."
Tenants in participating buildings can book cleanings in a few different ways. Users can order on-demand services, schedule future cleanings or buy subscription packages through The Minte's website or forthcoming mobile app. The company also has a physical, connected device that the user can press to schedule same-day service — think Amazon Dash, but for housekeeping.
The startup is also working on integrations with popular smart home services like Amazon Alexa, Google Home and Siri.
The Minte's cleaning staff, all full-time employees, have a custom tablet application used to keep track of their schedules and mark when they enter and leave a unit, to let customers know when the service has been completed.
Pricing is based on the number of bedrooms in the customer's unit. Because the job gets easier the more frequently it's done, Wilson said The Minte will also offer discounts for users who schedule regular cleanings in advance.
For a one-bedroom apartment, the current price is $25 for the basic level of service. Deep cleanings start at $90. Those price points are made possible by economies of scale, said Wilson, thanks to the company's strategy of employing on-site cleaners.
The Minte recently closed a $2.3 million seed round, which it will use to expand its team and invest in its technology platform. Because the company partners with apartment buildings, Wilson said it can forgo many of the marketing expenditures many consumer-facing companies face.
The Minte's corporate team currently has five members, while its housekeeping team has more than 10. As the company expands to new cities, it will establish smaller local teams to support operations throughout the country.
Author: Andreas Rekdal, Staff Writer, Built In