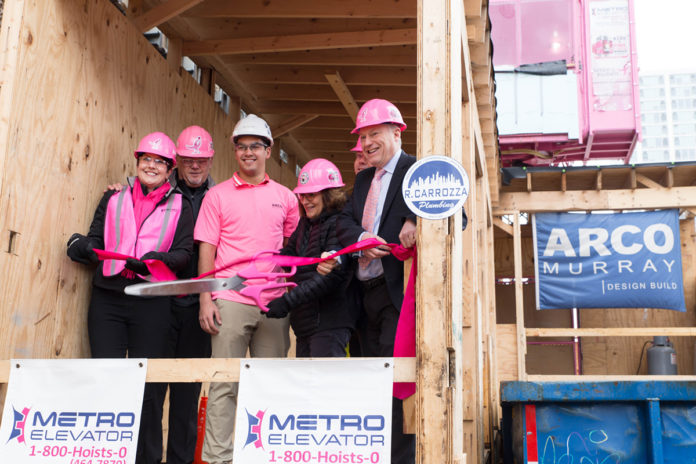 Lakeview's newest luxury apartment project, Viridian on Sheridan, is supporting the Susan G. Komen foundation with Chicago's first "Ride the Pink Elevator" campaign. The goal of the pink elevator campaign is to raise funds and awareness within the construction industry for breast cancer programs and services in Chicago and across the country. To date, the "Ride the Pink Elevator" campaign, which started in Indiana, has raised over $174,000 for Susan G. Komen nationally.
Viridian on Sheridan's owner, Vermilion Development, and ARCO/Murry Construction Company have partnered with Metro Elevator Co. to bring a pink elevator to the construction site, which is located on the prominent corner of Broadway Avenue and Sheridan Street, just south of Irving Park Road.
"We are excited to be able to help give back to our community through our partnership with Metro Elevator," said Dave Cocagne, president and CEO of Vermilion Development. "Our hope is that having the symbolic and immediately recognizable pink elevator at the construction site will help us raise awareness and $30,000 for the Susan G. Komen Foundation and local organizations assisting breast cancer patients."
According to Metro Elevator, donations make a major difference locally, with 75 percent of the money staying in the local area and 25 percent going to research. Off to a good start, Vermilion and the ARCO/Murry Construction Company were able to raise nearly $4,500 during a kick-off reception celebrating the elevator on Thursday, Feb. 22 and at an on-site ribbon cutting ceremony on Friday, Feb. 23. Attendees of the ribbon cutting ceremony dressed in pink hard hats and construction vests garnered the attention of local news crews.
The pink elevator will continue to operate through spring, as work continues at Viridian on Sheridan, which will deliver 100 new apartments and 3,100 square feet of street-level retail to Chicago's popular Lakeview neighborhood.
"We are very proud to be working with a developer like Vermilion who has not only thought through every detail of the building's design and amenities, but is also looking for ways to step outside of the box and make a difference within the community," said Aaron Galvin of Luxury Living Chicago Realty, the exclusive leasing brokerage for Viridian on Sheridan. "The pink elevator is not only inspiring for those who walk by and see it, but also for the workers on the project, including our leasing staff."
Located at 734 W. Sheridan, Viridian on Sheridan is a transit-oriented development that will offer environmentally-conscious amenities and smart living apartment technology. The Lakeview apartments will feature 9-foot ceilings, wood plank flooring, custom modular closets and open gourmet kitchens.
Viridian on Sheridan offers a number of amenities including, a thoughtfully designed and technology forward fitness center, rooftop deck and two resident lounges with a variety of spaces for residents to gather, entertain and work from home. Viridian on Sheridan will begin pre-leasing this spring for May, June and July move-in dates.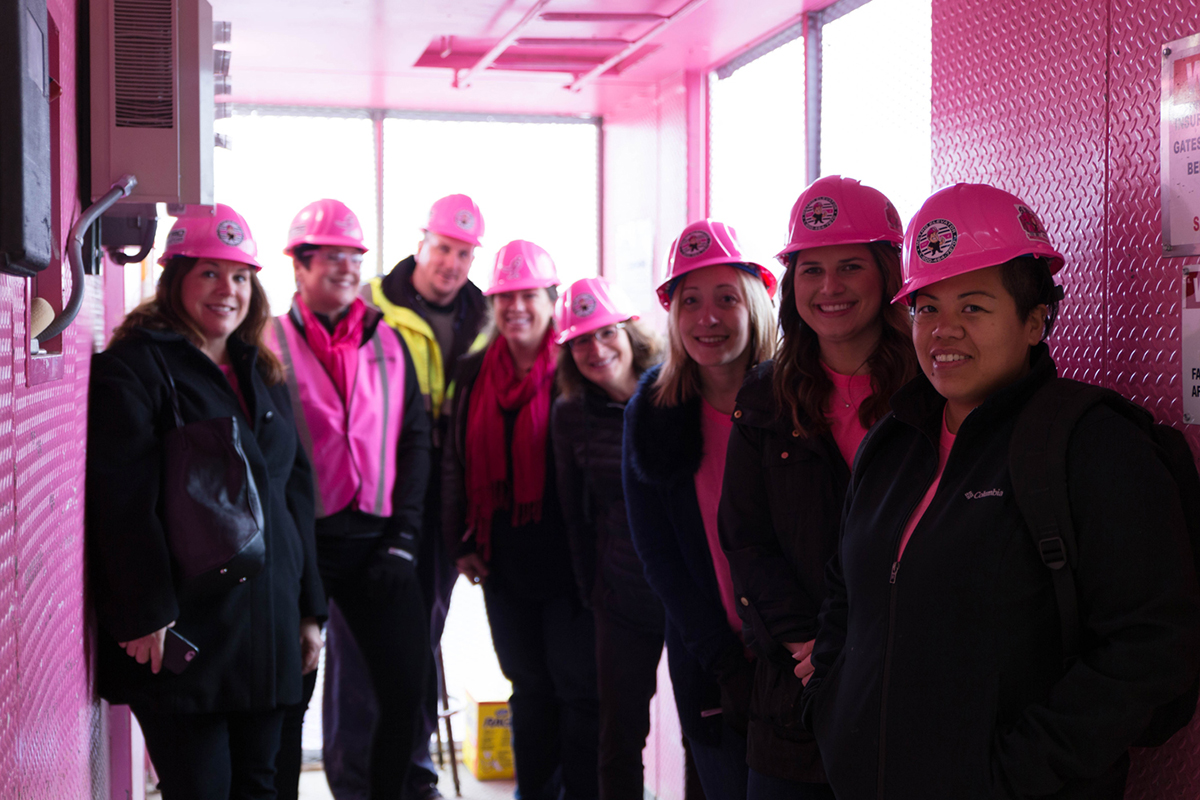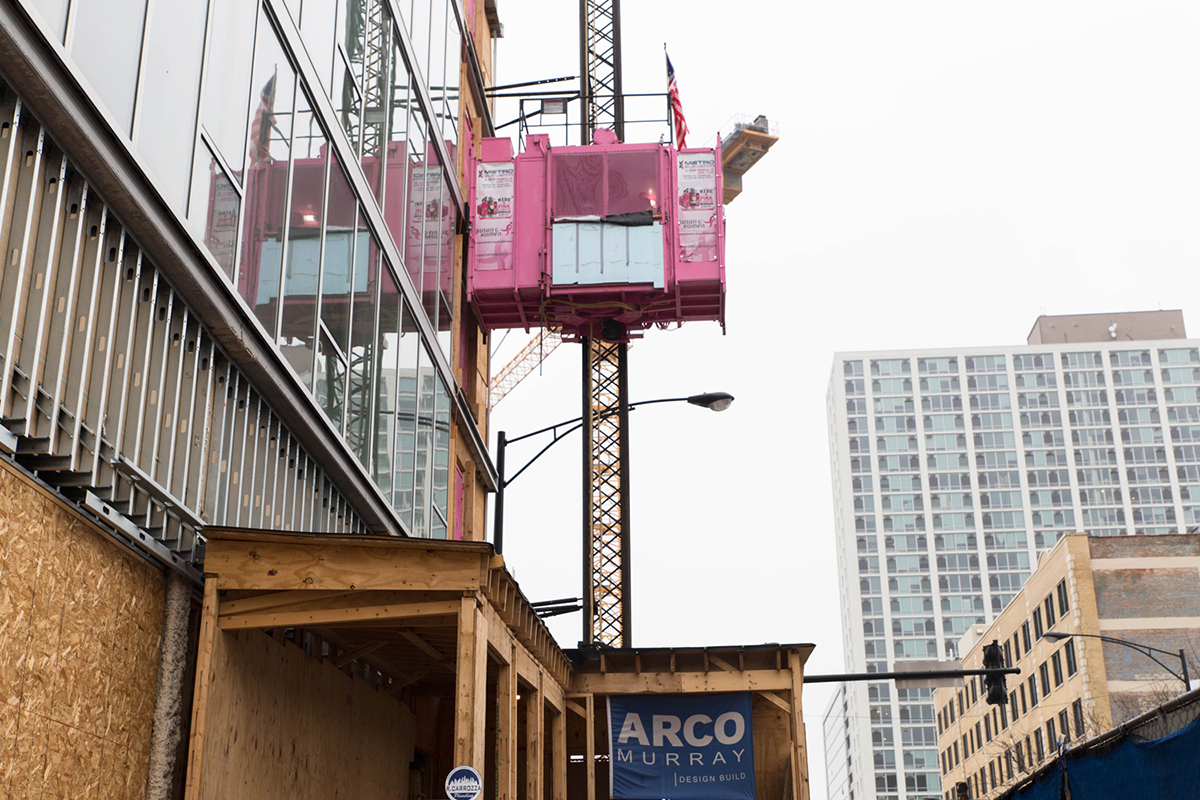 ---
About Susan G. Komen Chicago:
Susan G. Komen's promise is to save lives by meeting the most critical needs in our communities and investing in breakthrough research to prevent and cure breast cancer. Komen Chicago has distributed $17.4 million in community grants over the past 20 years to ensure the underserved throughout the Chicago area get the care they need. In addition, over $5 million has been invested in global ground-breaking research since 1997. Annually, Komen Chicago donates 75 percent of net funds raised to community grants and dedicates 25 percent to global research.

About Metro Elevator:
Metro Elevator Co. Inc. was founded in 1970 and is based in Indianapolis, Indiana. We specialize in sales, service and leasing of various brands of rack and pinion construction hoists. Our corporate motto is, "Getting our customers to the top since 1970." Metro Elevator is a proud sponsor of the Indianapolis Colts and Indy Car driver Pippa Mann, in the Susan G Komen Indy car at the 2014 Indianapolis 500.
About Vermilion Development:
Vermilion Development is the Midwest specialist in community-oriented mixed-use projects and public-private partnerships. The firm has a knack for taking on complex projects others can't – whether it's transforming under-utilized, infill sites into vibrant mixed-use developments or structuring complex financing deals so seniors can live with dignity. Partners choose Vermilion because of its entrepreneurial spirit and relentless drive to deliver successful projects despite daunting challenges.
About ARCO/Murray:
ARCO/Murray is a single-source national design and construction firm that specializes in commercial construction and real estate needs for Fortune 500 companies and individual businesses. The company focuses on understanding the client's business in order to meet their construction needs. ARCO/Murray assists clients from concept to completion through the design-build process.

About Luxury Living Chicago Realty:
Luxury Living Chicago Realty is a boutique, luxury brokerage with a focus on residential rentals. Luxury Living Chicago provides clients with an unparalleled level of service, market knowledge, and access. Since 2003, Luxury Living Chicago Realty's founder and CEO, Aaron Galvin, has rented more than 4,500 apartments and condos with revenue exceeding $125 million. For the past four years, the Chicago Association of Realtors ranked him as Top Producer Overall in Rental Revenue and ranked him among the top 1 percent of all residential rental brokers in Chicagoland. Luxury Living Chicago's website and its blog, the Luxury Chicago Apartment Update, average 35,000 hits each month from renters and lessors seeking in-depth analysis of what's driving luxury rental decisions and the Chicago rental market.