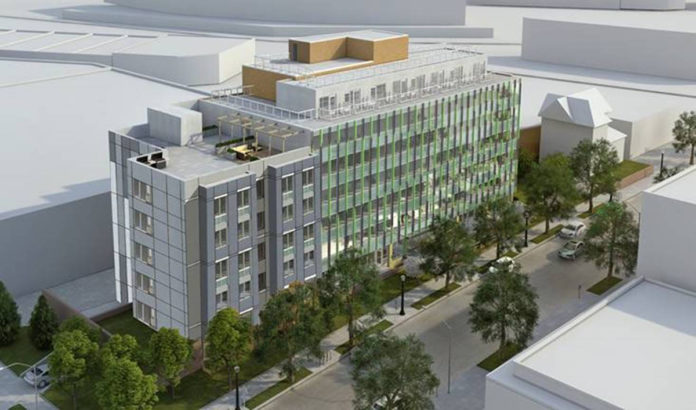 Urban Investment Partners (UIP) of Washington DC has unveiled Frequency Apartments, a 100-unit luxury apartment community located in a former northwest Washington, DC office building that housed National Public Radio affiliate WAMU.
UIP acquired the building at 4000 Brandywine Street, NW, along with two other properties, from American University in 2016. The company has now completed a $14 million year-long 36,000 square foot gut renovation and a 14,000 SF addition to the building, which is just one block from the Tenleytown-American University station on Metrorail's Red Line. UIP joined with Tenleytown Main Street to officially open the neighborhood's newest multifamily residence.
"Frequency is our most contemporary apartment community to date," said UIP Principal Steve Schwat. "The name is derived from its history as a radio station and recording studio for WAMU/NPR programming, including the syndicated talk shows hosted by Diane Rehm and Kojo Nnamdi. Situated on one of the highest elevations in the District, Frequency has an unrivaled location within easy walking distance of Metro, American University, Whole foods, Starbucks, Panera, Best Buy, and dozens of other shops and restaurants."
The distinctive open-space apartments at Frequency offer luxury plank flooring, custom cabinetry, stainless steel appliances, designer lighting, quartz kitchen counters, spacious modular closets, large bathrooms, and individually controlled hearing and cooling, and ensuite laundry equipment.
Residents of this new pet-friendly community will enjoy keyless entry, a roof deck with grilling area and panoramic views, a state-of-the-art fitness center, resident lounge, teleworking space, conference and meeting rooms, bike storage, resident lounge, package acceptance, and reserved garage parking.
Frequency is convenient not only to Metrorail but also to 11 Metrobus lines, the American University shuttle (on the same block), and the Sibley Hospital shuttle. The many dining options within walking distance include the popular District Taco, and Jose Andres' recently open fast casual vegetarian destination Beefsteak. Other nearby destinations include the new American University Law School, the highly regarded Wilson High School, Wilson Aquatic Center, Fort Reno Park and concert stage, and the Friendship/Tenley Public Library.
Named in the late 1700's for local tavern owner John Tennally, Tenleytown surrounds the site of Civil War-era Fort Reno, built on the city's highest natural ground at 409 feet above sea level. By 1900, the last remains of the fort had been replaced by a reservoir, water tower, and a park that features sports fields, playgrounds, tennis, and more.
The 1941 opening of Sears & Roebuck at Wisconsin Avenue and Albemarle Street was an important milestone in the neighborhood's growth. The area's first Hechinger store also was located in Tenleytown; after Sears vacated its store in 1994, Hechinger bought and moved into the property. Hechinger eventually shuttered all of its stores. By 2003, the former Sears/Hechinger site had been converted into one of the city's first transit-oriented developments, Cityline at Tenley, which currently includes Best Buy, The Container Store, and Ace Hardware.
---
About Urban Investment Partners
The UIP family of companies owns and manages more than 2,800 apartments in Washington, DC and Maryland and has renovated, restored, and built more than 25 downtown apartment buildings and condominiums over the last ten years. UIP's primary focus includes "heavy lift" renovations, adaptive reuse of office properties, and working with tenants in Washington, DC, helping them exercise their TOPA (Tenant Opportunity to Purchase Act) rights. UIP also is active in entitling land, infill development, and acquiring residential assets in the close-in Washington, DC suburbs.