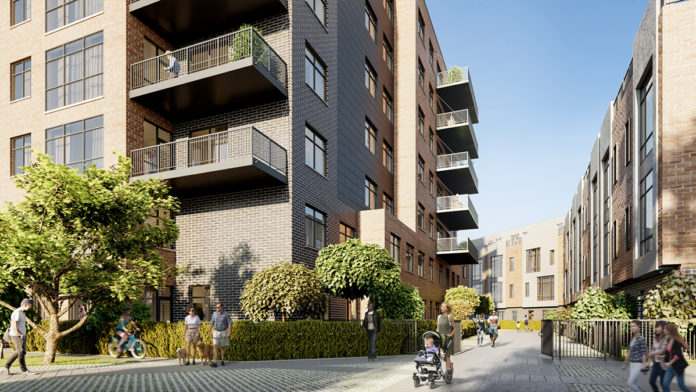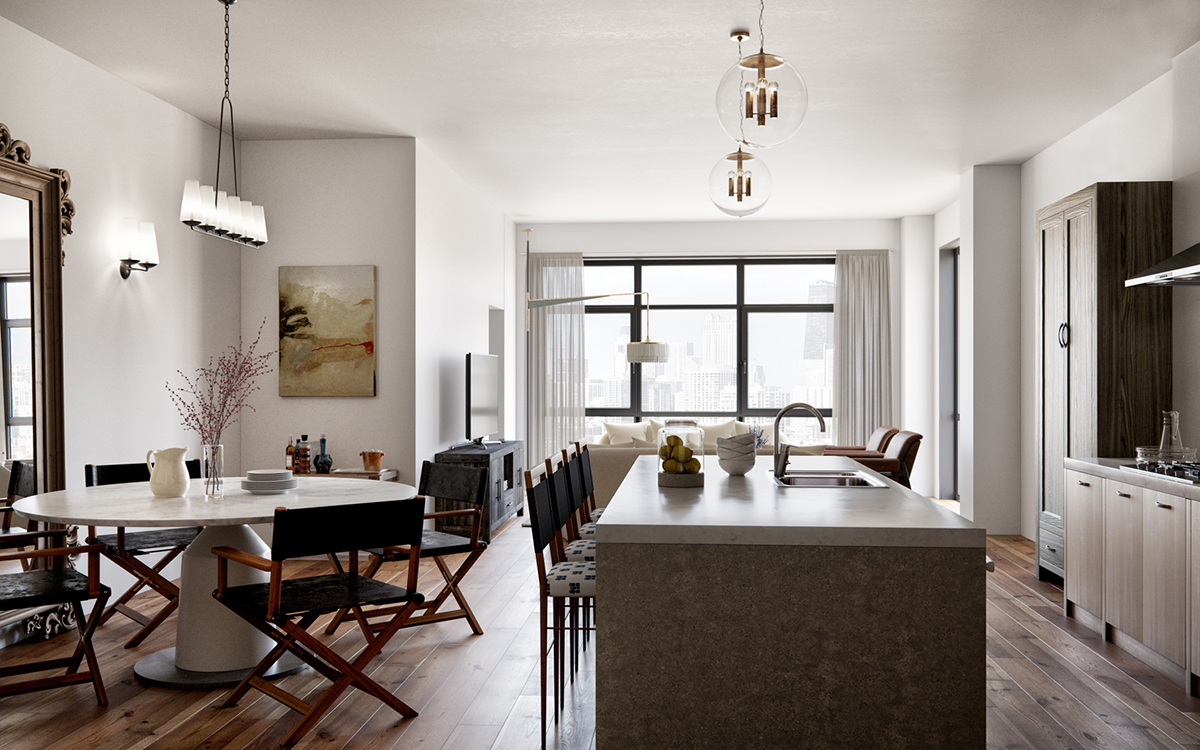 Vermilion Development today announced plans to begin sales for Alcove M.D.P., its newest condominium and townhome development in Chicago. Located at 1648-1650 Division St. and adjacent to a new mixed-use rental development, Alcove M.D.P. will bring 43 condominiums and 12 townhomes to the heart of Wicker Park. Named for its coveted location between Milwaukee (M), Division (D) and Paulina (P), Alcove M.D.P. will begin pre-sales in early April with deliveries slated for late 2019.
"The timing of this project couldn't be better as we're entering the condominium market just as it's starting to heat up again – giving buyers mor
e options for new-construction," said Dave Cocagne, president and CEO of Chicago-based Vermilion Development. "As many renters are making the move to homeownership, the condominiums and townhomes at Alcove M.D.P. will be a much-needed addition to this popular neighborhood that is currently underserved for new-construction homes of this caliber."
Buyers can choose between two-, three- and four-bedroom condominium floor plans ranging from 1,400 to 2,400 square feet and priced from $600,000 to $1.1 million. The townhomes will offer four- and five-bedroom floor plans ranging from 2,900 to 3,400 square feet and priced from $1.1 million to $1.3 million. In a strategic partnership, Luxury Living Chicago Realty and ON Collaborative, Coldwell Banker's development sales and marketing firm, will be co-listing and co-marketing the property.
"Alcove M.D.P. will be the first large-scale condo development project in Wicker Park since 2007 and certainly the most unique with a highly curated sensibility," said Aaron Galvin, founder and CEO of Luxury Living Chicago Realty. "We've worked with Vermilion on leasing Viridian on Sheridan, its new luxury apartment building in Lakeview, and know first-hand how much the firm goes the extra mile to design well thought-out, high-end homes that appeal to sophisticated city dwellers. And because of their size and extra wide layout, the townhomes in particular will be a draw for those who want a maintenance-free alternative to single-family homes in this area."
Residents of Alcove M.D.P. can expect upscale finishes, including Viking appliances, imported Italian cabinets, wide-plank hardwood flooring, quartz countertops, and an impressive array of selections and upgrades to create their dream home with a design team. The seven-story condominium building has a shared rooftop patio with seating and grills, plus extensive private outdoor terraces for each unit. Condominiums at Alcove M.D.P. will include one parking space, while the townhomes have an attached two-car garage.
Located just a block away from the CTA Blue Line stop, Alcove M.D.P. is also nestled among the numerous restaurants and boutiques of Wicker Park. The property will also feature a landscaped plaza providing pedestrian access between Milwaukee, Division and Paulina.
"While we're seeing pent-up demand for new for-sale product across the city, homes near public transit – especially those with direct access to O'Hare International Airport and downtown – are by far the most popular for busy professionals," said David Wolf, president of ON Collaborative. "With Alcove M.D.P., residents have a unique opportunity to live in one of Chicago's most bustling and creative neighborhoods. Plus, with the proposed Target adjacent to the project, things don't get more convenient. That's something to think about for long-term appreciation."
Wolf added that to tap into Wicker Park's authentic flavor, the sales center for Alcove M.D.P. will offer a full complement of finishes and designer options, so buyers will have a variety of choices to personalize their home.
To help buyers of Alcove M.D.P. visualize their new home with the myriad of selections available to them, the sales center will offer virtual reality (VR) technology so buyers can see how finish options will look in their home. The VR experience will also allow buyers to tour the development from multiple points – as if they were standing in the real building.
Vermillion has partnered with Chicago-based Hirsch Architects to design Alcove M.D.P., while Ma'am Design Collective is handling interiors and the finish selection process for buyers. Maris Construction Corporation will oversee construction.
---
About Vermilion Development:
Vermilion Development is the Midwest specialist in community-oriented mixed-use projects and public-private partnerships. We have a knack for taking on complex projects others can't—whether it's transforming under-utilized, in-fill sites into vibrant mixed-use developments or structuring complex financing deals so seniors can live with dignity. Partners choose us because of our entrepreneurial spirit and our relentless drive to deliver successful projects despite daunting challenges.
About Luxury Living Chicago Realty:
Luxury Living Chicago Realty is a full-service multifamily consulting, marketing and branding, strategy real estate brokerage based in the River North neighborhood of Chicago. Our team consists of real estate executives, marketing professionals, creative strategists and leasing/sales authorities all passionate about providing a best-in-class experience for customers seeking a luxury apartment or condo. Luxury Living Chicago has consistently been named to the Inc. 5000 as one of the 50 fastest growing real estate companies in America and CEO/Founder Aaron Galvin has consistently ranked in top 1 percent of all Realtors in Chicagoland.
About ON Collaborative:
ON Collaborative is a dedicated, full-service development sales and marketing firm integrated with Coldwell Banker branded operations. By combining specialized development marketing expertise with global distribution power, ON Collaborative creates custom, data-driven campaigns for the developers it serves, maximizing sales velocity and pricing to deliver superior returns. With curated on-site sales teams dedicated to each project, ON Collaborative serves as an extension of the developer. ON Collaborative is part of NRT LLC, the nation's largest residential real estate brokerage company. NRT is the company-owned brokerage operations of Realogy Holdings Corp.