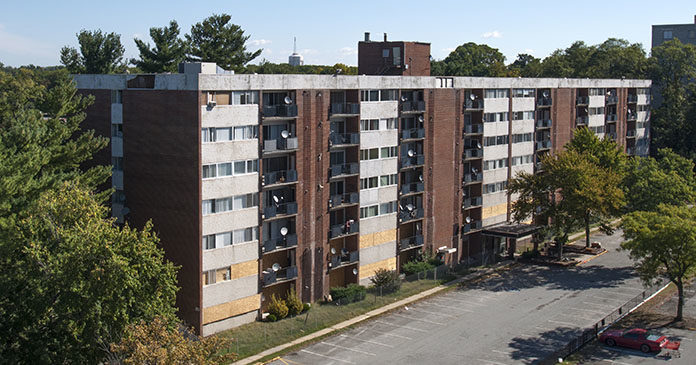 Transwestern today announces it represented the Lynnhill Condominium Association in the disposition of Lynnhill Condominiums, a 219-unit community at 3103 – 3107 Good Hope Ave in Temple Hills, Maryland. The property was purchased by Dragone Realty LLC for $17.05 million, or $77,854 per unit. Transwestern's Mid-Atlantic Multifamily Group, led by Co-Directors Dean Sigmon and Robin Williams, represented the seller in the transaction.
"This was a complex and unusual transaction because our team was marketing the vacant community while it was going through the bankruptcy process, which was led by a team of lawyers from Pillsbury Winthrop Shaw Pittman LLP," said Williams.
Pillsbury filed the Chapter 11 plan and other pleadings that allowed for the sale of the property free and clear of liens and other encumbrances pursuant to a robust auction. The property, built in 1967, is a short walk to the Naylor Road Metro station with proximity to downtown Washington, D.C. Lynnhill Condominiums was 100 percent vacant at the time of sale, and the buyer is planning a significant renovation of the property.
"We're very pleased with the results of this robust auction," said Stanley Briscoe, Acting President of the Lynnhill Condominium Association. "We're confident the competitive bidding maximized recoveries for condo unit owners."
According to Transwestern research, a net total of 43,800 jobs were added to the Washington area during the 12 months ending January 2018, with the area poised for continued growth in 2018.
---
About Transwestern
Transwestern is a privately held real estate firm of collaborative entrepreneurs who deliver a higher level of personalized service – the Transwestern Experience. Specializing in Agency Leasing, Management, Tenant Advisory, Capital Markets, Research and Sustainability services, our fully integrated global enterprise adds value for investors, owners and occupiers of all commercial property types. We leverage market insights and operational expertise from members of the Transwestern family of companies specializing in development, real estate investment management and research. Based in Houston, Transwestern has 34 U.S. offices and assists clients through more than 180 offices in 37 countries as part of a strategic alliance with BNP Paribas Real Estate.