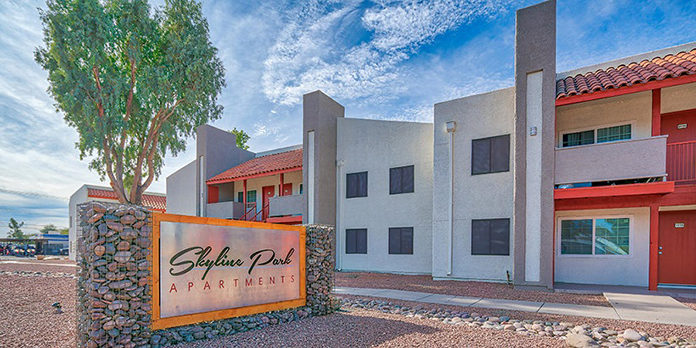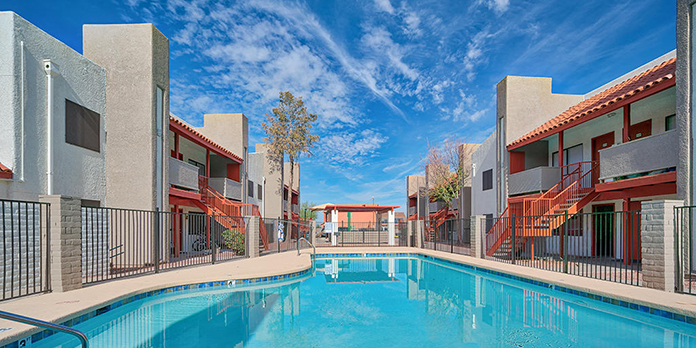 Alpha Wave Investors, a private equity investment firm specializing in opportunistic and value-add multifamily and hospitality assets in the Western U.S., has completed its tenth full-cycle property investment with the sale of Skyline Park Apartments, a two-story, 60-unit apartment community in Tucson, Arizona.
Alpha Wave acquired the asset in August of 2017 and implemented a repositioning and renovation campaign that increased property value by 35-percent in just eight months.
"Our speed and precision are keys to the viability of our investment platform," says Jordan Fisher, a Founding Partner of Alpha Wave Investors.  "As our tenth successful full-cycle investment, Skyline Park Apartments demonstrates our proven platform of proficiency in identifying value-add opportunities, executing strategic upgrades, and exiting assets with strong upside for our investors."
The property, which was formerly known as Park Village Apartments, was re-branded and re-positioned under Alpha Wave's ownership, with a host of capital improvements including exterior paint, roof repairs, parking lot resealing, and a completely new landscape.  The firm also conducted an overhaul of the pool and upgraded pool equipment, installed a new children's play area with shade structure, and renovated more than 90-percent of the property's interiors, including the installation of environmentally-friendly, low-flow toilets and showerheads.
"We understood from the beginning that this property would appeal to families in the Tucson area, and set out to introduce the amenities that we knew would attract quality renters," says Fisher.
The asset is located in close proximity to several schools, including Drexel Elementary, Rivera Elementary, Apollo Middle School, Toltecalli High School and Alta Vista High School, and is only five miles from the University of Arizona. Situated just south of a major east-west thoroughfare, the property offers easy access to nearby shopping, dining, and services, as well as Interstates 19 and 10.
"The Tucson market is perfectly poised for the opportunistic investments we seek," says Fisher.  "Economic recovery has been slower here than in many major markets, however there is a solid renter base of highly educated employees.  We continue to seek investment opportunities in Tucson, as well as other markets with similar fundamentals, such as Las Vegas and Salt Lake City."
Fisher confirms that Alpha Wave is also actively investing in hotel properties throughout the Western U.S., under its same opportunistic and value-add investment strategy.
"We understand how to reposition multifamily and hospitality products in a way that delivers returns quickly, and gives buyers assets that will thrive for the long term," Fisher explains. "In this case, the buyer of Skyline Park now has a property that is close to full occupancy in a submarket where rent growth is still possible."
Built in 1985, Skyline Park offers a mix of one- and two-bedroom apartments just minutes from Downtown Tucson, offering residents a variety of musical events, museums, film, theater and art, as well as festivals, unique shops and restaurants.
Alpha Wave sold the property to a Southern California-based owner of multifamily properties for $2.6 million. Bill Hahn, formerly with Colliers and now with Nothmarq, was the listing broker, while Alon Shnitzer of ABI Multifamily identified the buyer and facilitated the introduction of the buyer and seller.
The property is located at 5290 South Park Avenue in Tucson, Arizona.
---
About Alpha Wave Investors
Alpha Wave Investors, LLC. is a Southern California-based private equity investment firm specializing in multifamily and hospitality investments in the Western U.S. Known for its creative, disciplined, and value-driven approach, the firm invests on behalf of individuals and institutions, and has acquired assets valued at more than $100 million to date.
Led by Ken Cruse, former CEO of a $5 billion publicly traded REIT, as well as Jordan Fisher and David Sloan, Alpha Wave Investors targets opportunistic and value-add investments and conducts management through its in-house property management platform.