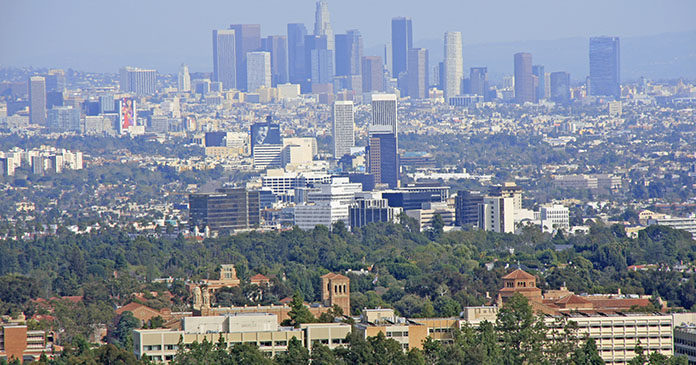 Calmwater Capital, a leading national direct real estate lender, has provided $28.525 million in senior debt to an affiliate of Champion Realty Ltd, a borrowing entity owned and controlled by Bob Champion, Parker Champion and Garrett Champion, for the acquisition of a 2.76-acre property located at 801 W Adams Blvd. in Los Angeles near the University of Southern California (USC). The borrower plans to develop 100 townhomes on the property.
The Calmwater-structured loan includes an initial commitment of a $15.67 million senior secured term loan and a $12.85 million delayed draw term loan for future expenses.
Located a half mile from USC, the property is within the university's security perimeter and in close proximity to its Greek Row. The future housing complex will address the undersupply of residential housing in the area.
"With more than 38 years' experience developing an array of property types in LA, Bob has formed beneficial relationships within the local community and with city leaders. He brings deep insight into navigating the local approval processes necessary for this project," said Larry Grantham, co-founder of Calmwater Capital.
Champion Realty Ltd intends to gain approvals for the project during the loan period. The highly amenitized project will include a pool, clubhouse and gym and outdoor sand volleyball court. Construction is slated to begin in September 2019.
"Calmwater's certainty of close and creativity on this highly complex transaction was advantageous, as we work to make this project become a reality," added Bob Champion of Champion Realty Ltd. "As a former adjunct professor at USC and repeat developer in this market, I'm personally looking forward to bringing this much-needed housing complex to fruition, which we believe will be an indispensable addition to the community."
---
About Calmwater Capital
Calmwater Capital is a leading, nationwide direct real estate lender that delivers certainty of execution, flexibility and speed to borrowers. Specializing in $5 million to $50 million senior and mezzanine bridge loans that fall outside the capabilities of traditional lenders, Calmwater has originated more than $1.8 billion in commercial real estate loans throughout the United States in the office, industrial, retail, multifamily, hospitality and special-use sectors.