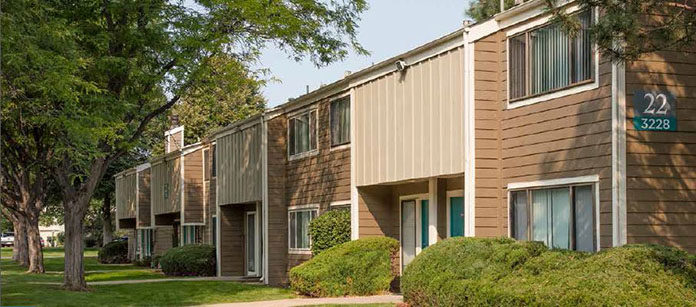 Castle Lanterra Properties (CLP) has continued to expand its multifamily portfolio in the Denver metro area with the acquisition of its fourth property in the market within the last 16 months. The New York-based firm purchased the 201-unit property, The Ranch at Bear Creek, bringing its total unit count to over 1,100 in the Denver MSA.
Located at 3324 S. Field St. in Lakewood, The Ranch at Bear Creek is situated in the consistently low vacancy and high-barrier-to-entry Lakewood submarket, where only one new multifamily development project has been completed in the past 15 years.
"We continue to be attracted by Denver's positive economic outlook," said CEO Elie Rieder. "The acquisition of Ranch at Bear Creek marks our second purchase in the city of Lakewood. This submarket is particularly compelling for us due to its high barriers to entry, its close proximity to major employment centers such as the Denver Federal Center and Saint Anthony's Hospital, as well as its accessibility to downtown Denver. Lakewood also boasts one of the highest rated school districts in the state, resulting in a highly sought after mix of quality education, employment, healthcare, retail, and recreation – all at an affordable price point."
Built in 1973, the community features 118 two- and three-bedroom townhomes, 54 two-bedroom residences and 29 one-bedroom units. Average square footage ranges from 1,270 for the three-bedroom townhomes to 685 for the one-bedroom layouts. Adjacent to an attractive, city-maintained park, The Ranch at Bear Creek features an array of amenities including a remodeled clubhouse, newly constructed state-of-the-art fitness center, two swimming pools and a business center. Other attractions include a spin and yoga room with fitness on demand, an outdoor grilling area with new gas grills, an outdoor lounge with gas fire pit, and a recreation room.
The complex is twenty minutes from Downtown Denver and its 375,000 jobs in a diverse base of industries, including Denver Federal Center, St. Anthony Hospital and Lockheed Martin. Over 623 tech startups are located in the downtown, and the area's Fortune 500 companies include Wells Fargo, CenturyLink, and DaVita. Recent downtown relocations and expansions include Zen Payroll, Ibotta, DaVita, and Liberty Global.
The Ranch at Bear Creek's prime location offers close proximity to such retail centers as Wadsworth & 285 Retail, with tenants like Natural Grocers, Planet Fitness, Red Robin, Chipotle, and Kohl's; Heritage West Shopping Center with Starbucks, Walgreens, FirstBank, and Fiddlesticks Bar & Grill; and South Wadsworth Retail Corridor with Whole Foods, REI, Sam's Club, Costco, and Sprouts. Less than 10 miles away, the Simon-owned indoor outlet mall and outdoor power center Denver West/Colorado Mills Mall features major tenants that include Forever 21, Saks OFF 5TH, Banana Republic, Target, Bed Bath & Beyond, Cost Plus World Market, and other national retailers.
Nearby recreation includes the popular 14.5-milelong paved multi-use municipal Bear Creek Trail and the picturesque Creekside Bear Creek Greenbelt & Bear Creek Lake Park that encompasses 3.5 miles of multi-use paths, picnic shelter, and activities such as fishing, hiking, and geocaching. Four golf courses are within two miles of the property, including the municipally owned and highly regarded Fox Hollow and The Homestead, and Foothills courses, as well as the private, Arnold Palmer-designed Bear Creek Golf Club.
---
About Castle Lanterra Properties
Formed in 2009, Castle Lanterra Properties is a privately held real estate investment company focused on the acquisition and management of quality income producing multifamily properties within strategic growth markets throughout the United States. Through a rigorous value-enhancement program that includes thoughtful renovations, operational improvements and ancillary income development, CLP aims to reposition each asset with the goal of maximizing NOI, elevating its competitive position within the market, and providing attractive risk-adjusted returns for its investment partners. Castle Lanterra Properties and its affiliates currently own and manage a portfolio in excess of 9,000 units.