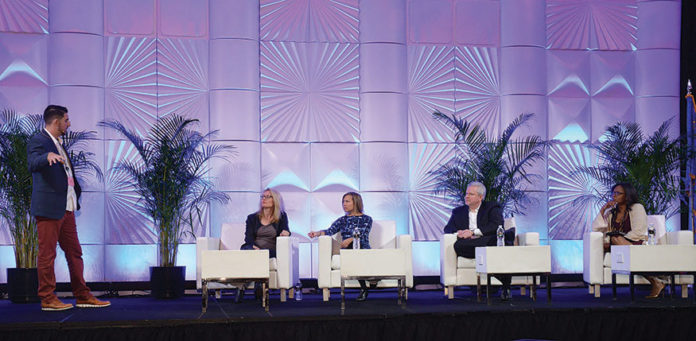 New digital resources on industry disruption
Tectonic shifts in technology, commerce, family, work, transportation and lifestyle are poised to radically reshape multifamily's customer expectations, as well as our approach to designing, developing and operating our communities. Our new microsite dedicated to these forces of disruption features takeaways from a new consumer housing insights survey, an in-depth trends report on the implications for multifamily design and operation, a series of design sketches of the apartment of the future and interactive virtual reality gallery.
Steady growth of NMHC OpTech
The annual NMHC OPTECH Conference & Exposition continues to expand, bringing together more than 1,600 apartment executives, suppliers and tech executives from the industry's leading firms. The conference program focuses on strategy and emerging trends in technology, operations, marketing, sustainability and telecom. The exhibit hall is a hive of activity, showcasing the latest and greatest products and services and providing many opportunities to highlight innovation in the sector, including a start-up alley and snap sessions.
Formation of an Organizational Innovation Committee
With the goals of accelerating innovation, enhancing the customer experience and improving operational performance, NMHC launched a new organizational innovation committee last year. Committee members include representatives from companies that have internalized innovation processes. They intend to share their best practices with other apartment companies to help them create formal internal lanes and processes for innovation to enter their company and succeed. Supporting intentional innovation in the industry is the goal. Current members are:
Chair/Vice Chair:
Eric Potter, Waterton
Karen Hollinger, Avalonbay
Members:
Doug Diep, Irvine Co's
Josh Erosky, Udr
Stephanie Fuhrman, Greystar
Tom Geyer, Bozzuto
Scott Moore, Cortland
Frank Soto, Hunt Companies
Darren Wesemann, Berkadia
Taylor Wiederkehr, Alliance
Launch of the Innovation Challenge
One of the first projects for the NMHC Innovation Committee will be the launch of the Innovation Challenge. Many companies, including apartment industry leaders, have launched similar challenges, whereby a problem is surfaced and solutions are solicited. The winning solution to the challenge wins a prize. Stay tuned and bring your great ideas for the first NMHC Innovation Challenge to be released soon.
Continued support for Launch Pad
Back for its seventh year, the premier multifamily tech startup competition will once again pick the top ten semi-finalists, followed by the final four most promising new players offering multifamily technology solutions to the industry. The 2018 Launch Pad winner will join a long list of multifamily startups who have gone on to become major industry players. The application process will open this summer with winners chosen in the Fall.