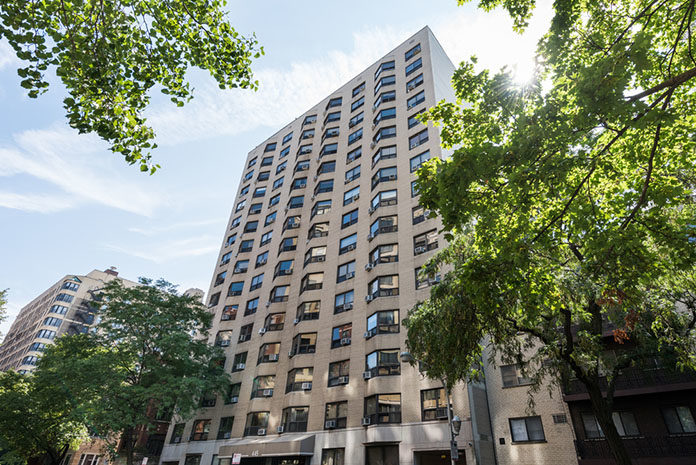 Interra Realty, a Chicago-based commercial real estate investment services firm, today announced it brokered the $30 million deconversion sale of 445 W. Wellington Ave., a 15-story condominium building in Chicago's Lakeview East neighborhood. The buyer, Beal Properties, a local private real estate investor led by principal Bill Silverstein, plans to turn the 65-year-old building's 117 condos back into rental apartments.
David Goss and Jon Morgan, Interra co-founders and managing principals, and Joe Smazal, Interra managing partner, represented both the buyer and seller, Wellington Place Condominium Association.
The sale price equates to an average $256,410 per condo, a market value that represents a 50 percent premium over individual sale prices in the area, according to Smazal.
"With more than a hundred condo owners, this transaction was challenging," said Smazal. "We helped navigate every step, from educating owners on the value of the deconversion process, to guiding them through the voting process, to closing the sale. Everybody achieved an ideal outcome – an extremely attractive exit strategy for the condo owners and a stable asset in an irreplaceable, densely populated location for the buyer."
Located near the corner of Wellington and Pine Grove avenues, the building offers views of Lake Michigan, downtown Chicago and Wrigley Field. All 117 units contain one bedroom and one bath. Many of the units feature hardwood floors and modern kitchens with granite countertops and stainless steel appliances. The building also includes a rooftop deck, laundry room, parking, storage and a bike room.
"The deconversion trend will continue as demand for apartment buildings, especially in desirable North Side neighborhoods, keeps outpacing the available supply of buildings for investors. The deconversion trend still has legs, but there are headwinds (rising interest rates and slower rent growth) that should create a sense of urgency for associations which are considering a deconversion," said Smazal.
Numerous recreation, retail and restaurant destinations are just steps from the property. The Lakefront Trail, a multiuse path that stretches nearly 18 miles along the Lake Michigan shoreline, can be accessed just two blocks east of the building. Residents also enjoy an easy walk to popular restaurants, coffee shops and unique storefronts. Several public transportation options include bus routes less than two blocks from the building as well as the CTA's Red, Brown and Purple lines via the nearby Belmont station.
---
About Interra Realty
Founded in 2010, Interra Realty is a Chicago-based commercial real estate services firm that delivers integrated, tailored solutions through its boutique, client-focused approach and team of experienced professionals. Since its inception, the firm has closed thousands of transactions valued in excess of $1 billion spanning the multifamily, office and retail sectors, as well as loan sales. Interra's clients range from private investors and high-net-worth individuals to large financial institutions, private equity groups and hedge funds.