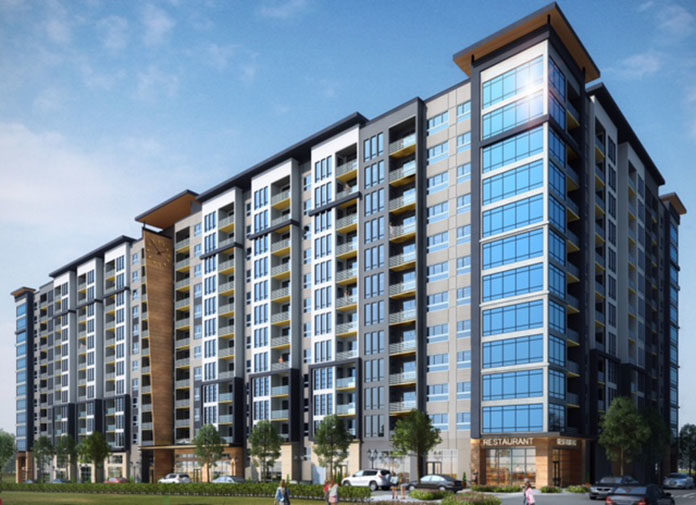 Jefferson Apartment Group, a leading multifamily developer and operator specializing in premier apartment communities throughout the Eastern U.S., has joined forces with Houston based Camden Property to co-develop the $100 Million 520 East Apartment Complex – a sister property to Jefferson Apartment Group's $45.5 million, 299-unit 420 East complex that was completed last year.
The 12-story 364-unit project is planned for the southwest corner of East Church Street and South Eola Drive in downtown Orlando and will feature nearly 7,000 square feet of ground-floor retail, 12 retail/live/work studios including six that will allow for workspace downstairs and an apartment upstairs, plus a 630-space integrated parking garage.
The completed project will provide market-leading amenities, including a resort-style swimming pool with sundeck, a state-of the-art fitness center, a clubroom, an outdoor lounge with multiple grill stations, and 24/7 concierge service.
The residential units will feature top-of-the-market finishes and best-in-class design, including custom-designed cabinetry, quartz countertops, wood flooring, and upgraded fixtures. The property will be built and maintained to LEED Gold standards and is expected to break ground in June 2018.
"The new community will be an exciting development project that will meet the strong demand for housing with proximity to local jobs, recreation and entertainment in the downtown Orlando market," said Jefferson Apartment Group senior vice president and development partner Mile Mulhall.
The property is in the heart of Orlando's Arts District, surrounded by numerous art galleries and festive outdoor events. Residents will be steps away from the action in downtown Orlando including dozens of dining options, from high-end steakhouses to convenient fast-casual establishments, world-class entertainment venues, and thrilling sports stadiums and arenas.
---
About Jefferson Apartment Group
Jefferson Apartment Group is a full-service real estate firm specializing in multifamily and mixed-use real estate investments through acquisition, development, construction, and property management services. JAG focuses on urban, transit-oriented assets located in high barrier-to-entry markets on the East Coast. The firm is committed to creating and managing communities that are high quality, innovative and environmentally responsible. More information is available at www.jeffersonapartmentgroup.com.
About Camden Property Trust
Camden Property Trust, an S&P 400 Company, is a real estate company engaged in the ownership, management, development, redevelopment, acquisition, and construction of multifamily apartment communities. Camden owns interests in and operates 156 properties containing 53,391 apartment homes across the United States. Upon completion of 7 properties currently under development, the Company's portfolio will increase to 55,501 apartment homes in 163 properties. Camden was recently named by FORTUNE Magazine for the tenth consecutive year as one of the "100 Best Companies to Work For" in America, ranking #22.