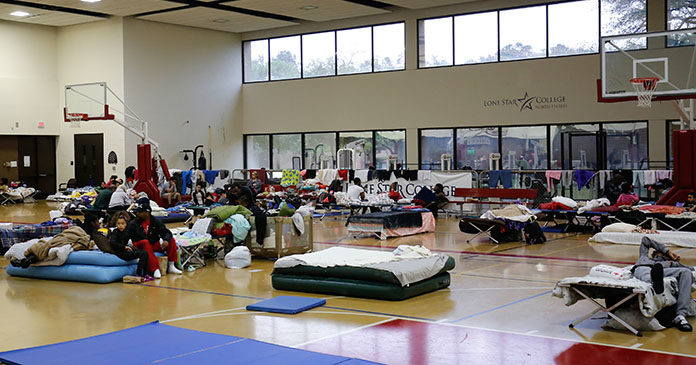 Nonprofits providing critical home repairs and other housing assistance to low-income Texas families affected by Hurricane Harvey can apply for grants from a new program launching this week.
The Housing and Economic Assistance to Rebuild Texas (HEART) program, a grant and technical assistance partnership between the Texas State Affordable Housing Corporation (TSAHC) and Enterprise Community Partners (Enterprise), will provide grants of up to $50,000 to local nonprofit organizations. HEART will also offer technical assistance to grantees so they can build their capacity and assist more Texas families.
A generous commitment of up to $1,000,000 from the Rebuild Texas Fund, a joint initiative of the Michael & Susan Dell Foundation and the OneStar Foundation, brought TSAHC and Enterprise together to develop and partner on the effort. TSAHC has also committed $100,000 for grants, and TSAHC and Enterprise are seeking to raise an additional $500,000 to match the Rebuild Texas Fund commitment and bring the total grant funding to $1.6 million.
"Programs like HEART help us fulfill our commitment to the long-term economic recovery of Texas communities devastated by Hurricane Harvey," said Neeraj Aggarwal, program director of the Rebuild Texas Fund. "Bringing together the expertise of organizations like TSAHC and Enterprise and the commitment and community knowledge of local nonprofits will accelerate the rebuilding of Texas communities hardest hit by the storm."
"We're honored to partner with two tremendous organizations to provide much-needed relief to families still suffering from Harvey's devastating effects," said David Long, president of TSAHC. "This grant program will not only help families rebuild, it will help them prepare for future extreme weather events."
TSAHC will focus its grants on organizations that help people in their communities repair their homes, from the foundations to the roofs. Enterprise will concentrate on supporting programming such as supportive housing services, financial counseling and long-term planning, including assistance with resilient and green building practices.
"These grants target organizations that are anchors in their communities, providing homes and housing services to families most in need," said Michelle Whetten, vice president and Gulf Coast market leader, Enterprise. "Supporting their work, both with funding so they can help homeowners make repairs and with technical assistance so they build their capacity, will advance long-term recovery and benefit thousands of families."
The HEART program will support nonprofits serving all areas affected by Hurricane Harvey, with an emphasis on rural communities. Organizations interested in applying for a grant should visit www.rebuildwithheart.org. An eligibility quiz will help interested organizations determine if they meet the qualifications required to be considered for a grant. For those organizations that successfully meet eligibility requirements, applications will be available on Monday, May 7, 2018.
---
About Texas State Affordable Housing Corporation
The Texas State Affordable Housing Corporation (TSAHC) is a statewide 501(c)(3) nonprofit organization created at the direction of the Texas Legislature to serve as a self-sustaining, statewide affordable housing provider. To fulfill our mission, TSAHC provides innovative housing programs that help developers build affordable housing, help low and moderate-income households purchase a home, and help households facing financial hardship stay in their homes.
About Enterprise Community Partners
Enterprise is a proven and powerful nonprofit that improves communities and people's lives by making well-designed homes affordable. We bring together the nationwide know-how, partners, policy leadership and investments to multiply the impact of local affordable housing development. Over 35 years, Enterprise has created nearly 529,000 homes, invested $36 billion and touched millions of lives.
About Rebuild Texas Fund
The Rebuild Texas Fund is a joint initiative of the Michael & Susan Dell Foundation and the OneStar Foundation. The Rebuild Texas Fund supports organizations making an impact in the following six focus areas: community and economic development; health; housing; education and childcare; transportation and workforce; and capital for rebuilding small businesses. Funding through the Rebuild Texas Fund will be provided to eligible nonprofit, government, corporate, and philanthropic organizations working on the ground in Texas communities, big and small, that have been affected by Hurricane Harvey.