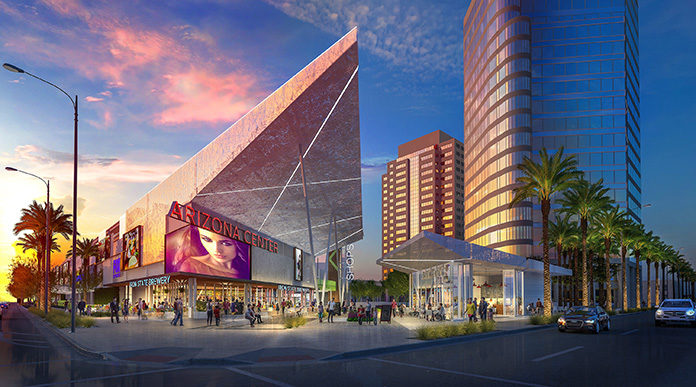 San Diego-based Parallel Capital Partners has sold a nearly one-acre parcel within its 16-acre Arizona Center Project – a mixed-use center, located at 3rd and Van Buren Streets in downtown Phoenix – to Florida-based North American Development Group. The new owners plan to develop Palm Court Tower, a $100 million, 30-story luxury residential tower featuring 350 luxury residences to be located at 440 E. Van Buren Street.
Slated for completion in 2020, Palm Court Tower is being designed by Phoenix-based Will Bruder Architects & Forum Studio. Construction of the Tower is set to begin in late 2018.
When complete, the luxury residential tower will be the second tallest residential building in downtown Phoenix. Rising 22 stories above the swimming pool terrace on the roof of the six-level parking garage, the residences will range from modest studios to three-bedroom units. Eight different floor plans will provide for innovative and functional contemporary living with a variety of unit sizes ranging from 500 square feet to over 1,300 square feet. The community will feature a garden entry, amenity level with swimming pool and fitness facilities, residential parking and services.
"We are excited to have North American Development Group as part of our Arizona Center family," said Matt Root, CEO of Parallel Capital Partners, which owns and operates the Arizona Center complex. "Palm Court Tower will bring an exciting new dimension to the project, which is transforming the urban neighborhood in Downtown Phoenix into a vibrant place to shop, dine, live, stay and just have fun."
This is just the latest phase in the ongoing $25 million makeover of the Arizona Center acquired by Parallel Capital Partners and Angelo Gordan & Co in late 2015. Renovations began in 2017 with upgrades to enhance interior and exterior common areas. Last month, Parallel announced the completion of phase one in the Arizona Center renovation and plans to add a 200-room AC Hotel by Marriott, a development by Las Vegas-based LaPour Partners. Construction of the hotel is set to begin in 2018.
---
About Arizona Center
Arizona Center, located in the heart of downtown Phoenix at 3rd and Van Buren Streets, is a one million-square-foot mixed-use center. It's where entertainment, shopping, events, dining and prime office space create a unique, centralized hub for all that downtown Phoenix has to offer. Amidst many Phoenix points of pride including the Phoenix Convention Center, many hotels, Talking Stick Resort Arena and Chase Field, the new Arizona Center is an urban downtown oasis.
About Parallel Capital Partners, Inc.
Parallel Capital Partners, Inc. is a private, fully integrated real estate investment and operating company focused on acquiring value-added and core-plus opportunities for its own account in primary and secondary markets in the Pacific Southwest, including Hawaii. Parallel's current property holdings include over five million square feet and a valuation of more than $1 billion with over two million square feet in the greater Phoenix metro area.
About North American Development Group
North American Development Group (NADG) is a privately owned real estate company with 11 offices across North America. In its cumulative business history, NADG has been active in the development, acquisition, redevelopment and management of over 200 shopping centers, mixed-use and residential developments comprising well over 35 million square feet across Canada and the United States.