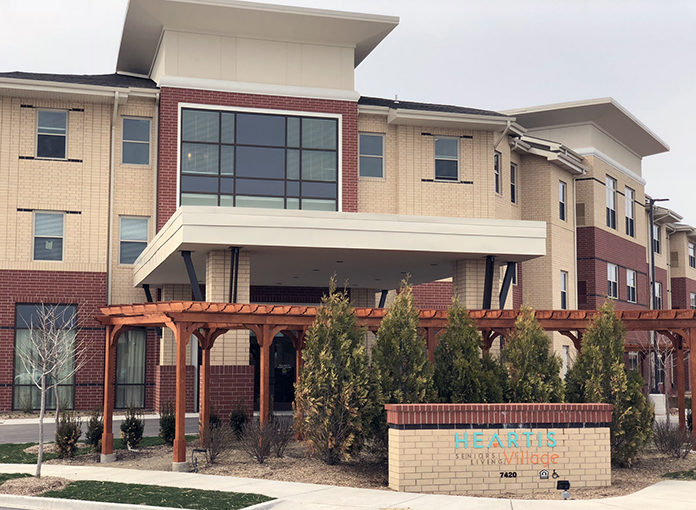 Pathway to Living, a Chicago-based developer, owner and operator of senior living communities, today announced the opening of Heartis Village of Orland Park, a 96-unit assisted living and memory care community in Orland Park, Ill.
"We are so excited to open our doors to the Orland Park community," said Maria Oliva, chief operating officer at Pathway to Living. "Proud to be a partner of Caddis Healthcare, we envisioned creating an inviting, nurturing community for area seniors, including those who want to remain close to loved ones and feel at home in their new home."
The Pathway to Living and Caddis Healthcare Real Estate teams gathered with the community's first residents and village officials to celebrate the opening at an April 12 event with food, drinks, entertainment and property tours.
Developed by Caddis Healthcare Real Estate, the 89,622-square-foot property located at 7420 W. 159th St. includes a three-story assisted living building and single-story memory care wing. The community's 72 assisted living apartments range in size from 371 to 1,032 square feet and include one-bedroom/one-bath, one-bedroom-plus-den/one-bath and two-bedroom/two-bath layouts, each with a kitchenette.
The community's 24 memory care studios measure approximately 260 to 360 square feet and come in two layouts: one with a private shower and one with a shared shower. Memory care residents benefit from A Knew Day, Pathway to Living's signature memory care program that is proven to provide rehabilitation for the brain – a process called rementia – by helping those with memory impairment become more engaged and communicative.
"Heartis Village offers a range of housing options for both individuals and couples – all designed to anticipate resident needs," said Oliva. "This means careful planning goes into the configuration of each apartment to maximize comfort and functionality."
In addition to enjoying the privacy of their own apartment, residents of Heartis Village of Orland Park will find numerous opportunities for socialization and activity just outside their door. Assisted living amenities include all-day dining in The Grove dining room; a separate bistro; movie theater and chapel; spacious community rooms; salon and spa; library and technology center; therapy gym and fitness center; doctor's suite; and large secluded courtyard with a walking path and raised gardens. Memory care residents will have access to their own central courtyard where they can enjoy the outdoors in a secure setting.
Through Pathway to Living's award-winning VIVA! philosophy, residents can choose from a variety of social, educational and recreational pursuits designed to enhance overall well-being. Tailored to residents' hobbies and interests, programming might include morning yoga sessions, painting lessons, cooking demonstrations or drama club activities. Shopping and lunch excursions or recreational outings may also be available for residents looking to get out and explore the surrounding community.
"Pathway to Living is dedicated to helping residents live purposeful, meaningful lives, and our VIVA! philosophy is a reflection of that mission," said Oliva. "It's not only about the amenities that are offered, but also how each space is utilized, and that's what truly sets a community like Heartis Village apart. Here, residents have the ability to achieve lifelong goals like learning a new language while enjoying a thoughtful balance between community and privacy."
Located at the intersection of 159th Street and Harlem Avenue, Heartis Village of Orland Park is conveniently located near retail and restaurant offerings. The community also is a short drive from Interstates 80 and 57.
Heartis Village of Orland Park is the second Heartis-owned community to be managed by Pathway to Living after Heartis Place of Peoria, a 108-unit assisted living and memory care community in Peoria, Ill., that opened in 2016.
---
About Pathway to Living
Founded in 1997, Pathway to Living (formerly Pathway Senior Living) is a Chicago-based developer, owner and operator of senior housing communities. The company's portfolio includes a wide range of community types – senior apartment, independent living, assisted living and memory care – spanning 29 owned or managed properties with approximately 2,800 units in Illinois, Michigan, Minnesota and Wisconsin. Pathway to Living implements best practices to deliver person-centered care while maximizing returns on behalf of investors and third-party owners. Since its inception, the company has managed more than $480 million in total investments.