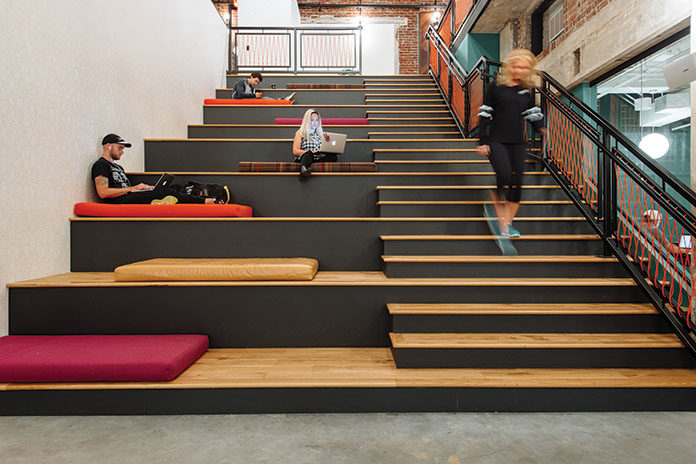 Real estate tech investment has gotten serious. Venture capital invested in the space tripled from 2016 to 2017, buoyed by major investments in co-working giant WeWork and brokerage Compass. Excluding those mega deals, real estate tech firms raised around $7.7 billion last year. This compares to less than $500 million just a few years ago.
This growth in real estate tech investment reflects both the fat wallets and big appetites of the venture capital market. With so many start-ups already pillaging seemingly every other tech investment category, VC investors are looking at the real estate sector as "the last frontier in venture investing," as one tech executive recently put it.
This influx of capital is ushering in a new era for a sector that has been relatively underinvested for years. For now, real estate tech investors seem to fancy tech start-ups serving other parts of the commercial real estate spectrum—office and retail are reportedly hot—but it's clear that the money and the innovation will find its way soon enough to multifamily. Already we're seeing legacy real estate know-how begin to hook up with smart money and new tech. So, buckle up because a lot about what we know about multifamily investing, development, design and management is set to change.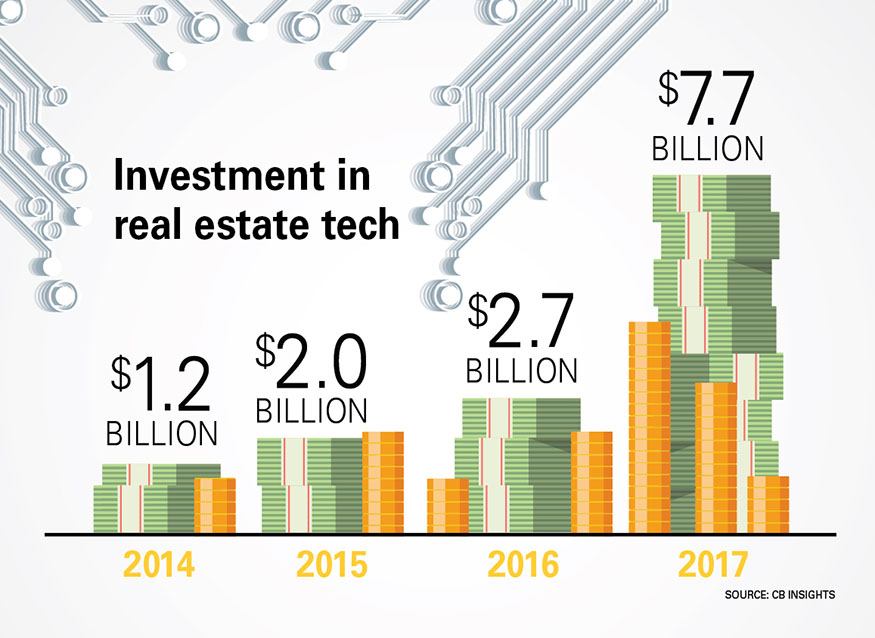 CRE tech investors say
This growth in real estate tech investment was visible at the 2018 NMHC annual meeting, as a growing number of start-ups joined the throngs of multifamily investors, lenders, brokers and advisors looking to get introductions to and make deals with key apartment owners, managers and developers.
Moreover, the topic was the focus of a panel discussion which brought three real estate tech investors together to discuss where the money was going in commercial real estate and how it might affect the multifamily industry. The discussion, moderated by Randall Jenson, CFO of Berkadia, included participants Clelia Warburg Peters, co-founder and partner at MetaProp; Jacob Mienert, analyst with Navitas Capital; and John Helm, managing director at RETV Management.
When asked about what kinds of investments tech investors were making, the panelists said, hands down, tech investors were hot for companies looking to leverage artificial intelligence (AI) and predictive analytics to improve efficiency and transparency in real estate business decision-making. More specifically, the group identified six areas where real estate tech is set to really shake things up.
Leasing
Everyone loves the idea of AI-powered chat bots, around-the-clock digital rental agents that can help start a customer relationship by answering simple questions and providing basic information. But beyond that, real estate tech investors are looking more closely at companies that use web-based software to essentially scrape social media outlets for data that can pre-qualify prospects, accelerating the sales cycle and reducing the need for manual data entry.
Warburg Peters added that investors are also seeing opportunities in short-term rental platforms like Airbnb or Home Away. She noted the emergence companies like Flip, a subletting platform, in creating a more liquidity marketplace for leases. "But that's the Wild, Wild West," she said. "It's still unregulated. But a lot of younger people aren't interested in making even a one-year commitment."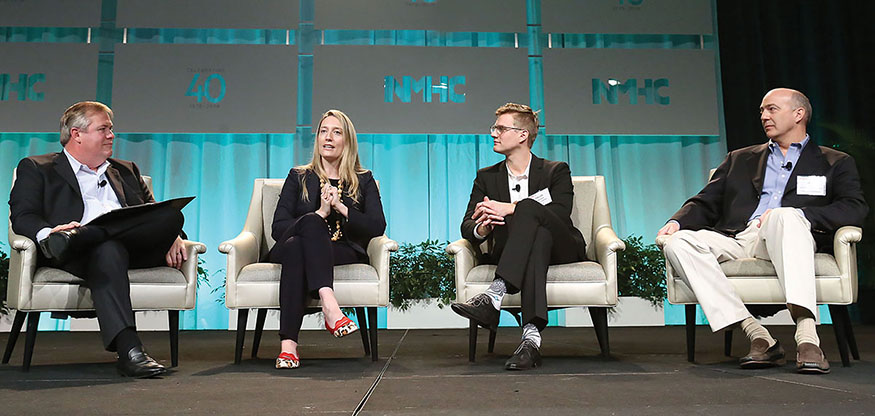 Investment analysis
Similarly, investors are very interested in companies that are working to harness data in the public domain—everything from geospatial data to consumer data to zoning regs and beyond—to help identify, evaluate and close potential real estate deals faster.
For example, Warburg Peters pointed to companies like Envelope, which provide solutions for navigating the labyrinth of regulatory burdens that could include zoning restrictions, subsidized housing requirements, air rights and more. "What used to take months and millions of dollars in lawyer fees can be done in hours or a few days," she explained.
Construction
For Navitas Capital's Mienert, the construction space is an area where his company has focused a lot of its dollars, even investing in Katerra, a tech company that aims to drive efficiencies through the design, development and construction process to drastically reduce the time it takes to bring apartments to market. While panelization, pre-fab construction and more efficient supply chain managements are areas in need of tech investment, there's growing interest in arbitrage companies like Why Hotel, which can help stabilize new properties faster, reducing financing risk and carrying costs.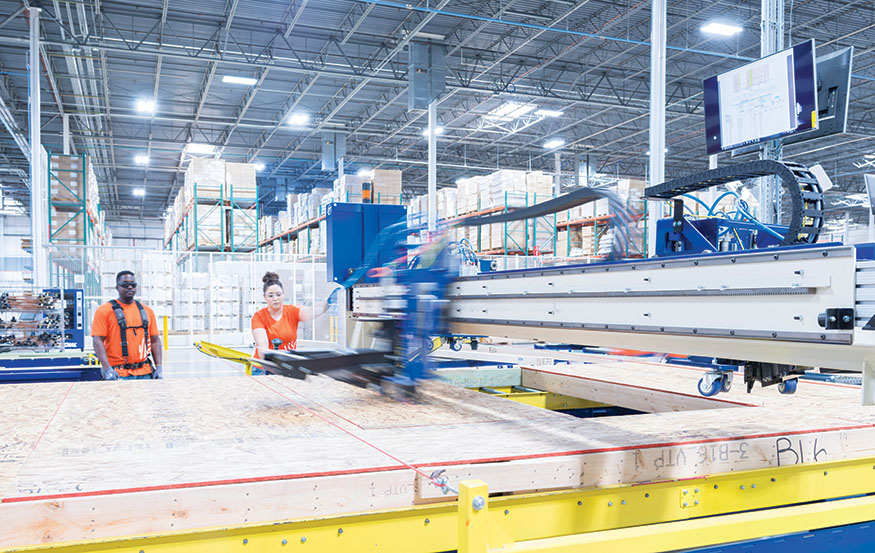 Amenitization
Real estate tech investors are also intrigued by companies that use technology to enhance the resident living experience, be it through a network of service providers or crowd sourcing for insights into the most desired amenity packages. Top picks include companies like Hello Alfred that allow residents to digitally outsource household chores.
Smart homes
Without a doubt, real estate tech investors are seeing huge potential in the smart home space. However, it's not just about satisfying young millennials' need for more consumer technology. Investors also are interested in smart home operating systems that can deliver value to the property owners, be it through additional revenue, cost savings, operational efficiencies or transparency.
For Mienert, "it's really about finding centralized solutions that are already pre-installed," he said. That's why he's looking at companies like Iotas, which provide a turnkey suite of networked smart home products that provide data and learning to the property owner on the back end.
Brokerage business
With no real automated approach to valuations, the panelists saw a big opportunity for technology in real estate businesses operating under brokerage models, with the appraisal, insurance and mortgage industries being obvious starting places. The idea is that technology can help automate some of the more vanilla-flavored transactions, whether they be small or simple executions; the end results would be speedier and more consistent results.
The panelists also saw the emergence of Blockchain technology, which offers a digitized, decentralized public ledger of transactions, as potentially revolutionary in the so-called "PropTech" and "FinTech" spaces.
Multifamily will have its moment
While innovation in these key areas may not necessarily be starting in the multifamily sector, many of the winners will either find applicability in or adaptability to the particular nuances of multifamily investment, development and management.
However, the integration of innovation on any scale can be a massively disruptive force, seriously challenging if not undermining years of experience, long-held assumptions and proven models. But digging in with hope that this wave of real estate tech investment and innovation will just wash over us as long as we hold tight to the basics is hardly a growth much less survival strategy for this brave new world.
With the advances in tech innovation that we're seeing in other real estate sectors—office, retail and hospitality to name a few—the apartment industry should definitely not think we're exempt from this disruption that is happening all around us. If you're not thinking about it and talking about it, you're at risk of being displaced.
Author: Rick Haughey is vice president of industry technology initiatives at the National Multifamily Housing Council in Washington, D.C.