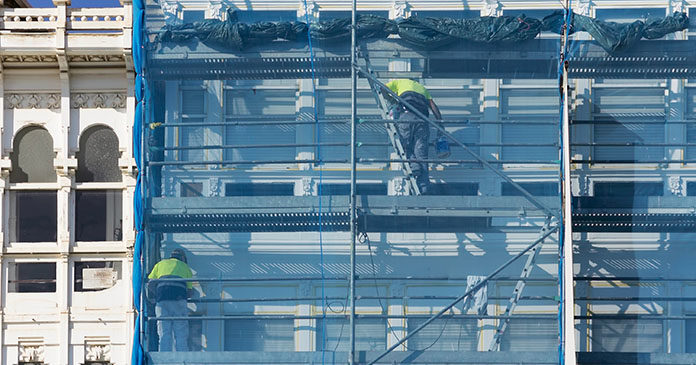 The National Association of Home Builders' (NAHB) Remodeling Market Index (RMI) posted a reading of 57 in the first quarter of 2018, down three points from the previous quarter and back to the same level as the third quarter of 2017. The RMI has been above 50–indicating that more remodelers report market activity is higher compared to the prior quarter than report it is lower–since the second quarter of 2013. The overall RMI  averages ratings of current remodeling activity with indicators of future remodeling activity.
"An RMI reading over 50 shows that consumers still remain engaged in home improvement," said NAHB Remodelers Chair Joanne Theunissen, CGP, CGR, a remodeler from Mt. Pleasant, Mich. "However, higher prices for labor and materials like lumber continue to cause delays in project starts and higher overall project costs."
Current market conditions decreased two points from the fourth quarter of 2017 to 58. Among its three major components, major additions and alterations waned four points to 56, minor additions and alterations increased one point to 60, and the home maintenance and repair component fell four points to 57.
The future market indicators index dipped four points from the previous quarter to 55. Calls for bids increased one point to 57, amount of work committed for the next three months decreased four points to 54, the backlog of remodeling jobs dropped nine points to 57 and appointments for proposals fell three points to 54.
"Strong price appreciation, inventory shortages of homes for-sale and home owners' desire for updated amenities maintain the remodeling industry on solid footing," said NAHB Chief Economist Robert Dietz. "This quarter's dip may be related to unusually cold weather in many parts of the country, but the forecast is for the remodeling market to grow in 2018."
---
About RMI
The RMI is based on a quarterly survey of professional remodelers, whose answers to a series of questions were assigned numerical values to calculate two separate indexes. The first index gauges current market conditions and is based on remodelers' reports of major and minor additions and alterations, plus maintenance work and repairs, on both owner- and renter-occupied dwellings. The second index summarizes indicators of future remodeling activity and is based on remodelers' responses to questions about calls for bids, amount of work committed for next three months, job backlogs and appointments for proposals.
About NAHB Remodelers
NAHB Remodelers is America's home for professional remodelers, representing the more than 53,000 members of the National Association of Home Builders (NAHB) who are involved in the remodeling industry. Founded in 1982, the organization provides information, education and designation programs to improve the business and construction expertise of its members and to enhance the professional image of the industry. Its membership incorporates nearly 100 local councils across the nation.
About NAHB
The National Association of Home Builders is a Washington-based trade association representing more than 140,000 members involved in home building, remodeling, multifamily construction, property management, subcontracting, design, housing finance, building product manufacturing and other aspects of residential and light commercial construction. NAHB is affiliated with 700 state and local home builders associations around the country. NAHB's builder members will construct about 80 percent of the new housing units projected for this year.