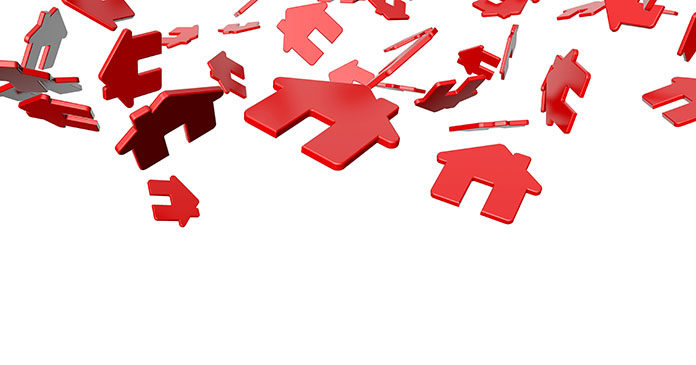 Bucking last year's trends, national median one-bedroom rent prices continue their downward trend into April. In 2017, April marked the beginning of a hot summer market. But in 2018, following five months of increases that broke in February, April is the third consecutive month of falling rent prices, down 1.91 percent since the start of the year, to $1,026.
Renters of two-bedroom apartments finally get some relief as well, after several months of rent hikes. Going into April, the national median two-bedroom rent is down .56 percent since January, to $1,247.
1-Bedroom Apartments
Despite the overall downward trend in one-bedroom rent prices, some cities saw significant rent jumps. Dayton, OH, leads the country's rent rises, with one-bedroom rents there up nearly 15 percent, from $608 to $697.
Little Rock, AR, also had double-digit increase of 11.1 percent, taking rents from $641 at the beginning of March to $712 going into April. Following Little Rock, the increases are a bit more mild. One-bedroom apartments in Columbus, OH, are up 7.7 percent, while Scottsdale, AZ, saw one-bedroom rents jump 5.7 percent.
Ann Arbor, MI, apartments (3 percent); Tempe, AZ (3.1 percent); Las Vegas, NV (4.9 percent); Indianapolis, IN (2.8 percent); and two Texas cities — Houston (5.4 percent) and Fort Worth (5.4 percent) — also saw some of the highest rent hikes in the country.
On the other end of the spectrum, Syracuse, NY, continues its three-month streak of enjoying the largest rent decrease in the U.S., where rents going into April are down an additional 13.1 percent. That steep decrease comes on the heels of a 10.6 percent drop going into March, and a 10.8 percent drop going into February. That impressive series of decreases has brought the median one-bedroom rent in Syracuse down from $1,155 in February to just $898 in April.
Boulder, CO, retains its #2 spot for largest rent decreases, with one-bedrooms down 10.4 percent to $1,725, following a 5.8 percent drop in March. One-bedrooms in Minneapolis, MN (-6.2 percent); Eugene, OR (-7.7 percent); Reno, NV (-4.4 percent); and Columbia, MO (-5.2 percent) are also carry-overs from March's list of top 10 rent decreases.
Washington, D.C. (-6.2 percent); St. Louis, MO (-5.8 percent); Fargo, ND (-5.4 percent); and Winston-Salem, NC (-4.7 percent) also saw some of the country's largest rent drops.
2-Bedroom Apartments
Although two-bedroom apartments have seen an overall decrease since the start of 2018, the drop was slight, meaning that increases and decreases kept pace to keep prices stable.
Houston, TX, saw the largest two-bedroom rent increase of 8.1 percent, and two other Texas cities also made the list: Lubbock (2.8 percent) and Fort Worth (2.6 percent). No stranger to rent hikes, California also contributes three cities to the top 10 for rent rises: Los Angeles (4.5 percent), Berkeley (3.2 percent), and Long Beach (3 percent).
Buffalo, NY, and Atlanta, GA, also saw two-bedroom rents go up more than 5 percent, while Tempe, AZ, saw a smaller hike of 3.8 percent.
The largest rent decrease is only slightly smaller than the largest increase: 7.8 percent, in Boulder, CO, which had the second-largest two-bedroom rent decrease last month, of 5.8 percent.
Santa Ana, CA, comes in at #2, with a decrease of 7 percent, down to $2,002, followed by St. Petersburg, FL (-6.5 percent); Lexington, KY (-5.6 percent); and St. Paul, MN (-5.4 percent). Minneapolis, MN, closely trails St. Paul, with rents down another 5.3 percent after a 4.4 percent decrease for March. In April, renters seeking two-bedroom apartments in Minneapolis can expect to pay about $1,906.
In addition to Boulder and Minneapolis, Syracuse, NY (-4.5 percent), and St. Louis, MO (-4.9 percent) earned a top 10 spot for largest decreases for both one- and two-bedroom apartments.
Although last year's rental market was already showing signs of heating up last April, there is still time for prices to rise for summer. In the meantime, spring is coming in like a lamb for renters.
Author: Sam Radbil, Abodo. For methodology.