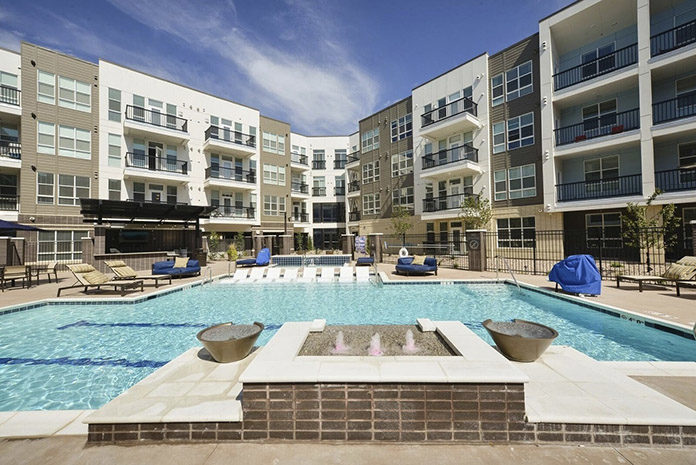 Wood Partners, a leader in real estate development and construction, announced their downtown development, Alta Gateway Station, has been named "Development of the Year" by the Utah Apartment Association.
The Utah Apartment Association hires a secret shopper to shop all of the nominated properties. Properties are judged on the development design, comfort through features and amenities, how the development adds to the neighborhood and if it complements the surrounding areas well. The Utah Apartment Association also judged staff knowledge, customer service and the cleanliness and maintenance of the building. This is the first award for Wood Partners from the association.
"I grew up in Utah and am a graduate of the University of Utah. I have pursued development opportunities in the Salt Lake City market for almost 25 years and seen the tremendous growth and change," said Director for Wood Partners Tim McEntee. "I am ecstatic that our first project in Utah is being recognized for our thoughtful design and best-in-class service that Wood Partners is known for."
Alta Gateway Station is a transit-oriented community located next to The Gateway mall, which is in process of an extensive $100 million renovation. The Gateway features entertainment attractions like The Depot concert venue, Wiseguys Comedy Club, Megaplex Theatres and the Clark Planetarium. A new Dave and Buster's restaurant and arcade, the first in Utah, is slated to open in May. The Gateway mall is the largest, open-air retail complex in Salt Lake City, and is quickly becoming one of the premier dining and entertainment spots for local residents, featuring local food trucks and events like the thriving Urban Flea Market. Alta Gateway Station is in an ideal location for young professionals to take advantage of the vibrant offerings in downtown SLC while having immediate access to multiple modes of transit including TRAX and FrontRunner.
"We're thrilled that Alta Gateway Station has been recognized by the Utah Apartment Association," said Clay Iman, director for Wood Partners, who managed the development from its early stages. "Our goal was to develop a project that delivered top-tier amenities while creating a sense of community, and our terrific on-site management team has really brought that vision to life."
The 277-unit community, managed by Wood Residential Services, features studios, one-, two- and three-bedroom floorplans. Alta Gateway Station also features a rooftop deck with entertainment kitchen, pool and hot tub, cyber café, game room, wine storage, a clubroom, fitness center, bike/ski repair shop, dog wash and dog park.
---
About Wood Partners
Wood Partners is a national real estate development company that acquires, develops, constructs and property manages high-density and mixed-use communities. It ranks consistently among the top five multifamily developers in the country. Through quality construction, responsible land development and intelligent design, its communities reflect the aesthetic and social fabric of the community and provide a luxurious living experience at a fair price. The company has been involved in the acquisition and development of more than 66,000 homes with a combined capitalization of more than $11.0 billion nationwide. The company currently owns 70 properties with a combined total of 20,000 units. Wood Partners has offices in 17 major markets nationwide including Atlanta, Austin, Boston, Charlotte, Chicago, Dallas, Denver, Houston, Southern California, Orlando, Phoenix, Raleigh-Durham, San Francisco, Seattle, Washington, D.C., and West Palm Beach.
About Utah Apartment Association
The Utah Apartment Association (UAA) is Utah's leading advocate for quality rental housing. UAA's mission is to serve the interests of multifamily housing owners, managers, developers and suppliers and maintain a high level of professionalism in the multifamily housing industry to better serve the rental housing needs of the public. UAA is comprised of over 3,500 members representing more than 75,000 apartment homes throughout Utah. Members in good standing of the association are automatically considered members of National Apartment Association (NAA) and entitled to NAA benefits. Founded in 1934 as the Apartment Association of Utah, our members represent all facets of the multifamily housing industry: apartment owners, management executives, developers, builders, investors, property managers, leasing consultants, maintenance personnel, suppliers and related business professionals throughout the State of Utah.