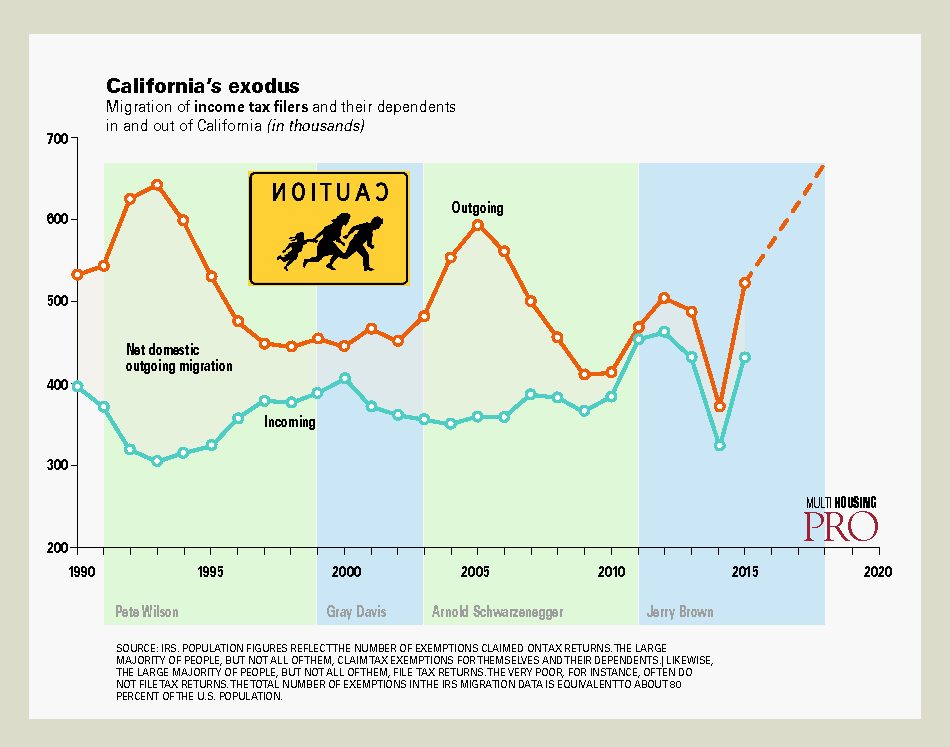 Fast five facts on the state of California
California has the nation's highest income tax rates, topping out at 13.3 percent of taxable income (SALT=state and local tax).
California depends on those taxes for 70 percent of its general fund budget.
The Department of Justice, as well as a number of California cities, are suing over the state's sanctuary law.
A state ballot initiative to expand rent control in California has reportedly now garnered enough signatures to qualify the measure for the November 2018 ballot. If passed, the measure would repeal the 1995 Costa-Hawkins Rental Housing Act, which sets limits on rent control policies.
At least 15 cities (according to the Department of Consumer Affairs) have some form of rent control: Berkeley, Beverly Hills, Campbell, East Palo Alto, Fremont, Hayward, Los Angeles, Los Gatos, Oakland, Palm Springs, San Francisco, San Jose, Santa Monica, Thousand Oaks, and West Hollywood
It's no secret. People are leaving California. And when I say, "people," I refer to tax-payers, many of them middle class (according to IRS records.)
It's not just Federal and state data to which I refer, but personal experience. California is an expensive place to live and do business. Housing and rental prices are skyrocketing.
The Golden State, is resting on its good looks and climate (according to our legislature). Everything costs more. I'm reminded of this with every business trip I take outside the state: I paid $2.29 for a gallon of gas last week in Austin and $3.53 this week in San Francisco.
I'm not alone. Recent polling by the Public Policy Institute of California shows that 61 percent of California voters believe their share of taxes paid to state and local governments is more than it should be. The poll also found that 81 percent believe California's tax burden is higher per capita than the rest of the nation.
Whether you believe that taxes cause people to move, or that there's no correlation, there's a bigger storm brewing on the country's Pacific Coast. If California is the troubled child who continues to act out with increasing intensity to garner attention, this next one is a doozy. Someone get this kid therapy, please.
Rent control
The ramifications of state-wide rent control on both renters and landlords would be far-reaching. Los Angeles tenant advocates announced this week, and The Wall Street Journal reported, that they have gathered the required signatures for a November ballot initiative to repeal California's Costa-Hawkins Rental Housing Act. This Act essentially blocks cities from expanding rent control to newer buildings, or grandfathering in updates to previous law. As it stands, the Costa-Hawkins Act does two things: Protects a landlord's right to raise the rent to market rate on a unit once a tenant moves out; and prevents cities from establishing rent control—or capping rent—on units constructed after February 1995.
While California may be the biggest battleground on the rent control issue, other states are close behind. Washington state lawmakers have proposed legislation that would remove the state's 1981 ban on rent control. The bills are expected to come up for vote next year.
Illinois lawmakers have proposed legislation lifting the state's 1997 ban on rent control. Seventy-five percent of Chicago voters (across nine wards last month) have already voted to lift the ban.
In New York City, the Rent Guidelines Board last year approved a 1 percent increase on rent-stabilized leases following a two-year freeze.
Landlords are generally a pragmatic lot; business owners and entrepreneurs at their core. They generally believe in the sanctity of a contract and the free market. At the beginning of the year, another effort to repeal Costa-Hawkins Act failed. While proponents see rent control as the way to protect affordability, landlords and builders see it as the fastest way to kill future building, manipulate the market around California's tenuous regulations and step on the rights of property owners. None of which will contribute to solving the affordability problem in California, and definitely not the tactic that Jerry Brown took in revitalizing Oakland during his tenure as its Mayor all those years ago.