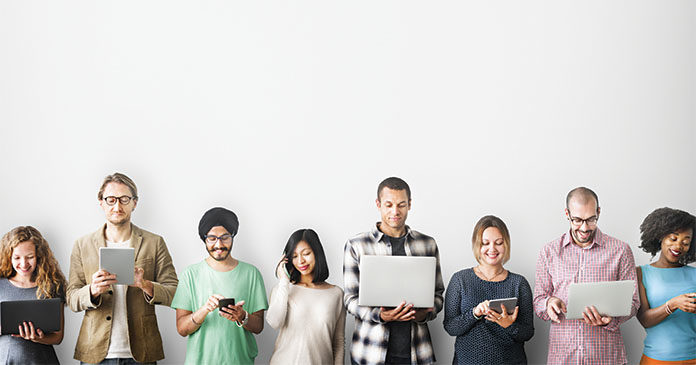 Today's renters can shop for a new apartment from anywhere in the country, discover important details like local weather, demographics and statistics about cities and neighborhoods, as well as reviews of a specific community or city posted by secret shoppers and existing and former renters. There are apps that can pinpoint the location of a specific unit within the community and show prospective renters views they could have of their surroundings from windows and balconies.
Prospective renters can use apps to check their credit and rental history and see in advance exactly what a landlord will see when reviewing their rental applications, including evictions, complaints and criminal records. Some of these apps offer tools to help renters fix problems that could impede being accepted into the community.
Virtual reality is the latest addition to the mobile app market. By utilizing 3D image technology, prospective renters can tour units without having to be physically present and move furniture shapes around on an apartment-shaped template to determine if their belongings will fit in a unit.
In 2016, Apartments.com began testing an app that provides virtual reality 3-D tours. Last October, Zillow released its free-for-download iOS application, the Zillow Group's 3D Home app that enables property managers to shoot 360-degree photos of an entire unit with their iPhones and upload the images to Zillow in order to provide apartment searchers the opportunity to tour the property without being onsite.
Zillow's app was in the early test phase in Scottsdale, Az., with an expected roll-out date of early 2018 in the Phoenix area and nationwide by year end, but has since been released ahead of schedule.
Zillow claims its listings that utilize a 3D Home tour have seen nearly twice as many page views per active day as have comparable listings in the same geographic area without the 3D tour.
When a renter has found a home, there are apps to help them arrange move-ins, set up and pay utilities and rents and, once established in their new digs, report maintenance issues and stay in the loop of package deliveries, community events and emergencies.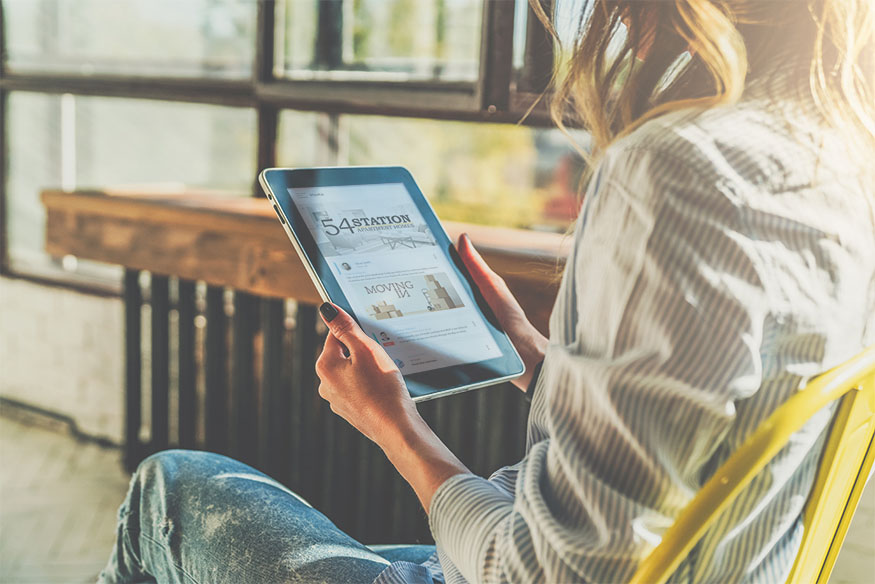 The smart wave
Another growing trend is the advent of the smart apartment that lets residents remotely operate thermostats, locks, lighting, blinds and just about anything else that can be connected to the Internet and accessed from a mobile app.
These features are considered a luxury today, but soon they will be in demand by renters as time-saving tools and by owners as a way to generate ancillary income.
Epproach, a North Carolina-based company that builds and manages high-capacity WiFi networks for the apartment industry, is installing smart home solutions in its second apartment project—the 264-unit 54 Station apartments in Durham, North Carolina.
The basic smart package at 54 Station includes remote-controlled door locks and thermostats, but residents can link dozens of other smart devices to the system. Each device can be controlled via in-home voice assistants like Amazon's Alexa and by using Epproach's smartphone app branded for the community.
"We are constantly innovating and adding new features. We recently added a real-time community news feed feature to our app, but our most popular is our smart apartment service. We've spent the past year working hard to streamline our 'smart' controls inside the app so that residents can manage and monitor household devices quickly and intuitively. We take the same 'one-stop-shop' approach to our smart apartment service, opening up compatibility with devices under dozens of different makes and models. We want our services to be both beneficial to the residents and owners, which is why we often pitch our smart apartment service as a revenue generating model for owners," said Epproach CEO Marty Hollingsworth.
The latest addition to the Epproach app is a delivery-on-demand function that gives residents the opportunity to opt in to fee-based delivery of packages that generates revenue for the community owner and convenience for the resident.
Virtual benefits
While mobile apps provide a bevy of benefits to residents and owners alike, new and important uses are being discovered across all sectors of multifamily, including low-income housing. The first ever fair housing accessibility app, funded by a grant from the U.S. Department of Housing and Urban Development (HUD), was launched by the Equal Rights Center (ERC) in October 2016.
The app transforms the ERC's Fair Housing Act Checklist, which also was published under a HUD grant, into a mobile tool that highlights the Fair Housing Act's seven accessibility requirements and enables architects, general contractors, developers and other housing industry professionals to access key parts of relevant building codes on-site. They are then able to toggle back and forth between multiple construction projects, view measurements and diagrams that meet requirements, track and save their progress throughout the projects' duration and share their progress via email at any time.
The app helps capture measurements for hallways, counter heights and ramp slopes in front of buildings during construction, eliminating the need to retrofit because of miscalculations after the project has been completed.
Just like property websites that went from being a trend to a must-have, mobile apps are expected to become a necessity for apartment managers who must handle business on the go instead of being tied to their offices. And, like a website, the initial investment to develop an app customized to a property or portfolio can be substantial.
Most leading property management companies already offer mobile apps and some, like Tulsa, Okla.-based Spherexx, custom design apps specifically for their clients.
Spherexx apps that are available in the Android store include ILoveLeasing Mobile Companion, Grand Central Inspect and Freshbrew Engage, a customer portal that lets apartment managers build relationships with their client base through customized tools for emailing, texting and sending push updates to residents' mobile phones and emails.
Spherexx builds mobile apps for itself, as an add-on to its existing software, and for its clients, who can access the company's software via the Internet on desktops, tablets, laptops and mobile phones. But there are certain functionalities that must still work offline without the Internet, and that's one area where a mobile app is most useful, said Spherexx CEO Becca Wilson.
Lincoln Property Company realizes the value of a customized mobile app. The multifamily giant signed a partnership agreement on March 7 with Chicago-based Mobile Doorman, a creator of custom apps for the multifamily industry, to roll out a new management app across Lincoln's Midwest portfolio. The two companies have been working together since 2016 and in Q1 unveiled the app at select properties in Illinois, Texas, Minnesota and Tennessee.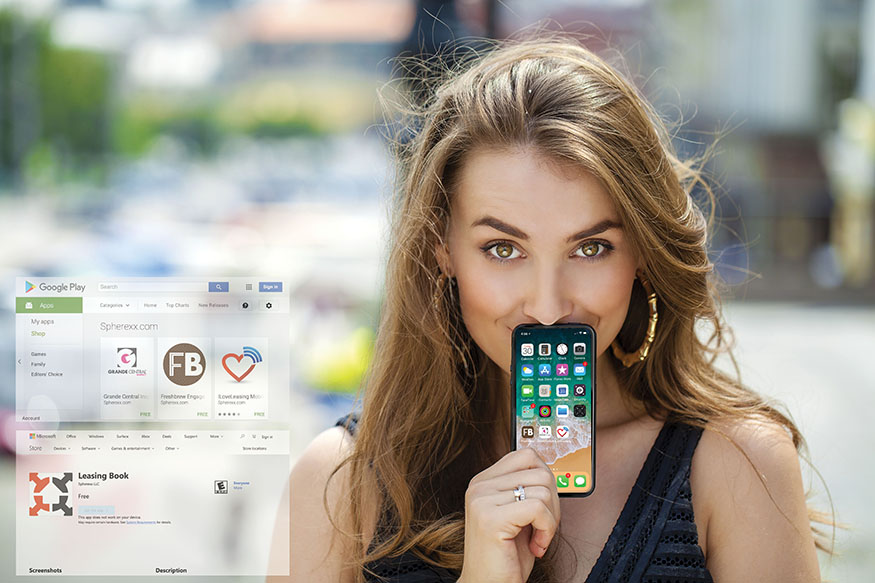 How many are too many?
Apps are available for everything that can possibly been done on a smartphone, and they have contributed nearly 80 percent of all growth on digital media time spent over the past three years, suggests a study by comScore, which provides cross platform measurement of audiences, advertising and consumer behavior. The time spent on digital media has grown by 53 percent, while time spent on mobile apps alone has increased by 111 percent. Compare the 62 percent increase in time spent on the mobile web to the meager four percent increase in time spent on desktop browsers and it's easy to deduce that app usage is only going to grow.
"There are lots of mobile apps being created every day by the giants like Real Page and Yardi and from standalone vendors like Spherexx. They aren't going away, but I think it will dilute the effectiveness of the property manager's ability to serve their customer and their employees effectively as the volume of apps grows," said Wilson.
Market saturation from the avalanche of smartphone apps is creating what technology experts call app fatigue. And, since a mobile device can only hold and process so much data at any given time, the more apps installed, the more impact they have on the device. This includes reduced battery life and optimized performance.
"Users are overwhelmed with the number of apps on the market today. That's one of the biggest complaints we hear from both residents and property owners," said Hollingsworth.
The solution to this problem, he said, is integration with other software so that end users can access multiple apps from a single platform.
"From community news feed to smart apartment controls, we have outfitted our app with a variety of different services that typically are found under multiple apps. This is helpful for residents, many of whom are already feeling app overload. But it is especially important for property management teams. Instead of logging in to multiple management systems, they can control several different resident services from one dashboard. It's a seamless management tool that allows them to better monitor and control several technologies across one platform with ease," said Hollingsworth.
The solution does not necessarily eliminate or replace the need for other property management apps. "Our goal is to seamlessly align our app and services with the property management systems to make realizing the advantages of technology easier for managers and their residents," he said.
App futures
Hollingsworth sees one of the biggest hurdles for smartphone app users and developers is the speed at which the industry changes, noting that a popular app one week may be replaced by a slightly different app the next.
"It can be hard to keep up with the best product. But it's especially important for developers to take notice of those trends among users and determine which types of features users truly like and engage with instead of those features that are flashy at the moment.
"In order to create a product that not only looks good, but promotes loyalty among users, we must be constantly innovating and adding new features and services under one app so users can see more, engage more, experience more in one spot. Big name apps like Facebook or Snapchat are doing this every day, updating their platform with new and diverse features that set trends across their industries," said Hollingsworth.
He believes that smartphone apps will become increasingly centralized with more services housed under one application.
"I think in our industry you'll see a lot of the one-service apps, like those designed exclusively for rent payment or WiFi management, begin to dwindle, while more feature-rich apps rise in popularity," he said.
"And as always, monster companies like Google and Amazon could squash many mobile apps if they chose to come in and dominate the multifamily industry," said Wilson.