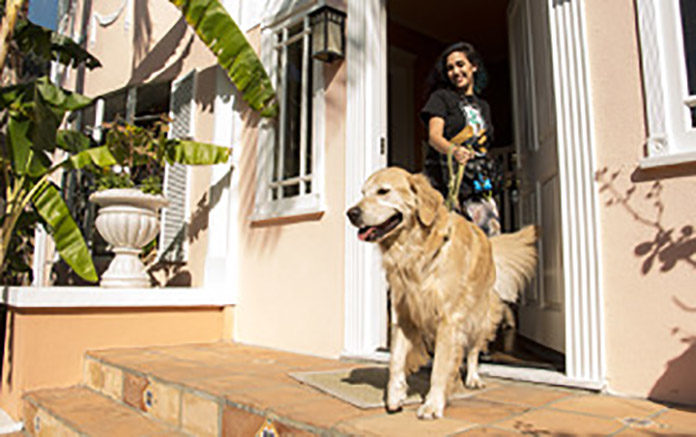 Wag!, the country's largest on-demand mobile dog walking and dog care app, today announced that it will provide its services and custom amenities to residents of six Los Angeles apartment communities managed by Greystar.
This alliance adds Wag! services to the pet-friendly accommodations that Greystar, the largest apartment community manager in the United States, is already known for.
"More than 60 percent of Americans have pets, and increasingly, prospective renters are looking for apartment communities that welcome their four-legged family members," said Jesse Brown, Wag!'s head of multifamily partnerships. "Wag!'s convenient, on-demand dog walking and sitting services will augment the comprehensive pet-friendly amenities Greystar already offers, such as dog parks and bathing stations."
Residents of the Greystar communities The Desmond, Forty55 Lofts, Gallery@Noho, Access Culver City, Avana Wilshire, and Avana Wilshire will have access to Wag! amenities such as:
 Discounts on Wag! walking, sitting and boarding services
 Access to a dedicated 24-hour Wag! customer service phone line
 Wag! lockboxes to safely store their apartment keys and leashes for walkers to access when pet parents aren't home
Additionally, the dog parks at the Los Angeles Greystar communities will be renamed Wag! Paw Parks.
"The amenity-branding relationship between Greystar and Wag! is a first in the multifamily industry," said Adam Khalil, Greystar's director of capital and strategic partnerships.
"The relationship between Greystar and Wag! represents a unique value-add in the multifamily world," said Khalil. "Greystar works hard to give our residents the best possible experience through the amenities we provide, and Wag! fits with our mission and provides a service that residents will use and love. Coming together seemed natural."
The relationship between Greystar and Wag! is a major continuation of the initiative that Wag! has with five of the top 10 National Multifamily Housing Council member companies in addition to local and regional apartment management companies across the country.
Since launching in Los Angeles in 2015, Wag! has provided pet parents instant access to vetted and experienced Wag! dog walkers, sitters and boarders in their local communities to help care for their dogs 24/7. Wag!'s mission is to make pet parenting easier and more accessible while improving the happiness and health of dogs everywhere.
---
About Wag!
Founded in January 2015, Wag! is an on-demand mobile app that gives pet parents more flexibility to manage everyday life. It gives instant access to experienced and trustworthy dog walkers in owners' local communities that they can book at their convenience. Walks last 30 or 60 minutes and walkers are available 24/7. Wag! walks are insured and bonded and every walker has passed a thorough vetting process before being invited to walk dogs on the platform. Wag! is a proud sponsor of Rescue Bank and donates proceeds from every Wag! walk to provide meals to shelter dogs nationwide. Wag! also partners directly with local shelters in Los Angeles, San Francisco, and New York City.
About Greystar
Founded in 1993 in Charleston, South Carolina, Greystar Real Estate Partners, LLC, ('Greystar') is an integrated real estate company that provides management, development and investment services for residential properties in the United States and internationally. Greystar offers property management services, investment management services, conventional multifamily, student housing, and senior housing construction and investment in private rented sector and student accommodation housing in Europe; property management and leasing, pre-development consulting, development, and investment services in Latin America. Greystar redefines excellence in multifamily real estate through its unwavering commitment to operational excellence and by investing in the most talented people in the industry which has allowed them to become one of the largest and most respected management companies.