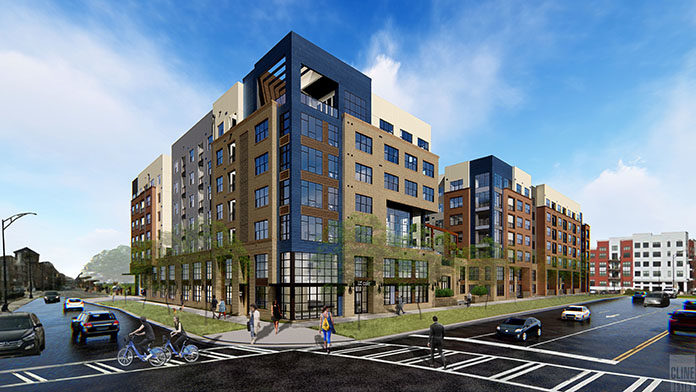 Alliance Residential Company, one of the largest privately-held multifamily developers in the country, has broken ground on Broadstone Queen City, a 260-unit luxury apartment community where South End meets Uptown in Charlotte, N.C.
An homage to the city's Victorian past with a unique, present-day twist, Broadstone Queen City will be a live-work-play community weaving together the city's rich history and modern-day luxury.
"Alliance Residential Company is thrilled to be underway with our third North Carolina start in the last six months and our latest Queen City project, this one paying homage to the city's founding and its past," said Donald Santos, the Charlotte-based Carolinas Managing Director with Alliance Residential Company. "Our value proposition is that we can provide superior proximity to Uptown jobs and a best-in-market finish package, albeit at a more attractive rent than the new Uptown product coming online."
With studio, one and two bedroom units, the project will feature a Sky Lounge on the top floor overlooking the Uptown skyline, a resort-style pool with expansive sun deck also looking out over the city, a 24-hour fitness facility with separate studio and secure garage parking. Other amenities will include a pet spa with grooming station, 24-hour package and dry-cleaning pickup, electric car-charging stations and bike storage. Broadstone Queen City is expected to open in Spring 2020.
Where Uptown, Dilworth, the Gold District and SouthEnd come together, the Morehead-Stonewall corridor is emerging as the primary engine driving infill growth in Charlotte. It has approximately 3.2 million square feet of new office developments recently delivered or in process; a $20 million renovation of the flagship Dowd YMCA and the new Stonewall Station Whole Foods soon delivering.
Over the last year, Charlotte's job market has continued to hum, with corporate relocations focused on financial services, tech and modern manufacturing. Charlotte is the No. 1 market for millennial population growth in the US, with 30 percent growth over the last 10 years.
---
About Alliance Residential Company
Alliance is a fully integrated multifamily real estate operating company focused on the development, acquisition, construction and management of residential and mixed-use communities in the United States. Headquartered in Phoenix, Alliance has 34 regional offices throughout the West, Southwest, South-Central, Southeast, Mid-Atlantic and Northeast. Over the past 18 years, Alliance has consistently been one of the top developers ranked by starts and is the fourth largest management company in the nation, boasting a $20-plus billion portfolio of 103,000 units in 29 metropolitan markets. Alliance has a presence in 19 states and is actively seeking management, development and acquisitions opportunities across the markets it serves.