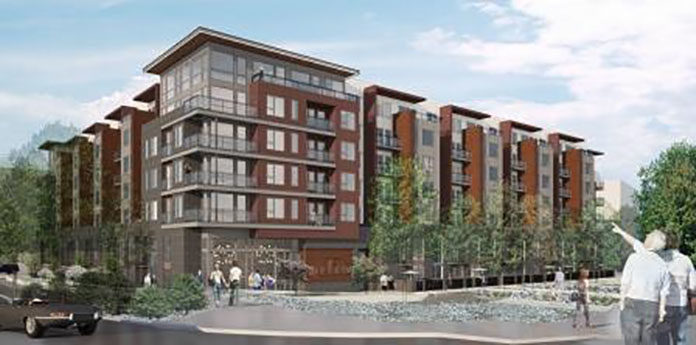 Kirkland Urban co-developers Talon Private Capital and Ryan Companies US Inc., announced today the naming of the residential portion of the Kirkland Urban project, to be known as 'Uptown'.  The redevelopment site, historically known as Kirkland Park Place, has been a fixture in Kirkland's city center for over 30 years.
The Kirkland Urban site is framed between Central Avenue and Kirkland Way, just west of 6th St.  Future residents, visitors and employees will have immediate access to Peter Kirk Park on the west edge of the property, as well as the civic campus that includes the Kirkland Library, the Community Center, Senior Center, Teen Union and Kirkland Performance Center.  The 'Uptown' name is suggestive of the graded elevation that results in the position of the apartment structures overlooking Kirkland's 'downtown' and waterfront.
William Leedom, Director of Investments for Talon Private Capitol remarked, "We are thrilled with the opportunity to offer a variety of new housing options in this great community. We feel Uptown will appeal to those who already know and love this area as well as those not yet acquainted with the special experience of living in Kirkland's city center."
Uptown's first 185 homes are expected to open in spring, 2019 and an additional 175 apartments are anticipated for delivery in 2021.  In addition to being part of a 1.2 million square foot mixed use development, co-developed and built by Ryan Companies, the residential homes will have access to a dedicated fitness center, roof-top deck, media room and pet wash.  All units will feature air-conditioning and many will have decks and spectacular views of Kirkland and Lake Washington.  A portion of the homes at Uptown will be designated as affordable housing, through participation in East King County's ARCH program.
"It is exciting to see the vision for this important development in Kirkland come to life, we believe the project will offer the best of the best for work and life to the community and those that utilize its many amenities," said Bret Jordan, Senior VP of Real Estate Development, Market Leader, Ryan Companies Northwest Region.
In addition to the 50,000 square foot anchor QFC Supermarket, the complete project is truly mixed-use, synergized for an active 18-hour day and will include 650,000 square feet of new, class-A office space as well as upscale retail storefronts that will feature a wide variety of restaurants, boutiques and professional services, which altogether are expected to create thousands of local jobs.
---
About Talon Private Capital
Talon is a privately-held real estate investment firm with deep experience in acquisition, disposition and investment management. Operating in a broad range of property types, Talon seeks to provide superior risk-adjusted returns through carefully developed strategies. Talon Principals have engaged in real estate investment activities for over 25 years with a cumulative transaction volume exceeding $8.2 billion.
About Ryan Companies US, Inc.
Founded in 1938, Ryan Companies offers comprehensive commercial real estate services as a national developer, architect, capital investment consultant, builder and real estate manager with a focus on bringing lasting value to its customers and the communities in which it works. Ryan market depth includes retail, industrial, healthcare and senior living.  Ryan development and corporate build-to-suit work spans a wide range of product types including office, mixed-use, hospitality, multifamily housing and mission critical facilities. Ryan has nearly 1,300 employees in 15 offices and has completed projects in 38 states.