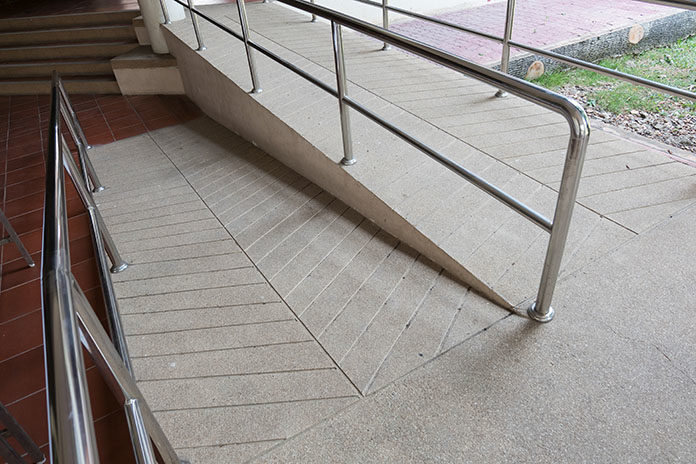 The U.S. Department of Housing and Urban Development (HUD) announced today that it has charged two Ohio corporations, Epcon Communities, Inc., and Epcon Communities Franchising, Inc. (Epcon), with housing discrimination for failing to design and construct thirty-two multifamily housing communities throughout Ohio that meet the accessibility requirements of the Fair Housing Act. Read HUD's charge.
The Fair Housing Act requires that multifamily housing built after March 1991 contain accessible features for people with disabilities. Requirements include accessible common areas, bathrooms and kitchens, as well as wider doors and environmental controls that can be reached by residents who use wheelchairs. The failure to include these features is unlawful and makes the property difficult or impossible to use by people with disabilities.
"It can be very difficult for persons with disabilities to live in housing that does not meet the Fair Housing Act's design and construction requirements," said Anna María Farías, HUD's Assistant Secretary for Fair Housing and Equal Opportunity. "If, for example, a unit has stairs at its entry, that unit is effectively unavailable to a person who uses a wheelchair; it's as if the property has a sign saying, 'no wheelchairs allowed.'"
HUD's charge resulted from complaints by the Fair Housing Advocates Association (FHAA), an Akron, Ohio-based fair housing organization, and HUD's Assistant Secretary for Fair Housing and Equal Opportunity. FHAA first filed a complaint with HUD alleging that five Epcon communities in Ohio had numerous inaccessible features in violation of the Fair Housing Act. During its investigation, HUD discovered additional properties, built by Epcon or throughout its franchisees and filed its own complaint alleging that a total of thirty-two Epcon communities were inaccessible.
According to the charge, Epcon allegedly discriminated against persons with disabilities because it lacked unsafe and inaccessible routes that persons with disabilities and others can use to travel between their homes and common areas: mailboxes, the clubhouse and pool.
The charge will be heard by a United States Administrative Law Judge unless any party elects for the case to be heard in federal court. If the administrative law judge finds after a hearing that discrimination has occurred, he may award damages to FHAA for its loss as a result of the discrimination. The judge may also order retrofits at the inaccessible properties, and other injunctive or equitable relief, as well as payment of attorney fees.  In addition, the judge may impose civil penalties to vindicate the public interest.
April 2018 marked the 50th anniversary of the passage of the Fair Housing Act and the 30th anniversary of the Act's amendment to prohibit discrimination against persons with disabilities. This year, HUD, local communities, housing advocates, and fair housing organizations across the country are conducting a variety of activities to enhance awareness of fair housing rights, highlight HUD's fair housing enforcement efforts, and end housing discrimination in the nation.