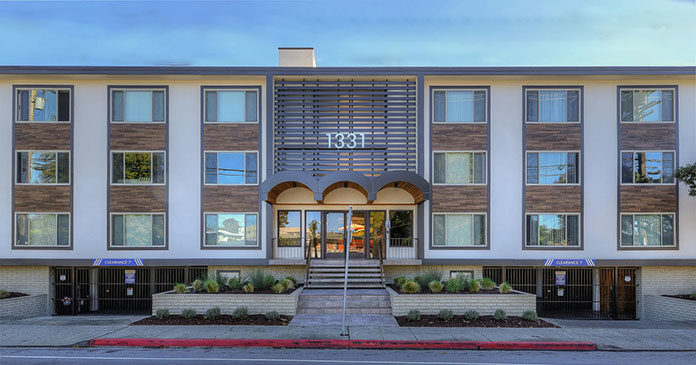 Levin Johnston, one of the top ten multifamily brokerage teams in the U.S., has directed the $15 million sale of Velocity at Sequoia Station, a 30-unit multifamily community in Redwood City.
Levin Johnston represented both the seller, Old Adobe Management Company, and the buyer, a private owner and investor, in the transaction.
"This asset presented a tremendous opportunity for a valuable trade in one of the strongest rental markets in the U.S.," says Adam Levin, Senior Managing Director of Levin Johnston. "We supported the seller, a long-time Client, in the acquisition of the property for $10 million in 2015.  Now, less than two years later, we were able to secure a strong price for the seller, while simultaneously helping the buyer to grow its portfolio and presence in the Bay Area."
During its ownership, Old Adobe Management Company implemented an extensive renovation and repositioning campaign, which bolstered the value of the asset and positioned it as especially competitive in the already tight market.
"This is an unprecedented level of property renovations, resulting in a property that gives both the buyer and renters the closest option to new construction possible in this supply-constrained market," says Levin. "New multifamily supply peaked in the Bay Area last year, and the resulting tightening market will see more dramatic growth in average effective rent as 2018 progresses."
Levin Johnston was able to help the buyer leverage this current momentum by acquiring Velocity at Sequoia Station as part of a 1031 exchange.
"One of the most valuable services our firm provides is the ability to look at the big picture and support Clients in making the right moves at the right time," says Robert Johnston, Senior Vice President of Levin Johnston. "In this case, we had a long-time Client with two small properties in the region who was seeking an opportunity to expand his portfolio. We facilitated a smooth 1031 exchange for the buyer, ultimately meeting the needs of both the buyer and seller in this transaction."
Velocity at Sequoia Station is located near downtown Redwood City offering residents a short walk to various shopping and dining options as well as multiple public transportation hubs. The property is in close proximity to many of the nation's top tech employers including Google, Apple, Tesla and several more.
"This community is situated directly in the heart of Silicon Valley, which boasts exceptional renter fundamentals," states Johnston. "The region is home to a highly educated and high income earning population, providing an opportunity for strong long-term NOI for multifamily owners."
The property is located at 1331 Jefferson Avenue in Redwood City, California.
---
About Levin Johnston
Levin Johnston is one of the top multifamily brokerage teams in the U.S. specializing in wealth management through multifamily and commercial real estate investments. With a focus on growing and sustaining wealth for each and every Client, the Levin Johnston team is expert in investment sales and acquisitions, value-driven asset management, 1031 exchanges, and ongoing advisory services. Since its inception, Levin Johnston has directed more than $2 Billion in transactions, resulting in stable risk-adjusted returns for investors throughout the U.S. Levin Johnston is part of Marcus & Millichap's Palo Alto office.