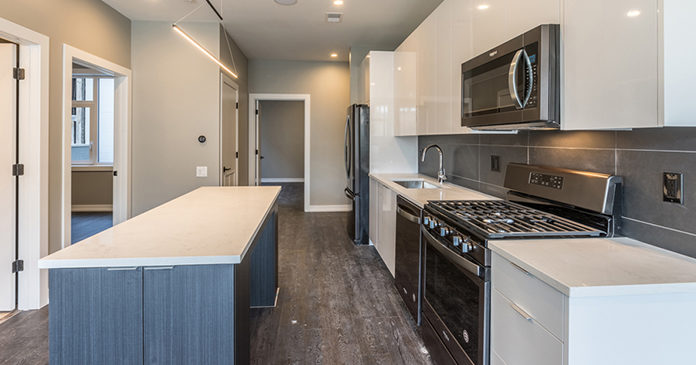 Chicago-based Spaces Real Estate today announced that pre-leasing is underway at Clarkview Apartments, an upscale rental community at 3226-28 N. Clark St. in Chicago's Lakeview neighborhood, two blocks east of the Belmont CTA station. The seven-story building will feature 24 luxury apartment homes and over 2,500 square feet of street-level retail. First move-ins are scheduled for July 1.
The newly constructed development replaces a building that was most recently home to The Alley, an iconic retail establishment that operated on the site for nearly four decades. Built in 1909, the structure originally housed the Garibaldi Theatre, a neighborhood movie theater. Clarkview's design preserves the building's original terra cotta façade and arched entryway – a nod to the site's past that also maintains the integrity of the streetscape.
"Clarkview is a perfect example of respecting the past and embracing the future," said Bentley Phillips, founder of Spaces Real Estate, the exclusive leasing firm for Clarkview Apartments. "The development team took great care in keeping the original building façade intact. But once residents step inside, they will see how the property has been transformed into a modern, boutique apartment community that offers a neighborhood rental experience unlike any other."
Designed by Chicago-based Johanthan SPLITT Architects, Clarkview will feature a mix of one-bedroom/one-bath and three-bedroom/three-bath floor plans, with rents ranging from $2,150 to $4,300 per month. Each apartment will include hardwood vinyl plank flooring throughout, a kitchen with quartz countertops and black stainless steel appliances, in-unit laundry, and a private balcony.
In addition, units will feature high-speed, Wi-Fi-enabled internet access throughout the building, keyless smartphone-ready entry, built-in Bluetooth speakers and voice-activated Amazon Echo technology. Another draw for tech-minded residents is a smartphone-enabled app that will allow them to control building access for guests and service providers. Efficient products and materials including LED lighting and high-performance windows were also incorporated into the building's design.
"We know technology and efficiency are essential components of modern urban living, and we expect the built-in tech features at Clarkview to be a big draw for renters who appreciate the convenience of smart-home technologies," said Phillips. "This is on top of the building's amenities that also enhance livability and serve as another point of differentiation in the market."
One of the most notable on-site amenities at Clarkview is a landscaped rooftop deck with panoramic views of Wrigley Field, Lake Michigan and the downtown skyline. The deck will include a fire pit, grilling stations and a variety of seating options to help foster social connections and provide a well-appointed entertaining space for residents and guests.
"Clarview is another step in the transformation of Clark Street between Belmont and Wrigley Field," said Craig Knapp, principal at Meta Properties, co-developers of Clarkview Apartments with Glascott and Associates and Metropark LLC. "Until recently, this section of the street had a mix of developed and undeveloped space, and projects like Clarkview realize the vision of a more unified corridor at the center of the Wrigleyville neighborhood."
Clarkview offers a highly walkable location, with access to the L and several bus lines just steps away. In addition to the numerous shops and restaurants in the immediate vicinity – including a Target store next door at the corner of Clark Street and Belmont Avenue – residents will have convenient access to Wrigley Field, the Lake Michigan shoreline and Lincoln Park.
---
About Spaces Real Estate
Spaces Real Estate is a full-service real estate brokerage specializing in residential leasing, with an emphasis on Chicago's North Side and downtown neighborhoods. The company's approach is both service-oriented and data-driven, powered by a team of experienced brokers whose hyperlocal, block-by-block expertise is supplemented by the firm's industry-leading, proprietary technologies. In addition to providing apartment-finding services to renters, Spaces works with a variety of landlords, including private owners, institutional-level investors and veteran developers. Since opening in 2010, the firm has leased approximately 10,000 apartments. In 2016, Spaces introduced a new division, Elevated Spaces, that focuses on the high-end downtown rental market. The company also includes a dedicated team of agents who provide brokerage services to buyers and sellers of residential properties throughout the city.