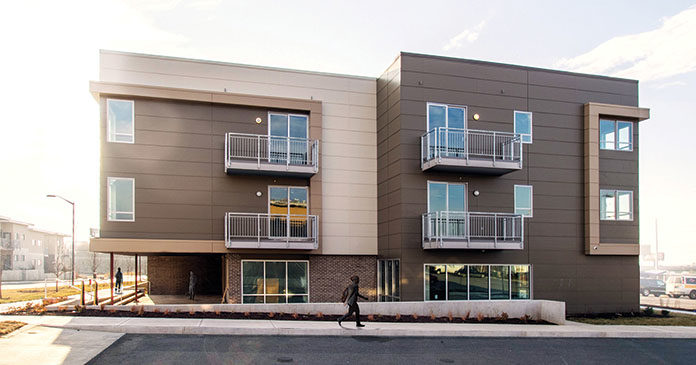 In the last decade, a development group has been working to revitalize the community, and several community partners invested $70 million in a redevelopment project to bring life back to this historic and idyllic part of town through a combination of mixed-income residential areas and mixed-use development.
The first phase of the project was a five-building, 108-unit apartment complex called Columbus Park Lofts, at 770 E. 5th St. The space was designed to attract the creative class, with a variety of innovative elements and intentional amenities. Kansas City architecture firm Clockwork teamed with Gastinger Walker & Architecture to design this revitalizing apartment complex.
Addressing the needs of a diverse community
Much of Kansas City has been in a revitalization process, but each community within the urban area has different needs.
"While some areas like the Power & Light District are seeing an upswing in luxury residential options, a large percentage of the population still needs access to affordable housing," said Christian Arnold, founding principal at Clockwork. "It was important to us to be a part of a more attractive and cost-effective option for this neighborhood."
Rather than making Columbus Park another high-end project, the development team decided to go in another direction. Half of the units are designated for low-income families, with affordable rent around $500 a month. The other half are market-rate prices, designed to attract young professionals.
Tax breaks and grants covered much of the $19.5 million construction of CP Lofts. Construction started in 2015, and as of early 2017, tenants began moving in. The building is currently at full capacity.
The hard work has paid off: In March, Columbus Park was recognized by the Kansas City Business Journal for the 2018 Capstone Award in the category of multifamily building design as an innovative contribution to the metro area.
Re-defining "low-income housing" through intentional design
The connotation of low-income housing is usually synonymous with cheap product material, scant amenities, and higher crime rates. Clockwork's goal was to change that perception, focusing on quality above all else. The apartments were designed with the creative class in mind, attracting the many young professionals in the art, startup and design industries here in Kansas City.
Each of the one- and two-bedroom apartments feature an open floor plan, giving the space a loft-like aesthetic. Lots of windows allow for ample natural lighting and highlight the Kansas City skyline. Polished concrete floors, granite countertops, and sleek black appliances add to each apartment's modern feel, and each unit is Google Fiber and AT&T U-Verse ready, allowing for tenants to connect, innovate and create right from the comforts of home.
Amenities aimed to help the community thrive
Beyond each individual apartment, the Columbus Park project is designed to foster community and meet tenant needs in multi-faceted ways:
Collaborative spaces are built throughout the five buildings to foster connections among neighbors. The complex has a cyber cafe and coffee shop, a fitness center, and a gallery and studio space for artists. A 6,000-square-foot collaboration center is utilized for community events, such as a wine and paint night.
Outdoor spaces were intentionally built into the design. Walking throughout the five apartment buildings, you will see greenways and pocket parks with grilling stations as well as a Farm-to-Table Community garden on site.
Access to mobility is another intentional feature. The River Market is just a short walk away, and the Columbus Park streetcar stop is within a 10-minute walk. For those who wish to bike, the Loft also has a Bike Repair Shop on location.
The Lofts are only the beginning of the revitalization happening in Columbus Park. Phase 2 includes more apartments and single-family homes. Exploring this historic neighborhood today, the new life emerging in the community is evident.
Author: Allie Heemstra