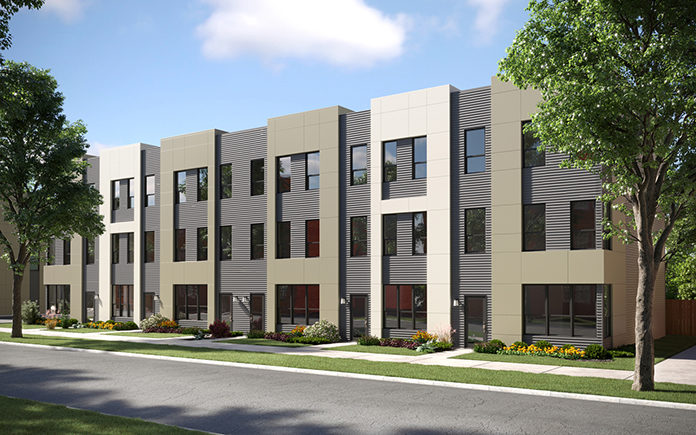 Lexington Homes, an active homebuilder throughout the city and suburbs, is bringing a new maintenance-free community of 22 single-family row-homes with fenced-in yards and private, detached two-car garages to the burgeoning Avondale neighborhood on Chicago's Northwest Side. Called Lexington Village at Avondale, sales for the community will start this summer.
Located at the corner of Karlov and Belmont avenues, Lexington Village will offer modern floor plans in a neighborhood that boasts a Michelin-starred restaurant, major craft brewery and boutique theater. Residents at Lexington Village will be only a five-minute drive from Interstates 90/94 and multiple public bus stops are just steps away on Belmont and Milwaukee avenues and well as Pulaski Road.
"We always look for infill sites in neighborhoods that are in high demand or on the rise so we can offer buyers a great location, and this spot in west Avondale was an undiscovered gem," said Jeff Benach, principal of Lexington Homes. "Home prices in Avondale have been on the rise since 2012 and we see no sign of them slowing down, so this is an excellent and rare opportunity to own a new-construction home for almost $100,000 less than homes of the same size in this neighborhood."
Lexington Village at Avondale will offer two newly created floor plan designs that measure approximately 2,300 to 2,450 square feet across three floors of living space. Base prices will start from $535,000 to $575,000. Homes will include three to four bedrooms and 2½ to 3½ baths. The designs incorporate the open-concept layout popular in the rowhomes Lexington recently sold out of in Bridgeport, but with even more square footage. The homes also will offer a 21- to 24-foot-deep private fenced-in back yard and a detached two-car garage on a newly built alley. An optional rooftop deck can provide additional outdoor space.
"The new floor plans at Lexington Village are a creative hybrid of Lexington Homes' popular rowhome and single-family home designs," said Benach. "We transformed our rowhome plans to more closely resemble a single-family home by creating a stand-alone garage instead of having it at the rear of the first level, which frees up about 400 square feet to add back into the home. Buyers also will love the luxury finishes and options available to tailor their space, such as traditional or contemporary fireplaces in the great room, ceiling treatments in the master bedroom and a wide selection of countertop, flooring and cabinet styles."
All homes at Lexington Village come with a high level of finishes, including a stainless-steel appliance package and granite countertops in the expansive kitchen, as well as 9-foot ceilings and hardwood flooring throughout the entire main level.
"Another way we anticipate these homes will stand apart from older, existing home stock in the neighborhood is with multiple areas for entertaining and gathering with friends and family, whether it is lingering around hors d'oeuvres at the large kitchen island, conversing over coffee in the open-concept dining/living room area or enjoying a barbeque in the private back yard," Benach added.
Lexington Village at Avondale will be located one block west of Pulaski Road, in proximity to fitness clubs, grocery stores, coffee shops and restaurants, while abundant retail, such as boutiques, antique shops and furniture stores, lines nearby Milwaukee Avenue.
The Avondale neighborhood, ranked as one of the nation's 10 hottest, need-to-visit neighborhoods by travel website Lonely Planet, borders Roscoe Village and Logan Square, which are two neighborhoods that have experienced rapidly rising property values. "Buyers at Lexington Village will get a great value in Avondale right now and should be in a position to experience tremendous price appreciation in the future," said Benach.
---
About Lexington Homes
A premier name in Chicago real estate, Lexington Homes is one of the city's most successful private builders. In the past four decades, Lexington Homes' real estate development team has built more than 40,000 homes in Chicago and its surrounding suburbs, solidifying its reputation for excellence and innovation in homebuilding.