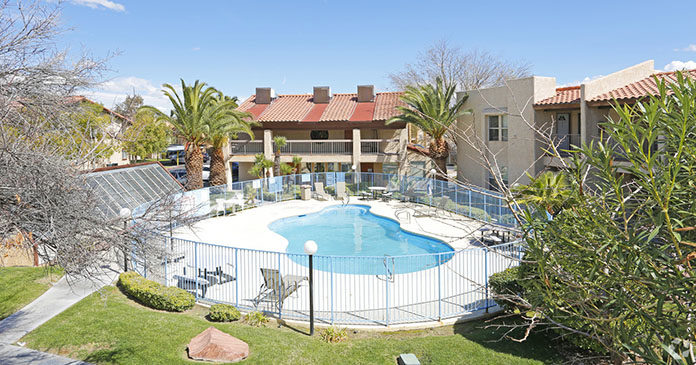 San Diego-based Tower 16 Capital Partners and Henley USA have partnered to launch Altura, a new brand of multifamily apartment communities in Las Vegas. The partnership made their first acquisition last month, a 228-unit Class B property which was acquired off-market from the seller. This project represents the first of several acquisitions planned for this year in the Las Vegas market.
Tower 16 plans an extensive renovation of the property formerly known as Winsome West Apartments, including rebranding the property to Altura on Duneville. Tower 16's business model is to purchase under-performing properties in high-demand markets and modernize them with a more contemporary look, updated amenities and professional management.
"This acquisition was a perfect example of the type of projects that align with our strategy of building long-term value through performing modern renovations, adding enhanced amenities and implementing superior management," said Tower 16 Principal Mike Farley. "This was a rare off-market opportunity to acquire from a private seller in an extremely tight market. The quality of the asset, proximity to employment and market fundamentals were extremely attractive to us."
Built in 1987, the property features 25 buildings with one- and two-bedroom units. Planned capital improvements include a completely refurbished clubhouse, a 24-hour fitness center, new laundry equipment and enhanced common spaces, including the lobby and pool. Apartment interiors will also be upgraded with contemporary finishes and the latest in residential technology. The partnership also will bring in an institutional quality property management team to improve operations and services for renters.
"The Las Vegas real estate market has seen a recent resurgence with strong rent growth, and with our improvements Altura on Duneville will be a top choice among multifamily product for millennials, young families and empty nesters," said Tower 16 Principal Tyler Pruett. "The location is in close proximity to the Las Vegas Strip and future location of the Las Vegas Raiders stadium, with convenient freeway access, so we expect it to be in high demand."
The partnership expects to announce its second acquisition next month.
---
About Tower 16 Capital Partners LLC
Tower 16 Capital Partners, LLC is a commercial real estate investment and management company focused on acquiring and managing value-add investments in the Western United States. Headquartered in Carlsbad, Calif., Tower 16 was founded by principals Mike Farley and Tyler Pruett who have over 35 years of combined institutional real estate experience with an emphasis on value-add investing. The principals have managed, repositioned and developed over 300 properties with a combined market value in excess of $2 billion for large public companies and premier private equity firms.