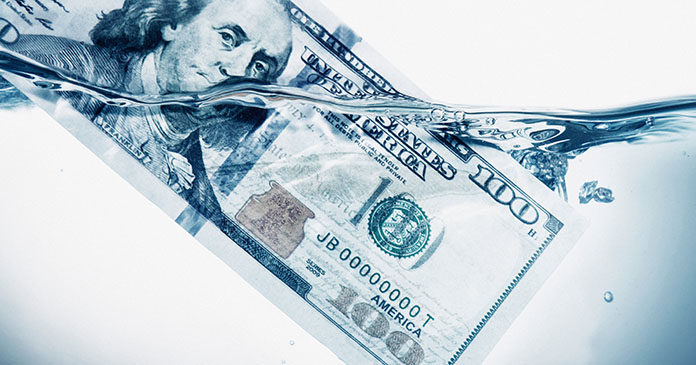 A new study from Enterprise Community Partners (Enterprise) and Elevate Energy shows how affordable housing owners can save money, conserve resources and strengthen the long-term viability of their portfolios. The report found that smart investments in water efficiency can generate savings so substantial that they pay back their initial costs in less than three years, with the average five-year savings exceeding $20,000 per property, or 22 percent of total water and sewer costs.
"Sustainable by Design: Increasing Water Efficiency and Reducing Cost in Affordable Housing" draws on the experiences of 14 properties across Chicago where water rates have nearly tripled since 2007. People in other Midwestern cities, including Cleveland and Detroit, have seen similar increases.
Rising water costs hit owners of affordable housing particularly hard. While owners of market-rate apartments can pass on higher rates to tenants, owners of affordable homes typically operate under strict rent caps.
These rising operational costs, driven in part by increases in water rates, could lead owners to defer maintenance to keep up with utility bills, or worse, lead to properties being financially unstable. In worst-case scenarios they could force buildings into foreclosures and residents out of their homes.
"Sustainable by Design" shows a path to overcoming these challenges. It recommends that multifamily housing providers, government agencies and philanthropic organizations invest in comprehensive water efficiency strategies. The result will be properties that are more financially stable and an increase in the supply of well-designed, affordable homes across the country.
The Chicago water efficiency pilot
In 2016, Enterprise engaged Elevate Energy's building efficiency staff to design and implement the Chicago Water Efficiency Pilot. The 10-month pilot had four major goals:
Help affordable housing providers access data on water consumption.
Expand providers' capacity to track water usage, including identifying risks from usage.
Identify measures to reduce inefficient and wasteful water consumption as a way to lower bills.
Build evidence showing affordable housing providers the value of water efficiency programs.
A water efficiency specialist from Elevate Energy visited each of the affordable housing properties, all of which had felt the impact of rising water bills. Each development was financed using the Low-Income Housing Tax Credit or subsidies and is maintained by a nonprofit committed to providing high-quality affordable homes to low-income residents.
The specialist helped pilot participants begin tracking utility bills by using web-based benchmarking platforms. They can now compare their water bills over time and from building to building, making it easier to identify buildings with abnormally high usage. The specialist also provided light training and guidance on procedural improvements for maintenance staff. After data collection ended, Elevate Energy and Enterprise met with pilot participants to discuss final reports and offer guidance on next steps.
The 2016 Chicago Water Efficiency Pilot was an extension of the Enterprise Sustainability Exchange, a green sustainability capacity building initiative for nonprofit housing owners and developers in Chicago, which Enterprise launched with partners in 2014.
Takeaways for housing providers and environmental service providers
Identify a staff member to transfer billing information onto a web-based benchmarking tool like Energy Scorecard, ENERGY STAR® PortfolioManager®, Wegowise or another similar platform. Decision-makers can then easily identify needs, such as on-site building assessments, repairs or building retrofits, to maintain and invest in their buildings.
Establish short- and long-term portfolio-management strategies that prioritize water efficiency improvements within the context of existing organizational structures, including usage monitoring, leak repair, and upgrades or replacement of inefficient shower heads, toilets and other fixtures and appliances.
Takeaways for funders and policymakers
Support programs that subsidize water efficiency assessments, including capacity building that offers training and technical assistance to maintenance and resident services staff.
Secure financial support for water efficiency assessments conducted by independent environmental service advisors.
Develop or financially support programs that directly subsidize water efficiency retrofits.
Enterprise and Elevate Energy look forward to collaborating with partners on the Chicago Water Efficiency Pilot and to helping affordable housing providers in Chicago, the Midwest, and nationwide improve the sustainability of their portfolios and their organizations – and, ultimately, to protect the viability of affordable housing.
---
About Enterprise
Enterprise is a proven and powerful nonprofit that improves communities and people's lives by making well-designed homes affordable. We bring together the nationwide know-how, partners, policy leadership and investments to multiply the impact of local affordable housing development. Over 35 years, Enterprise has created nearly 529,000 homes, invested $36 billion and touched millions of lives.
The Chicago Water Efficiency Pilot was made possible through generous support from the Polk Bros. Foundation and Sally Mead Hands Foundation. These foundations have been champions for sustainable practices in affordable housing and continue to support the work of building the capacity of providers to make their buildings green, sustainable and efficient in their use of energy and water. We are also grateful to State Farm for supporting the completion of this case study.
Authors: Juan Sebastian Arias is program officer at Enterprise Community Partners, where he leads their sustainability and resiliency work in the Chicago and Detroit metro areas.
Jessica Miller is a senior manager at Elevate Energy, where she leads the development of consulting services for building owners in Chicago and nationally.