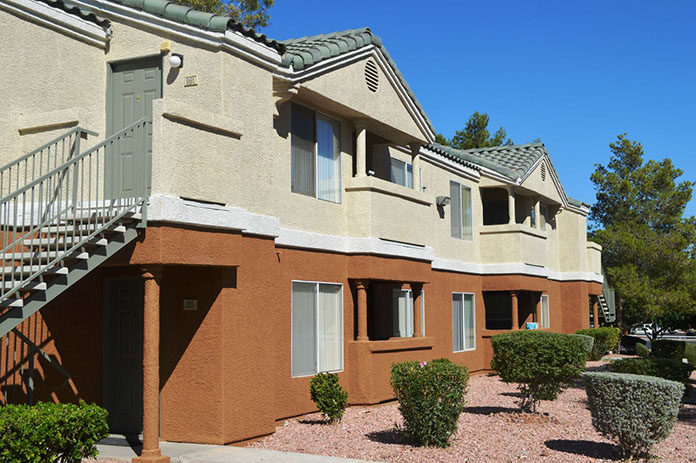 Alpha Wave Investors, a private equity investment firm specializing in opportunistic and value-add multifamily and hospitality assets in the Western U.S., has acquired Cypress Springs Apartments, a 144-unit multifamily community situated in the Centennial Hills submarket of Las Vegas. Alpha Wave acquired the asset in an off-market transaction for $15 million.
"The Las Vegas market is experiencing some of the fastest population and job growth in the country, making it an ideal locale for strategic investment," says Jordan Fisher, a Founding Partner of Alpha Wave Investors. "There is tremendous excitement surrounding new projects in the region, including the multi-billion-dollar Raiders stadium, several new billion-dollar-plus hotels on the strip, as well as growth of major employers such as Amazon, which is developing a second distribution center in the region."
The city, which ranks among the top 10 metro areas for population growth, boasted the second-largest employment gain in the U.S. last year, growing 2.9 percent. Fisher notes that the resulting multifamily rent growth – up 5.3 percent year-over-year – demonstrates that market fundamentals are strong enough to support true value-add investments.
"Our focus is always on properties that are poised for renovation and repositioning that will cater to the demands of the local rental market. Cypress Springs meets that criteria perfectly," Fisher says.
Fisher also explains that Cypress Springs' location in northern Las Vegas is a strategic advantage.
"New multifamily product being built in Las Vegas has been concentrated in Summerlin and Henderson – all in the southern part of the market," explains Fisher.  "Our property is situated in the north, where there is little to no new supply, making the asset well-positioned to attract and retain residents seeking upgraded workforce housing in the region."
The seller, a private investor based in California, owned the asset for more than a decade and kept it well-maintained, according to Fisher.
"Because the property is already in good condition, we have the opportunity to focus all capital improvements on amenities and upgrades that will drive NOI growth and support long-term value for residents," Fisher continues.
Alpha Wave plans to implement approximately $1.7 million in upgrades and improvements to the property, including the addition of security gates, a play structure, a dog park, an outdoor gas barbeque, new landscaping, exterior paint, a new pool area, clubhouse, and fitness center, as well as fully renovated interiors.
Devin Lee, CCIM of Northcap Multifamily identified the opportunity for Alpha Wave and represented both the buyer and seller in the off-market transaction.
David Walkin of Meridian Capital Group, LLC arranged $13.65 million in acquisition financing for Alpha Wave from lender Resource Real Estate Funding, Inc.
"It was clear that Resource Real Estate Funding quickly understood our vision for the project, and the collaboration between Devin, David, and the lender made for a seamless transaction," noted Fisher.
Built in 1994, Cypress Springs Apartments offers large one-, two- and three-bedroom apartments in close proximity to employment and transit, as well as a wide variety of restaurants, retail, and entertainment options. The property is located at 3651 Rancho Drive in Las Vegas, Nevada.
---
About Alpha Wave Investors
Alpha Wave Investors, LLC. is a Southern California-based private equity investment firm specializing in multifamily and hospitality investments in the Western U.S. Known for its creative, disciplined, and value-driven approach, the firm invests on behalf of individuals and institutions, and has acquired assets valued at more than $100 million to date.
Led by Ken Cruse, former CEO of a $5 billion publicly traded REIT, as well as Jordan Fisher and David Sloan, Alpha Wave Investors targets opportunistic and value-add investments and conducts management through its in-house property management platform.