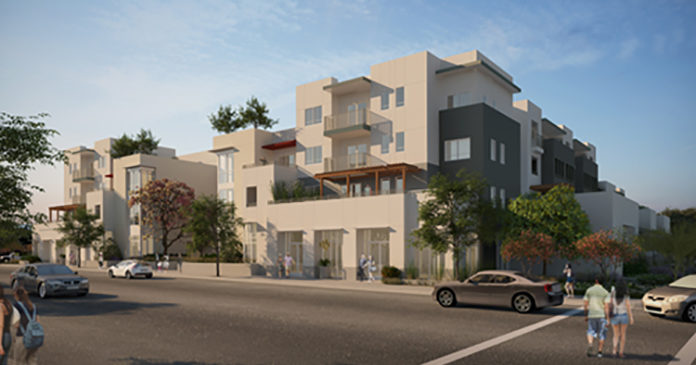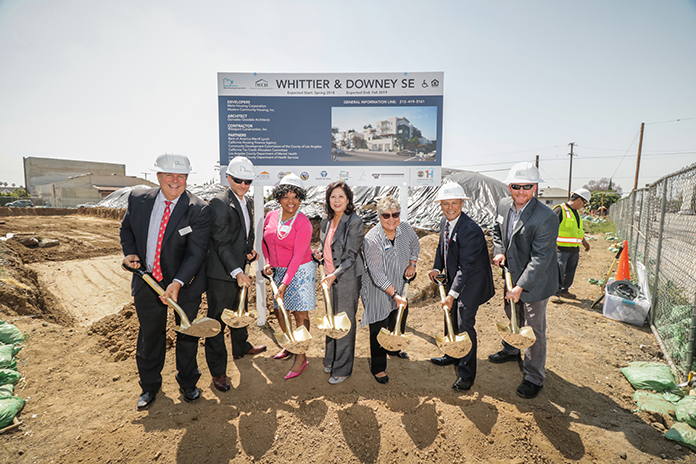 Meta Housing Corporation, a Los Angeles-based developer, has broken ground on Whittier & Downey SE, a 71-unit affordable housing community that will be developed with permanent supportive housing and 3,400 square feet of community serving retail.
"There is a significant need for quality affordable housing throughout Los Angeles, especially as homeless numbers throughout the county continue to rise," says Meta Housing Corporation's President, Kasey Burke. "The most recent count by the Los Angeles Homeless Services Authority identified more than 58,000 homeless people in Los Angeles.  This is a problem that needs to be addressed."
Whitter & Downey SE will reserve 35 of the 71 affordable units as permanent supportive housing to address this growing need within the local community, according to Burke.
"We develop properties that enrich the local community, as well as the lives of our residents by strategically partnering with cities, counties, and community-based organizations," explains Burke. "For this particular project, we partnered with LifeSTEPS and the Los Angeles County Departments of Health Services and Mental Health to develop a project that will provide safe, highly-amenitized affordable housing with strong supportive services to residents."
According to Los Angeles County Supervisor, Hilda L. Solis, "Building affordable housing is an essential cornerstone of my comprehensive strategy to lower housing costs and prevent homelessness before it begins," says Solis. "By incorporating intensive case management and supportive services, we are not simply addressing the homelessness and affordability crisis at the margins, but are providing these residents with the tools and services they need for long-term success. By building more than 100 housing units for families with a truly holistic 'wellness hub' approach that combines supportive housing and mixed use, this project is one of the best affordable housing initiatives we've seen in the County."
Financing for the $38.6 million project is provided by the California Tax Credit Allocation Committee, California Housing Finance Agency, Community Development Commission of the County of Los Angeles, Los Angeles County Departments of Health Services and Mental Health, Brilliant Corners and Bank of America Merrill Lynch.
"As a leading provider of affordable housing finance, one of the most important factors Bank of America considers before entering a deal is if that project will make a significant impact in the community.  Meta's vision for Whitter & Downey Southeast is a model for the type of transformational impact housing projects can have," says Charmaine Atherton, Senior Vice President, Bank of America Merrill Lynch's Community Development Bank.  "This transit-oriented, affordable residence will help create a new walkable community and add retail opportunities in the neighborhood for low income working Angelinos as well as helping 35 homeless people get housed and back on their feet, on the path to economic stability."
The apartment community will be developed to LEED Gold certification standards and will be located adjacent to the Los Angeles Metro Line 18 and less than a mile from East Los Angeles Doctors Hospital, El Camino Real Library, and Salazar Park.
"We place a heavy emphasis on both creating walkable communities that are in close proximity to transit hubs and that are sustainably designed," says Aaron Mandel, Executive Vice President at Meta Housing. "We are excited that this particular community was able to feature so many innovative green and sustainable design elements that will reduce the property's environmental footprint."
In addition to its transit-oriented location, Whitter & Downey SE is planned to feature 3,400 square feet of community serving retail along with a host of amenities that establish a sense of community and encourage interaction among residents, according to Mandel.
Planned amenities include an outdoor BBQ area, edible container garden, large courtyard, spacious community room, tot lot, bicycle storage, and on-site laundry and gym, among others.
The apartment community will be located at 4200-4224 Whittier Boulevard in Unincorporated Los Angeles County and will feature a mix of one-, two-, and three-bedroom floorplans. The project is anticipated to be completed in Fall 2019.
The new development is a part of a two-phase project. The second phase will be located across the street on the northeast corner of Whitter Boulevard and Downey Road, which is planned to begin construction in Spring 2019.
---
About Meta Housing Corporation
Since 1993, Meta Housing Corporation has established itself as one of Southern California's most experienced and trusted developers of apartment communities for families and seniors, developing more than 6,000 residential units.