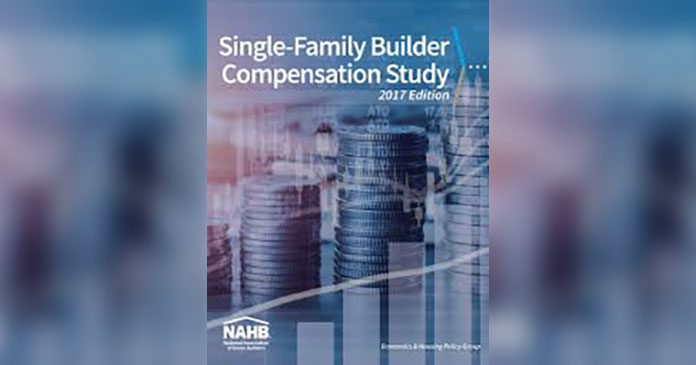 BuilderBooks, the publishing arm of the National Association of Home Builders (NAHB) recently released The Single-Family Builder Compensation Study, 2017 Edition. The study includes data collected on compensation and benefits for 39 common positions at single-family home building companies.
Results from this survey provide single-family builders with current information that can be used to benchmark their employees' level of compensation and benefits. The data was analyzed by region of the country, 2017 expected dollar volume, number of expected starts in 2017 and number of employees on payroll.
The findings are presented from two different perspectives: Across all 39 positions, giving a broad view of the full-time positions that currently exist at single-family building companies, as well as a comparison of average total compensation and benefits across positions; and also as a detailed view of each position's average compensation and benefits.
"This publication offers valuable information to any home building company," said NAHB Chairman Randy Noel, a custom home builder from LaPlace, La. "It gives readers an inside look into the compensation and benefits offered at similarly sized companies, and allows them to compare themselves to the average, or even to use these numbers as recruiting tools to showcase earning potential for prospective employees."
The Single-Family Builder Compensation Study, 2017 Edition is available for purchase ($149.95 Retail/$79.95 NAHB Member, ISBN978-086718-766-3) at BuilderBooks.com or by calling 800-223-2665. The ebook is available at ebooks.builderbooks.com ($89.99 Retail/$55.99 for NAHB Members).
---
About BUILDERBOOKS
BuilderBooks publishes educational products for the housing industry and is the official bookstore for the National Association of Home Builders, offering a variety of books, software, brochures, and more in English and Spanish.
About NAHB
The National Association of Home Builders is a Washington-based trade association representing more than 140,000 members involved in home building, remodeling, multifamily construction, property management, subcontracting, design, housing finance, building product manufacturing and other aspects of residential and light commercial construction. NAHB is affiliated with 700 state and local home builders associations around the country. NAHB's builder members will construct about 80 percent of the new housing units projected for this year.