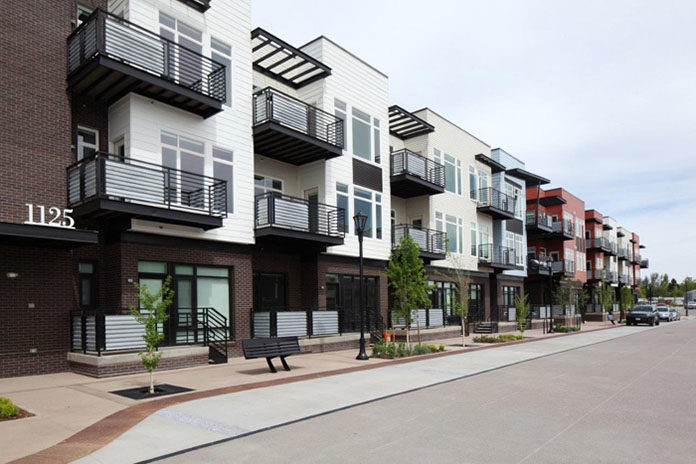 In commercial development, the thirst for something new is nearly constant. Developers, designers, and builders all continually search for a competitive edge in an ultra-competitive industry to distinguish their product from a sea of sameness. In this quest for new and unique, certain successful developments become mile markers along the highway of innovation; noteworthy reference points defining a technical or aesthetic advance that inspires future design. Such is the expectation for a small mixed-use, multifamily community in Louisville, Colorado where development vision, design response, and construction craftsmanship all combine to deliver a distinct, pedestrian-centric, multimodal community experience.
"Placemaking really impacts the people that occupy a space," says Paul Shoukas, Vice President and landscape architect with PCS Group, of the innovative streetscape at the Delo Apartments designed to enhance community connections. Located just east of Louisville's downtown, the development objective for Delo was to foster easy pedestrian access to the city's recently revitalized commercial district. Particularly challenging, the link between the town center and Delo is bisected by a railroad, a potentially huge impediment to pedestrians. The solution, a living street.
"We borrowed from a Dutch design strategy called a Woonerf to create a curbless environment," continues Shoukas of the site's unusual, flat interface between the street and sidewalk. The design means to give equal priority to all modes of transportation including vehicular, bicycle, pedestrian, and wheeled. By seamlessly merging street and sidewalk into a single, more or less flat surface, the idea behind the Woonerf is that eye contact and continual human interaction are a more effective means of creating a safe, pedestrian-friendly environment than curbs, signs, and rules.
"Rather than separating uses with barriers, the design integrates several really beautiful architectural concrete techniques, colors, and patterns with small, raised truncated domes to delineate street and sidewalk," says Shoukas. The combination of color and texture changes are accomplished through the use of Bomanite decorative concrete products, which were closely pre-planned and installed by local Bomanite licensed contractor Colorado Hardscapes. "The team at Colorado Hardscapes was extremely informative in the material selections we made. Their showroom and the number of different product samples we were able to see, touch, and mix and match was incredible."
Ultimately, the roadway at Delo incorporates Bomanite's Sandscape® Texture, which combines locally sourced aggregates, Black beauty sand and seed colored glass to create a granulated surface speckled with shiny jewels. Chosen for both durability and aesthetics, Sandscape's textured effect is similar to what happens when concrete is sandblasted, except more uniformly controlled and the glass jewels don't get frosted by the blasted sand in the process. At Delo, the only formal separation between road and sidewalk occurs through the use of steel plates covered in raised metal domes. Commonly used as an ADA measure where sidewalks slope to streets, here the raised domes will cause a warning rumble effect if a vehicle drives over them.
Defining the work on paper and putting it into the ground are often two different challenges in the building industry. Incorporating architectural concrete into the site's drivable surfaces meant completely rethinking the way the property was built. Often in greenfield construction, paved surfaces are placed first to provide immediate access for the heavy equipment and manpower required by vertical construction. Once the buildings are established, sidewalks and curbs are added, and finally, roads and parking lots are resurfaced with a topping layer when construction is nearing conclusion. When using decorative concrete as a drivable road, hard surfaces must be placed after heavy-equipment construction is complete to protect the beauty and integrity of the finished product. Adding to the complexity of the build, Delo's public spaces also significantly incorporate concrete stem walls to account for elevation changes across the site and provide ample opportunity for stopping, sitting, and chatting among neighbors.
The man responsible for overseeing Colorado Hardscapes' work on the property was construction superintendent Rick Boer. Over more than 33 years at Colorado Hardscapes, Boer has seen his fair share of construction complexity. Between 2007 – 2009, he worked with Texas Bomanite, a licensed Bomanite Contractor in Dallas, on the installation of exposed aggregate concrete at the newly constructed Dallas Cowboys football stadium. Boer believes that the comradery and willingness to share technical knowledge and even employees from one contractor to another is an important part of Bomanite's uncommon bond.
"The most unusual thing on the Delo Apartments was the length of time we were on site," notes Boer. Typically, decorative concrete is one of the last external elements built, but in the case of Delo, Boer and his team were among the first trades activated and the last to leave. Through an estimated 80 pours and 2,000 yards of concrete, Colorado Hardscapes laid more than 25,000 square feet of Sandscape for the road and another 35,000 square feet of Colored Sandscape sidewalks. Concrete pours continued for the entire time the apartment and retail/office buildings were under construction and all the way up to the end of site cleanup. "The concrete was here before the buildings were, so we really had to put an awful lot of trust in the surveyors and the markings they gave us to get things right."
Though the volume of horizontal installations wasn't overwhelming compared to Colorado Hardscape's previous experience, they were challenged to produce more than 500 linear feet of stem walls, many of which are curved, and all of which called for decorative finishes to match the overall design. Bomanite's Sandscape Refined technique incorporated a Cappuccino color hardener with flecks of mirror and blue glass to add a sparkle to seat walls, planter walls, and concrete columns.
"Integrating a decorative concrete finish on a flat surface and getting it to stand up vertically are two different things," says Boer with a slightly secretive grin. Typically, in vertical concrete construction builders set up formwork, pour the concrete, allow it to set for 24 hours, and strip the formwork off the next day. In order to add the decorative glass and aggregate mix to the vertical surface, at Delo the walls were only allowed to set to a certain point, and the formwork had to be stripped the same day. Immediately, the patented Bomanite chemical compounds and mix are added into the still-wet concrete by specially trained craftsmen. Working quickly and deliberately, skilled hands bond finish and substrate in an evenly blended mix that is more a slurry than a coating.
"The Bomanite products, technical knowledge, and commitment to innovation have led the decorative concrete industry since the start," says Boer of the product support and resources available through the corporate offices and network of contractors across the country. He adds that he feels blessed to be a part of such a dynamic project that will surely be a reference point in both decorative concrete and pedestrian-friendly streetscapes for many years to come.