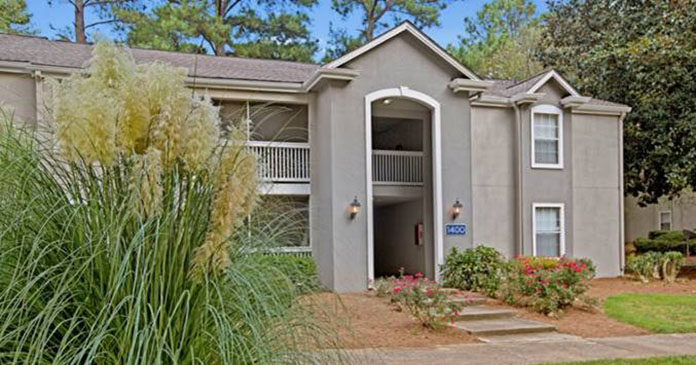 StoneBridge Investments of Washington, DC has acquired Avia East Cobb, a 200-unit apartment community located in the affluent Atlanta suburb of Marietta, GA for $23.5 million. The seller, an entity controlled by Harbor Group International, was represented by Kevin Geiger of CBRE in an off-market transaction. The new ownership plans to spend approximately $3.2 million on a repositioning strategy to include renovation of common areas, amenities, and unit interiors. The property will be rebranded with the name Landry at East Cobb Apartments.
With large one-, two-. and three-bedroom apartment homes and close proximity to some of the metro area's best public schools, Avia East Cobb fills a need for affordable, family-friendly housing in an increasingly expensive area. Anchored by the new $672 million Sun Trust Park, home of the Atlanta Braves, the area has become a catalyst for economic growth with thousands of new jobs. East Cobb has recently attracted a number of key employers including Comcast, Vonage, Genuine Parts, Synovus, and Home Depot's new Tech Center.
"We are excited about our latest acquisition, our third in Atlanta in the past year," said William Bateman, Director, StoneBridge Investments. "We feel there is a compelling growth story in our immediate submarket, and through strategic value-add renovations and attentive management, we expect to achieve rent growth while maintaining the property as a relatively affordable option compared with newer product."
With immediate access to I-75 and the new I-75/I-285 interchange, Avia East Cobb residents can quickly and easily reach downtown, midtown, and other suburban office markets. Atlanta's Hartsfield Jackson International Airport, the world's busiest, is just 20 minutes away via I-285.
Residents also enjoy quick connection to the 1.2 million square foot Cumberland Mall, less than five miles away, with 150 stores including by Macy's, Sears, Costco, and an Apple Store. Across Cobb Parkway from the mall is the Cobb Galleria convention center and the $140 million Cobb Energy Centre for the Performing Arts that includes a 2,750 SF theater hosting Broadway shows, the Atlanta Opera, and the Atlanta Ballet.
"With its strong employment growth, excellent quality of life, and relatively low cost of living, we remain bullish on the dynamic Atlanta market," said Kees Bruggen, Managing Director, StoneBridge Investments.  "Our location on the I-75 corridor puts us directly in the path of growth, and in close proximity to great schools, high-end demographics, world-class cultural amenities, and major employment centers."
Originally built in 1973, the community features a resort-style swimming pool, expansive deck with modern stainless steel outdoor grills, and a renovated clubhouse in a historic stone mill. The new ownership plans to enhance the pool area, repurpose under-utilized portions of the clubhouse, relocate and improve the community dog park, and convert the existing dog park area to an artificial grass sport court. Exterior upgrades will include paint and façade modernization.
Stonebridge also will renovate apartment interiors with new or refaced cabinetry, new countertops and flooring, ensuite laundry in every home, plumbing and lighting replacements, and fresh two-inch woodgrain window blinds.
---
About StoneBridge
Active since 1980, StoneBridge and its affiliates have acquired and developed more than $1.7 billion in real estate, primarily in the multifamily sector, for foreign and domestic investors. The company's strong track record and extensive network of relationships allows it to quickly and efficiently identify and pursue new opportunities, many of which are off-market transactions. The company's target markets include the Washington-Baltimore area, the Carolinas, Georgia, Florida, and Texas.  It has offices in Washington, DC and Amsterdam.