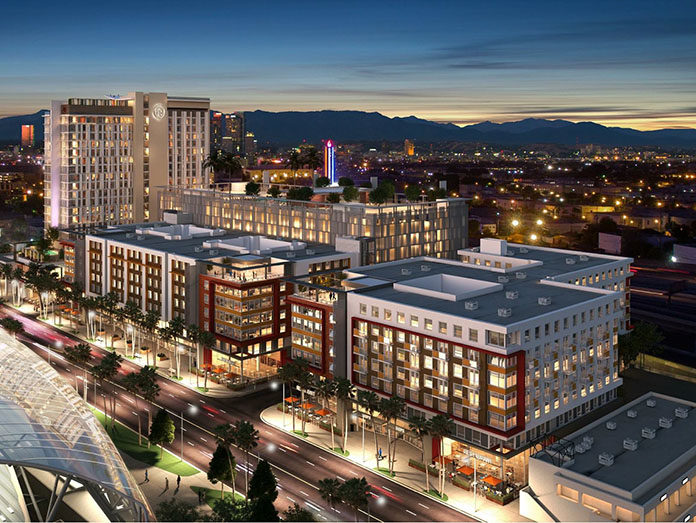 After announcing its recent move to a larger office in Santa Ana to accommodate its growing demand, SVA Architects, Inc. is celebrating another success upon learning that it earned three 2018 Gold Nugget Awards of Merit. The Gold Nugget Awards is considered one of the Nation's largest and most prestigious design competitions.  Representing a diverse portfolio, receiving these Awards of Merit demonstrates SVA's excellence in higher education, urban mixed-use, and luxury multifamily project types.
This year's 55th annual Gold Nugget Awards will recognize outstanding architectural design and planning achievements in community and home design, green-built housing, site planning, commercial, retail, mixed-use development, and specialty housing categories.  The Gold Nugget Awards is part of the annual PCBC® event (formerly known as the Pacific Coast Builders Conference), the nation's largest regional real estate development conference and trade show. Eliciting submissions from around the world, this year's competition drew more than 700 entries. Award of Merit recipients are shortlisted to receive their category's Grand Award, which will be announced at the Gold Nugget ceremony on June 28, 2018 at the Moscone Center in San Francisco, CA.
SVA's 2018 Gold Nugget Merit Award-winning projects include:
The Barn at The University of California, Riverside (Riverside, CA) – Best Educational Project
The Fig (Los Angeles, CA) – Best On-the Boards Mixed-Use Project 
The Enclave at Seabridge (Oxnard, CA) – Best Indoor/Outdoor Lifestyle for a Community – Urban
Ernesto M. Vasquez, FAIA, CEO of SVA Architects, states, "Receiving these three Awards of Merit is truly an honor because it recognizes SVA's excellence across multiple product types. We were able to leverage these outstanding, diverse locations—a college campus, an urban infill site, and a Central California seaside escape—to inspire great design."
---
About SVA Architects, Inc.
Founded in 2003, SVA Architects has become one of the Country's most innovative and respected design and planning organizations. The award-winning firm specializes in urban planning, architecture, and interior design of public, private, and mixed-use projects.  Among the firm's portfolio are civic, educational, residential, commercial and mixed-use developments. The company is headquartered in Santa Ana with offices in Oakland, San Diego, and Honolulu.