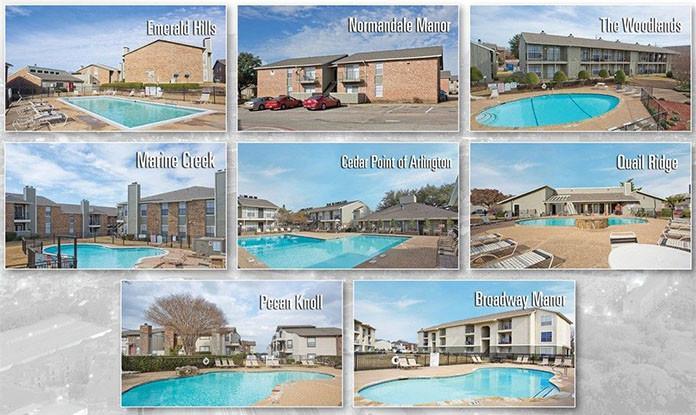 Institutional Property Advisors (IPA), a division of Marcus & Millichap, announces the sale of the Quality Estates Value-Add Portfolio, an eight-property, 2,048-unit multifamily portfolio located throughout the Dallas/Fort Worth Metroplex.
"The portfolio gives the new owner tremendous first-generation repositioning upside," says Will Balthrope, IPA executive director. "Constructed between 1977 and 1985 and held by a single owner for an average of 28 years, the properties have been well maintained by long-term in-house management and have little-to-no deferred maintenance."
Balthrope, Drew Kile, IPA senior director, Joey Tumminello, IPA director, Al Silva, Marcus & Millichap senior director and Ford Braly, Marcus & Millichap senior associate, represented the seller, a private investor based in Canada, and procured the buyer, Texas-based Exponential Property Group.
"The Quality Estates Portfolio's exceptional upside makes it unlike any other recent Metroplex multifamily sale," adds Kile. "Current market rents are significantly lower than the competition, and 95 percent of the units are prime for value-add repositioning."
"At this point in the cycle, untapped portfolio opportunities are difficult to come by," comments Tumminello. "The buyer brought the long-term management company in house and gains economies of scale by purchasing a sizeable and well-diversified portfolio."
The properties are:
Pecan Knoll, 358 units, Garland
Broadway Manor, 134 units, Garland
Quail Ridge, 292 units, Grand Prairie
Cedar Point of Arlington, 272 units, Arlington
The Woodlands, 346 units, Fort Worth
Marine Creek, 248 units, Fort Worth
Normandale Manor, 122 units, Fort Worth
Emerald Hills, 276 units, Fort Worth
---
About Institutional Property Advisors
With a network of senior-level investment advisors located throughout the United States, Institutional Property Advisors (IPA) is qualified to meet the needs of institutional and major private investors. IPA's combination of real estate investment and capital markets expertise, industry-leading technology, superior support services and acclaimed research offer customized solutions for the acquisition and disposition of institutional properties and portfolios.