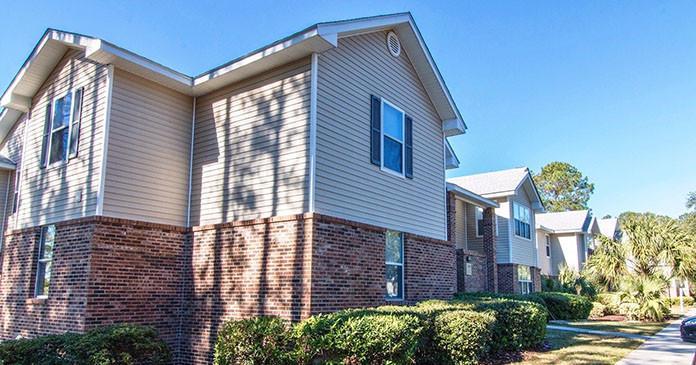 Dominium, a Minneapolis-based leading apartment owner, developer and manager, announced today the completion of the renovation of the 160-unit development in Beaufort, South Carolina. The property formerly known as Waterford Cove has been converted to luxury, market-rate apartments and renamed HarborOne.
HarborOne offers reimagined two and three-bedroom apartments in a secluded setting.  Upgrades to individual apartments include in-home washers and dryers, new countertops, modernized hard surface flooring, new appliances, new flooring, and designer lighting packages. The newly renovated community clubhouse features a game room and internet café, a virtual golf simulator, a fitness center, and a yoga studio.
Outside, HarborOne expanded the amenity package to the outdoor swimming pool, with an outdoor kitchen with a grill and lounge area, and a brand new basketball court. Additional improvements to the property include new roofing, landscaping, and signage.
"HarborOne has been fully transitioned to market rate, luxury apartments," said Terry Sween development associate at Dominium. "The spectacular location and renovations makes this a great place for Beaufort residents to call home."
Located in Lady's Island, far from traffic and noise, HarborOne is a quiet, private dwelling with spectacular views of the waterfront setting.
All 160 units at HarborOne have been transitioned to market rate, and offers an active military discount.
---
About Dominium
Founded in 1972, Dominium is a Minneapolis-based owner, developer, and manager of apartment communities nationwide. With more than 25,000 owned and/or managed units at over 200 sites in 23 states, Dominium is known for creative solutions to unique and challenging development projects, and management expertise. As of 2017, Dominium was ranked second largest owner of affordable housing by Affordable Housing Finance; and 42nd in NMHC 50 Largest Apartment Owners ranking.