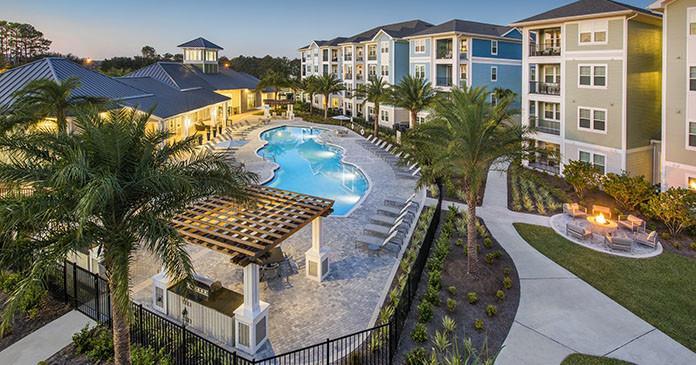 Passco Companies, a privately-held California-based real estate company that specializes in the investment, acquisition, development and management of commercial properties throughout the U.S., has acquired The Point at Tamaya, a 2017-built, Class A+, 380-unit multifamily community in Jacksonville, Florida, for $70 million.
This acquisition brings the firm's multifamily portfolio in the state of Florida to 10 properties totaling more than 3,000 units, according to Colin Gillis, Vice President of Acquisitions, Southeast at Passco.
"This acquisition is well-aligned with our investment strategy, as we continue to identify high-quality multifamily properties situated in submarkets demonstrating strong fundamentals and sustained growth, in Florida and throughout the country," says Gillis. "The Point at Tamaya is an exceptional asset, one of only a few of its caliber in the entire Jacksonville market, which also benefits from a prime location offering convenient access to the area's amenities and employment."
The community is located within close proximity to Interstate 295, with immediate access to the major North-South and East-West corridors of Kernan and Beach Boulevards, allowing for easy access to Downtown Jacksonville, local beaches, Class A retail destinations, and major employment drivers within the Bay Meadows and Deerwood areas.
"Every major point of interest in town can be accessed from the property in less than 15 minutes, and the location within the Tamaya master-planned community allows the resident base to enjoy a quieter, more relaxed environment than housing located within some of the city's more densely-populated neighborhoods," explains Gillis. "The community is thoughtfully laid out over a 30-acre, heavily wooded site with nature preserves winding throughout and around the property, providing residents with a serene living experience."
The Point at Tamaya is the only apartment project zoned within the Tamaya master-planned community, which is rapidly becoming one of the premier newer single-family communities in the state, with new homes being built in the $350,000 to $700,000 range. The community's prime location, exceptional unit interior-design and excellent amenity package has attracted a strong demographic of 'renters-by-choice,' with an average household income of $90,000, Gillis notes.
The asset is also located less than a five-minute drive to St. Johns Town Center, one of the largest retail destinations in Florida, and adjacent employers, as well as the Mayo Clinic, which is currently undergoing a 300,000 square-foot expansion that is expected to bring hundreds of jobs to the region.
"The city of Jacksonville is experiencing job growth at rates that are twice the national average," continues Gillis. "This continuing influx of jobs is driving demand for housing in the city, further indicated by the rapid lease-up of the Point at Tamaya, where absorption frequently exceeded 30 leases per month."
The Point at Tamaya's location and best-in-class quality offer a wonderful opportunity to continue to strengthen the Passco's holdings, especially in the state of Florida, notes Brian Moulder of Walker & Dunlop, who represented both the buyer and seller in this transaction along with Dhaval Patel.
"The Point at Tamaya was one of the fastest lease-ups that we have seen in the entire market," continues Moulder. "We're glad to be a part of Passco's first acquisition in Jacksonville. It was a pleasure working with the entire team on this seamless transaction."
The garden-style community consists of 13 residential buildings, two of which are four-story, elevator-serviced. Features and amenities include two resort-style pools, a dog park, yoga pavilion, internet café, state-of-the-art fitness facility, and business center with attached conference room situated within an expansive resident clubhouse.
The community is located at 3050 Tamaya Blvd. in Jacksonville, Florida.
The property was acquired from Waypoint Residential and Rohdie Management. Chris Black and Caleb Marten of KeyBank Real Estate Capital's Commercial Mortgage Group arranged acquisition financing on behalf of Passco Companies.