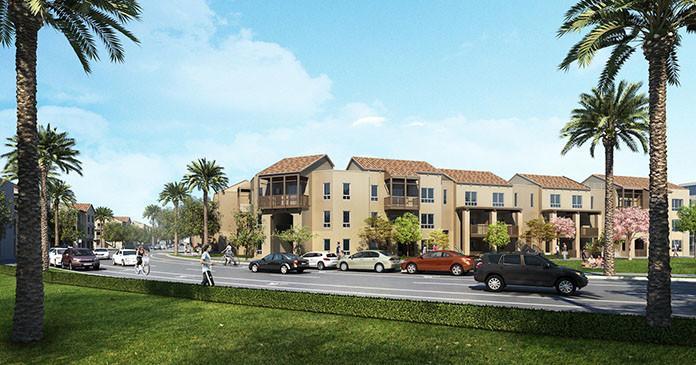 Riverside Capital, LLC, a leading provider of investment capital to high quality affordable housing developers, is pleased to announce it has provided $25.4 MM in Jordan Downs 1B, the second phase of the comprehensive revitalization of the Jordan Downs public housing community in the Watts neighborhood of Los Angeles. The property will be developed and managed by The Michaels Organization in partnership with the Housing Authority of the City of Los Angeles (HACLA).
When complete, Jordan Downs 1B will provide affordable housing for 133 families with low incomes.  The six buildings to be constructed on a currently vacant 4.22-acre lot will contain 15 one-bedroom units, 64 two-bedroom units, 44 three-bedroom units, five four-bedroom units, and five five-bedroom units in addition to two units that will house on-site managers. All units will be affordable to families at or below 60 percent of Area Median Income and 100 percent of the units will be supported by either Rental Assistance Demonstration program or Section 8 project-based subsidies administered by the housing authority. Residents will have access to a wide variety of services focused on educational success, economic stability, health and wellness, and community empowerment.
"Riverside is proud to have been able to work on the complex financing of this important project," noted Sebastian Corradino, president of Riverside. "We look forward to our continued partnership with Michaels and the Housing Authority as they join with the residents of the Jordan Downs community in transforming their vision into reality."
Jordan Downs 1B is part of a larger master plan initiated by the housing authority that will create a revitalized mixed-income and mixed-use neighborhood on the 49-acre site where Jordan Downs is currently located in combination with an adjacent 21-acre parcel. At build-out, the 700 WWII-era units at Jordan Downs will be replaced by approximately 1,400 new homes for existing residents and new neighbors as well as new retail spaces, a new community center, and over 9 acres of open space. Michaels and BRIDGE Housing were selected by HACLA as the master developers for the public housing in 2012. Phase 1A began construction in 2017.
Financing for the project consists of 4 percent Federal Low-Income Housing Tax Credits, Tax Exempt Bonds, a permanent Fannie Mae mortgage through Berkadia Commercial Mortgage, a soft loan from the Affordable Housing and Sustainable Communities Program ("Cap and Trade") of the State of CA Department of Housing and Community Development, and soft loans from the Housing Authority of the City of Los Angeles.
---
About Riverside Capital, LLC
Riverside Capital, LLC, a joint venture of Berkadia and The Michaels Organization, is a full-service tax credit investment company offering capital solutions to developers of high-quality affordable housing. National in scope and serving both for-profit and nonprofit developers, Riverside has guided the financing and syndication for more than 7,500 affordable apartment homes across the country, representing $1 billion of equity capital. With a network of strong investor relationships and a focus on transparency, competitive pricing, and long-term value creation, Riverside is committed to providing financial solutions for affordable housing communities and that lift the lives of the residents who call those communities home.