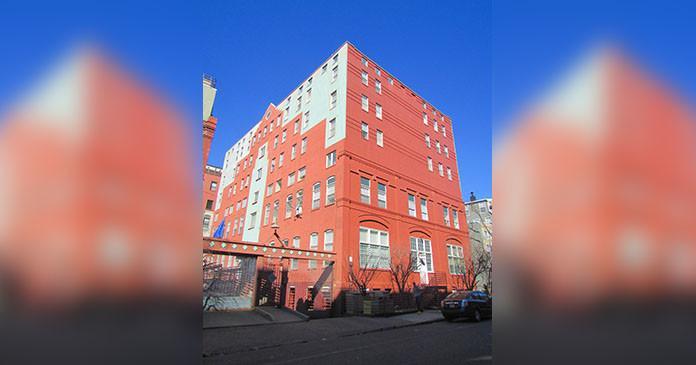 Spirit Bascom Ventures, LLC, a partnership between Irvine, California based The Bascom Group, LLC, and Stamford, Connecticut based Spirit Investment Partners, LLC acquired 1024 Clinton Street in Hoboken, New Jersey for $17.65 million. Spirit Bascom acquired the property from a long-time family owner. The acquisition was the second transaction in partnership with a prominent Middle Eastern family office. Stephen Simonelli of HFF and James Giaccio and Kevin Helsinki of Chelsea Realty represented the seller. Jamie Leachman and Mike Klein of HFF arranged the acquisition financing through CIT Group.
The eight-story former warehouse facility was converted to multifamily use in the early 1990's and contains 37 residential units including a standalone townhome, and a rare 37 space parking structure. Many of the units feature loft style ceiling heights, Manhattan skyline views, and brick and timber accents.
The uptown Hoboken property is adjacent to Columbus Square Park and benefits from easy walkability to the famous Washington Street commercial corridor, the Hudson River Walkway, and multiple public transit options. The plan is to reposition the asset as a boutique institutional quality property.
Spirit Bascom has been focusing on acquiring urban and suburban value add multifamily properties along the eastern half of the country, acquiring over $500 million in assets in the partnership. Spirit Bascom is starting to turn its attention to neglected mixed use assets in the greater New York City area that can benefit from similar high-end renovations.
David Nachman, a principal of Spirit Investment Partners, explains, "We're excited to make our first acquisition in Hoboken. We see it as a market that is positioned favorably from a pricing standpoint to receive many residents unwilling or unable to pay top Manhattan rents." Scott Zwilling, principal of Spirit Investment Partners, adds, "The asset has been neglected for decades. Our business plan for this property is to deliver an institutional quality experience at a more approachable price point to new construction."
---
About Spirit Bascom Ventures
Spirit Bascom Ventures, LLC a joint venture between Spirit Investment Partners, LLC ("Spirit") and The Bascom Group, LLC ("Bascom") was formed to acquire transitional multifamily assets in the eastern half of the United States. Spirit is a Stamford, CT based real estate investment company, owned and operated by principals David Nachman, Scott Zwilling and Ian Hafner. Spirit has completed over $600 million in multifamily transactions since 2012 totaling nearly 4,000 units located in 9 states. Bascom is a private equity firm specializing in value-added multifamily, commercial, and non-performing loans and real estate related investments and operating companies. Bascom sources value-added and distressed properties including many through foreclosure, bankruptcy, or short sales and repositions them by adding extensive capital improvements, improving revenue, and reducing expenses by realizing operational efficiencies through implementation of institutional-quality property management. Bascom, founded by principals Jerry Fink, David Kim, and Derek Chen, is one of the most active and seasoned buyers and operators of apartment communities in the U.S. Since 1996, Bascom has completed over $15.5 billion in multifamily and commercial value-added transactions including more than 321 multifamily properties containing over 83,986 units.  Bascom has ranked among the top 50 multifamily owners in the U.S. Bascom's subsidiaries and joint ventures include the Southern California Industrial Fund, Rushmore Properties, Bascom Portfolio Advisors, Shubin Nadal Associates, Spirit Bascom Ventures, REDA Bascom Ventures, MHF RM Holdings, Bascom Northwest Ventures, Bascom Arizona Ventures, Harbor Associates, Village Venture Partners, Bascom Milestone Ventures, and the Realm Group.  Bascom's subsidiaries also include Premier Business Centers, the largest privately held executive suite company in the U.S.