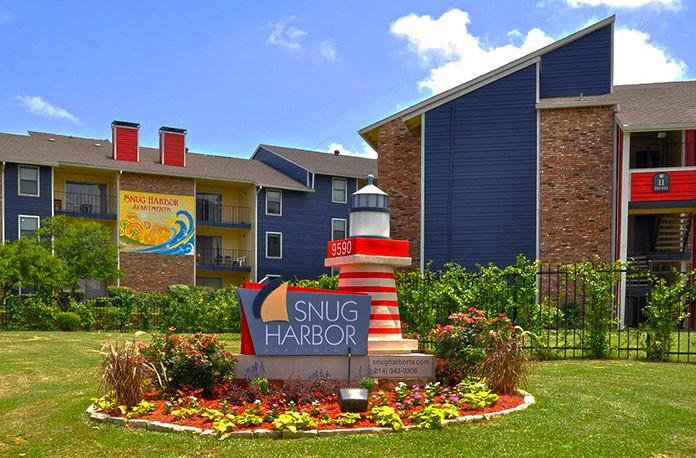 Transwestern today announces its Dallas-based Multifamily Investment Services group brokered the sales on 12 apartment communities in North Texas, totaling 3,200 units. Transwestern Managing Director Taylor Snoddy and Vice Presidents Philip Wiegand and James Roberts negotiated the transactions valued at $275 million, bringing the team's sales volume at mid-year to $560 million, with a total of 30 deals in 2018.
"This year's robust sales volume is indicative of the strength of the Dallas multifamily market right now," said Snoddy. "These 12 assets, consisting of both portfolio and individual property sales, span seven cities and three of the four major counties in the Metroplex, proving the depth of the North Texas region is not specific to submarkets."
The following are details on each transaction:
Deerfield, a 256-unit community at 9670 Forest Lane in Dallas, and neighboring community Snug Harbor, a 236-unit community at 9590 Forest Lane, was sold on behalf of WRH Realty Services.
Edentree, a 360-unit community at 1721 E. Frankford Road in Carrollton, was sold on behalf of Beachwold Residential to a 1031 buyer.
Chestnut Ridge, a 356-unit community at 8951 Randol Mill Road in Fort Worth, was sold on behalf of Beachwold Residential to a New York-based buyer.
Highland Road Village, a 332-unit community at 2704 S. Cockrell Hill Road in Dallas, was sold on behalf of Code Capital.
Carrollton Oaks, a 320-unit community at 2500 Guerrero Drive in Carrollton, sold on behalf of a partnership between Nitya Capital and Ashcroft Capital to an all-cash buyer.
Brentwood, a 292-unit community at 8300 Brentwood Stair Road in Fort Worth, was sold on behalf of GWR Equities.
Place on the Park, a 272-unit community at 2021 E. Pioneer Parkway in Arlington, was sold on behalf of GWR Equities.
Pointe on Calloway, a 214-unit community at 200 Booth Calloway Road in Hurst, was sold on behalf of S2 Capital to a local investment group.
Hillstone on the Trail, a 176-unit community at 5707 Bellaire Drive S., and neighboring community Hillstone Trinity Oaks, a 166-unit community at 5608 Royal Lane, was sold to a Texas-based investment group, with Transwestern representing both buyer and seller in the transaction.
The Oaks, a 147-unit community at 4614 Pioneer Road in Balch Springs, was sold on behalf of the seller to a West Coast buyer.
Since 2014, Transwestern's Dallas Multifamily Investment Services group has averaged a closing every seven business days, with transactions totaling 41,000 units and more than $2.4 billion in aggregate value during that time. The team's success is a direct result of their expansive database, deep relationships and a keen understanding of the local and national investment communities.
---
About Transwestern
Transwestern is a privately held real estate firm of collaborative entrepreneurs who deliver a higher level of personalized service – the Transwestern Experience. Specializing in Agency Leasing, Tenant Advisory, Capital Markets, Asset Services and Research, our fully integrated global enterprise adds value for investors, owners and occupiers of all commercial property types. We leverage market insights and operational expertise from members of the Transwestern family of companies specializing in development, real estate investment management and research. Based in Houston, Transwestern has 35 U.S. offices and assists clients through more than 211 offices in 36 countries as part of a strategic alliance with BNP Paribas Real Estate.