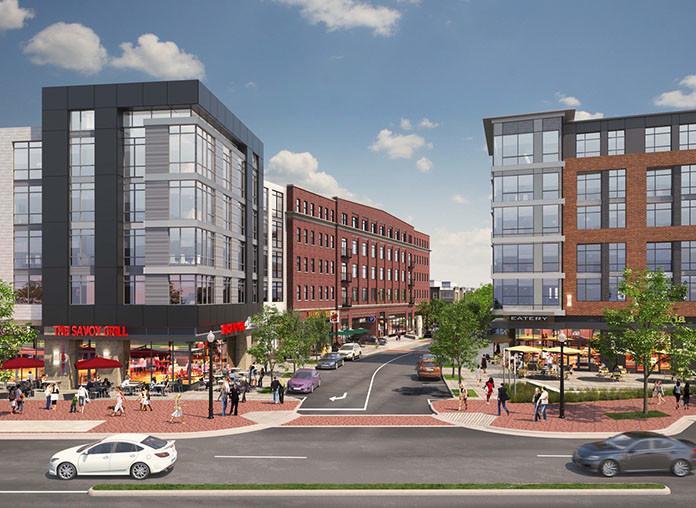 Novare Group and Mulberry Development Group have broken ground on Cameron Park, a 302-unit class-A mid-rise apartment project adjacent to the award-winning Cameron Station community and the Van Dorn Metro Station.
The transit-oriented development will offer residents a true live-work-play experience with walkable access to multiple parks, restaurants and entertainment. Situated in the West End of Alexandria, Va. in the Landmark/Van Dorn neighborhood, it offers easy access to Washington D.C.
"Cameron Park is a very exciting project, giving our future residents the opportunity to live in close proximity to their work, and to enjoy all that West End Alexandria has to offer," said Nixon Jefferson, President of Mulberry Development Group. "We are pleased to be a part of a strong development team including Novare Group, Mill Green Partners, Preferred Apartment Communities, and Fortune-Johnson."
"We are excited to be underway in Alexandria with an experienced partnership including Mulberry Development Group and Preferred Apartment Communities," said Jim Borders, President of Novare Group. "The proximity to Metro, access to D.C., and the setting in the West End area of Alexandria make this an attractive site, where we will build a world-class community with an outstanding amenity package."
With studio, one-, two- and three-bedroom units, the project will total 249,526 square feet and offer best-in-class amenities including twin courtyards—one with large pool and sun deck, grilling stations and outdoor cabanas, the other with secluded seating areas and quiet spaces. It will also have a fully-equipped fitness center, separate yoga room, stylish clubroom featuring a Nanawall opening to the courtyards as well as a separate game room, cyber café, business center and private offices.
Novare Group and Mulberry Development Group are sponsoring Cameron Park with Mill Green Partners. Preferred Apartment Communities and Citizens Bank are providing the construction financing. KTGY Architecture is the project architect, and Fortune-Johnson is the general contractor.
Construction is expected to take 24 months, with first move-ins the first quarter of 2020.
---
About Novare Group
Novare Group is a real estate development and investment company headquartered in Atlanta, Georgia. Since 1995, Novare Group has developed over 14,000 residences in 43 developments in the United States.
About Mulberry Development Group
Mulberry Development Group is a multifamily real estate company focused on mixed-use, high-density developments in urban, in-fill locations. Primarily focused on Class A multifamily properties throughout the Southeast in major metropolitan markets, including market-rate conventional housing, student housing and independent living, Mulberry Development is responsible for all aspects of acquisition, entitlement, development, design, program and construction management.
About Mill Green Partners
Based in Atlanta, Ga., Mill Green Partners ("MGP") was founded in 2014 by real estate veteran, R. Gregory Fox. MGP has an exclusive arrangement to provide equity capital for the development projects of four experienced developers of multifamily communities, otherwise known as the "Development Companies." The Development Companies have a strategic alliance with Preferred Apartment Communities, Inc. ("PAC"). Key principals of the Development Companies and key executives at PAC have long-term ties with Greg Fox. PAC provides mezzanine loans to the development projects of the Development Companies and also enters into purchase options to acquire the projects once stabilized. MGP raises equity capital through accredited investors who purchase limited liability company membership interests in funds sponsored and managed by MGP. These funds invest in membership interests in the development projects of the Development Companies with the strategy of the funds' liquidity coming from PAC exercising its purchase options to acquire the development projects after stabilization.
About Preferred Apartment Communities 
Preferred Apartment Communities, Inc. is a Maryland corporation formed primarily to acquire and operate multifamily properties in select targeted markets throughout the United States.
About Fortune-Johnson
With over 22,000 units completed, Fortune-Johnson is the premier contractor for building multifamily projects in the Southeast and Mid-Atlantic. The construction projects showcase a wide range of product types, including garden-style apartments, assisted living facilities, student housing and complex, high-density, mixed used developments.