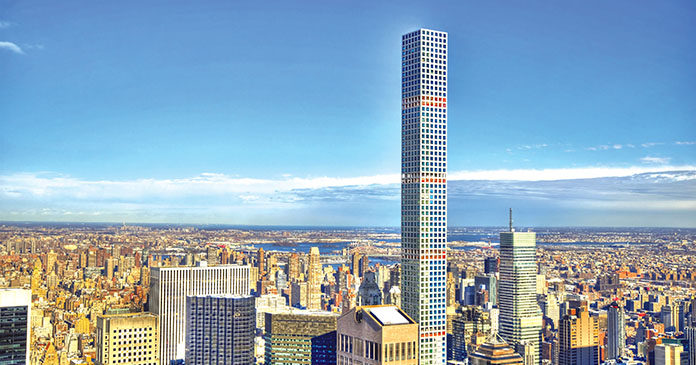 On a clear day, Tal Alexander can see for nine miles all the way to LaGuardia Airport from his apartment at Manhattan's 432 Park Avenue, the tallest residential-only tower in the world, at 1,396 feet.
"I have a clear shot of Central Park, and looking west, I'm staring straight at President Donald Trump's penthouse at Trump Tower," says Alexander, a power broker with Douglas Elliman, who rents a unit on the 58th floor. The higher one goes at 432 Park, the more disconnected one feels from the busy streets below. An apartment on the 95th floor—more than 30 units above Alexander—feels remote, towering above a cityscape that's so still and soundless it could be a photo.
The privacy and cruise-like amenities—the building offers residents a private restaurant, gym, boardroom, and 18-seat theater—make Alexander feel that he's out at sea. "The only thing I can compare it to is living on a boat," he said.
In the next five years, developers worldwide, most notably in cities like New York, Dubai, and Bangkok, are set to complete about 50 residential and partially residential towers climbing at least 984 feet—roughly the length of three soccer fields and the minimum to qualify as "supertall," according to the leading authority on skyscrapers, the Chicago-based Council on Tall Buildings and Urban Habitat. That's more than double the number currently standing, a boom that underscores the growing desire among the world's super wealthy to live above it all.
By the end of this year, China's megalopolises will boast eight semi-residential skyscrapers soaring 984 feet or more. In Bangkok—which draws wealthy buyers from all over Asia— developers are on track to complete the city's first strictly residential supertall, the 1,033-foot Magnolias Waterfront Residences.
"When there's a squeeze on available land, the only way forward is up," says Dan Safarik, editor at the Council on Tall Buildings. The flurry of supertall construction catering to a booming class of ultra-high-net worth Asians has also taken hold in Mumbai, Kuala Lumpur, Malaysia, and Seoul, according to data from the council.
Super engineering
If not for modern feats in engineering, however, high wind speeds would cause supertall apartments to feel more like multimillion-dollar funhouses. "At some point, people perceive motion under wind," says Robert Sinn, a principal engineer at Thornton Tomasetti. "That needs to be minimized so that people don't become afraid or get sick, or the motion becomes so frequent that it becomes objectionable." Sinn's office is overseeing the structural soundness of the tallest skyscraper in the global pipeline: Jeddah Tower, a mixed-use office-hotel-condo skyscraper in Jeddah, Saudi Arabia, that will soar more than 3,281 feet and 167 stories when completed in 2021.
The taller and slimmer buildings get, the more the wind can bat them about and the more architects need to work directly with engineers to make sure residents don't feel like they're in a Tilt-A-Whirl, Sinn explains. Engineers have spent considerable time testing a scale model of Jeddah Tower in a wind tunnel in Ontario, Canada, Sinn says. It's important to get it right, since the building's own developer, billionaire Prince Alwaleed bin Talal, of Kingdom Holding Company, will own the highest penthouse. "I can't guarantee that he or his family won't feel anything, but it will be very comfortable," Sinn says.
Breakthroughs in concrete construction have also allowed for more creativity and slenderness of design in skyscrapers, Sinn says.
"Concrete, in general, will behave a little bit better than steel, most particularly for the perception of motion," Sinn says. "An eight-inch thick concrete slab is also good for noisy neighbors." At 432 Park in Manhattan—developed by Macklowe Properties and CIM Group—engineers hung two enormous concrete blocks, called tuned mass dampers and weighing 1,300 tons, in the mechanical 84th floor. They serve as a counterweight against the wind so that residents can brag about views of the planes at LaGuardia Airport without feeling like they're on one.
Meanwhile, elevators in supertalls can be supremely complicated. Jeddah Tower, for one, is so tall that residents will have to ride to their apartments in stages, transferring partway up, explains Santeri Suoranta, head of technology for major projects at Finland-based Kone, which is providing the elevators and escalators there.
Kone has also developed proprietary carbon-fiber elevator cables that are a fraction of the weight of standard steel cables. The lightweight cables ensure the elevators at Jeddah Tower will keep working even under sway from very high wind speeds, Suoranta says. Engineers have discovered limitations on elevator speeds: People can travel upward comfortably at more than 33 feet per second, but any faster than that on the trip down can cause malfunctions in a valve between ear and nose. "For some people it can be quite painful," he says.
Super prices
Manhattan's first supertall residential building, One57, stands 75 stories at the southern edge of Central Park. From the window of a $27 million unit on the 61st floor, evidence of the supertall boom looms in view.
Several blocks to the east, towering above it all, is 432 Park; closer are cranes busy erecting an 82-story condominium at 53 West 53rd St., which will open next year, and the supertall (and very slender) Steinway Building on West 57th Street. Directly west of One57, floors are piling up at the 95-floor condominium Central Park Tower—which will eclipse 432 Park as New York City's tallest residential building when completed in 2020, at 1,550-feet. Altogether, the buildings create a wall of skyscrapers that many New Yorkers fear will cast long shadows over their beloved Central Park. In New York and in most cities, only the ultrawealthy can afford to live at superlative heights.
Developer Extell is betting that its Central Park Tower can be the first building in the Big Apple to sell 20 units at $60 million and above.
The developer has already had some success at its other supertall, One57. Dell Technologies CEO Michael Dell broke the city's price record when he paid $100.47 million for a duplex at Extell's One57 in 2014, The Wall Street Journal revealed earlier this year. Besides the pool and the private billiards room, owners like Dell get on-call concierge services, for which no request is too outlandish, says Sascha Torres, a manager at New York-based concierge Luxury Attache, which services One57 and Central Park Tower. "We're the go-to people for everything," Torres says, "from home services to planning their travel to getting them tickets to the Oscars or the Grammys."
The desire to live at new heights is hardly confined to New York. The Crown Sydney, which will be Sydney's tallest building at 889 feet, fetched Australia's priciest condo sale when casino mogul and the building's developer, James Packer, snagged the penthouse for A$60 million.
Meanwhile, more than a third of all residential and mixed-use residential supertalls in the world are in Dubai, a haven for the Middle East's, and increasingly India's, wealthy elite.
"When you're in a forest of skyscrapers the best way to get a good view is to one-up your neighbors," says Faisal Durrani, head of research at Cluttons, a London-based property consultancy focused on the Arab Gulf. The city also boasts the world's tallest building, the Burj Khalifa, at 2,617 feet and 163 floors, home to people in the ruling families' inner circle and wealthy Emiratis who've bought units in the trophy building in an effort to keep up with the royals. "High-net-worth individuals are always very curious about what others are buying," Durrani says.
The future of supertalls
In Los Angeles, the desire to live in the clouds is shifting a luxury market long grounded in the mega mansions of Bel Air and Beverly Hills. Co-developers The Peebles Corp., MacFarlane Partners, and Claridge Properties are slated to complete the West Coast's first supertall hotel-condominium by 2024. The mixed-use twin-tower project, known as Angels Landing, will rise 1,001 feet and have 125 condo units averaging about 2,500 sq. ft. each, according to the developer. In 2017, Los Angeles ranked No. 1 in the U.S. for attracting foreign capital investment, according to a study from real estate consultancy CBRE. But Angels Landing developer Don Peebles says he expects the luxury units to draw buyers mostly from La La Land's high-end single-family market. "Until now, there's nothing that has gone head to head with single-family homes." Besides Angels Landing, crews will break ground in 2020 on Figueroa Centre, a hotel-condo tower in downtown Los Angeles that will rise to 975 feet—just 10 feet shy of supertall status.
Angels Landing and Figueroa Centre will be the third and fourth tallest buildings in the city when they are completed by 2024. "You have this demand for more efficient living in L.A.," Peebles says. "Downtown Los Angeles will ultimately become more like Manhattan by necessity."
Efficient living isn't confined to millennials. The world's billionaires are increasingly buying homes in fully serviced, amenity-rich high-rise developments in multiple cities instead of sprawling private estates, according to Andrew Amoils, head of research at South Africa-based New World Wealth, a global market research group. "They have houses in two or three different cities and you have to have staff for each one. There's an admin cost attached to that," Amoils says. "In our talks with wealth managers and family offices, that's driving people toward a home where you just pay one person."
Wealthy buyers from Asia will underpin much of the demand for luxury worldwide over the next decade. There will be 448 more Chinese billionaires created during that time, according to New World Wealth's analysis, and they've already shown a desire for supertall living. A Chinese billionaire bought a A$25 million penthouse at Melbourne's Australia 108, which will be the tallest residential tower in the country at 1,350 feet and 100 floors when completed in 2020, Mansion Global previously reported.
Last year, another Chinese buyer reportedly purchased three half-floor units at 432 Park for $91 million, the biggest New York City transaction in 2017. For some, the appeal of these buildings comes down to simple bragging rights, says Alexander, who not only lives at 432 Park but also has represented sellers there. "This is the tallest residential building in the city today and with that come the best views," he says. "There's a lot of appeal in that."
Author: Beckie Strum, Mansion Global