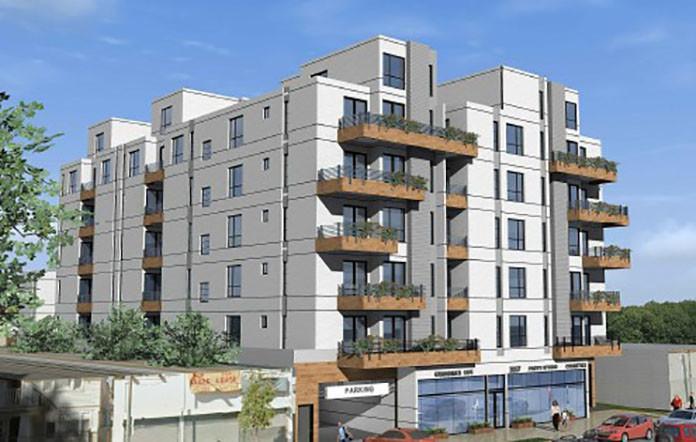 George Smith Partners, one of the nation's leading commercial real estate capital advisors, has successfully secured $22.3 million in financing for the ground-up development of a 51-unit workforce multifamily property with 3,350 square feet of ground-floor retail in the Koreatown district of Los Angeles. The property developer is a joint venture between Index Real Estate Investments, Inc. and Ketter Construction.
The financing was arranged by Jonathan Lee and Shahin Yazdi, both Principals and Managing Directors of George Smith Partners.
"Development in Koreatown is booming, presenting both advantages and challenges for property owners," says Lee. "As experienced developers, the Index Real Estate/Ketter Construction partnership recognizes the demand drivers in this neighborhood, including the opportunity to deliver a property that will attract consistent renter demand from people who are priced out of more expensive LA submarkets."
The current challenge for owners and developers is high competition for financing, according to Yazdi.
A recent report from JLL cited 34 developments that are underway in Koreatown, contributing approximately 3,000 housing units, 474 hotel rooms and 380,000 square feet of retail in the years ahead.
"With so much construction in the market, borrowers must be prepared for creative solutions to compete for competitive debt," says Yazdi. "In this case we were able to achieve financing for 89 percent of the project cost by bifurcating the loan structure. This strategy enabled us to achieve competitive terms among several finance sources."
George Smith Partners structured the financing as an A/B execution, with a senior lender that was willing to advance up to 75 percent of cost subject to a 65 percent valuation upon stabilization. The team layered on a $5,000,000 mezzanine tranche and negotiated a partial deferral of the development fee to round out the capital stack.
The $17.3 million senior loan was priced at LIBOR plus 375 and a half-point for the 36-month term. The $5 million tranche was priced at 12.25 percent annual.
The new development, located at 3057 W. Pico in Los Angeles, will be Index Real Estate and Ketter Construction's second development in the Koreatown district in recent years. The partnership also developed a 40-unit for-sale condominium project on Harvard Blvd. and 11th Street.
At 3057 W. Pico, the partnership is focused on offering high-quality housing at rental rates that are reasonably affordable when compared to nearby LA submarkets, according to Pablo Kupersmid, Principal of Index Real Estate Investments, Inc.
"This is a prime location in a dense urban area with a tremendous need for housing," says Kupersmid. "We are taking a thoughtful approach to ensure the development is well-aligned with the needs of the local market. For that reason, this will not be a luxury product. Rather, the property will provide quality housing with on-site amenities, including ground-floor retail, an open community space and a fitness center, without over-amenitizing – making it a perfect fit for workers in the region."
The property is in close proximity to a wide variety of employment, retail, entertainment, and transit options.
Construction is underway on the development, with an anticipated completion date in early 2020.
---
About George Smith Partners
Celebrating 25 years in business, George Smith Partners is a leading national provider of capital market advisory services to the commercial real estate industry. The firm specializes in arranging financing for commercial and multifamily properties, including acquisition, construction, bridge and permanent loans, as well as mezzanine loans, highly leveraged participating loans and joint venture equity. The company has arranged more than $52 billion in financing since its inception.