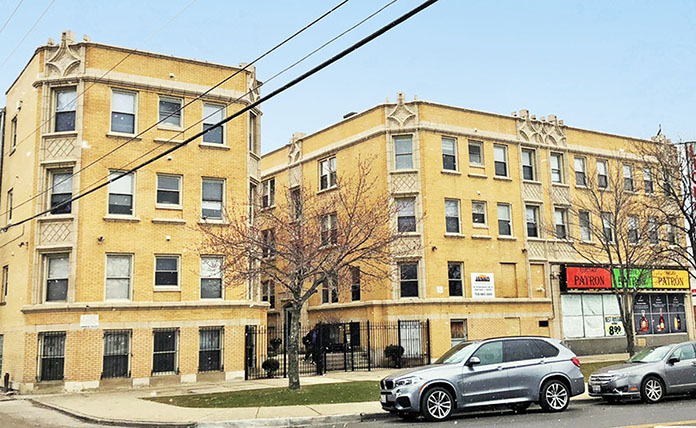 Interra Realty, a Chicago-based commercial real estate investment services firm, today announced it has brokered the sales of a $2.1 million mixed-use property and $2.1 million rental community in Chicago's Austin and Bronzeville neighborhoods.
"These deals illustrate the interest investors have in buildings with a reliable performance in neighborhoods that have experienced less price appreciation," said Jon Morgan, co-founder and managing principal of Interra Realty. "Because of our block-by-block familiarity with these areas, we are able to source opportunities for buyers who are interested in properties with upside potential."
5550 W. North Ave.
This mixed-use building in Chicago's Austin neighborhood comprises 31 rental units and four retail spaces, three of which were leased at the time of sale. Nearly 100 percent occupied, the 17 two-bed/one-bath and 13 one-bed/one-bath apartments feature loft-style exposed brick, renovated kitchens and baths, central air, and in-unit washer/dryer hook-ups. The building was recently improved with updated electrical and plumbing.
Lucas Fryman, director at Interra Realty, represented the buyer and seller in the transaction, which resulted in one of the highest-ever per-unit prices in the neighborhood at $60,000.
"The sale at 5550 W. North Ave. is a great example of continued investor demand for economies of scale through the acquisition of larger apartment buildings with upgraded finishes and stable operations," said Fryman. "A recently executed, personally guaranteed long-term retail lease and consistent occupancy in both the multifamily and retail spaces made this property even more attractive."
4901 S. Michigan Ave.
Located in Chicago's Bronzeville neighborhood, this 20-unit multifamily building includes a mix of larger two-, three- and four-bedroom apartments. At over $105,000 per unit, the sale represents the one of highest-ever prices per unit for an existing apartment building in the surrounding area. The buyer is planning a small capital investment to improve the façade of the building, which was built in 1898 and last underwent a renovation about 10 years ago, with smaller upgrades over the last decade.
Interra Managing Partner Brad Feldman and Director Adam Saxon represented both the buyer and seller.
"Bronzeville continues to attract a range of renters, creating opportunities for investors who are willing to improve existing buildings to enhance their marketability," said Feldman. "With its larger floor plans and 100 percent occupancy at the time of closing, this building was on the market less than a month and generated multiple offers."
---
About Interra Realty
Founded in 2010, Interra Realty is a Chicago-based commercial real estate services firm that delivers integrated, tailored solutions through its boutique, client-focused approach and team of experienced professionals. Since its inception, the firm has closed thousands of transactions valued in excess of $1 billion spanning the multifamily, office and retail sectors, as well as loan sales. Interra's clients range from private investors and high-net-worth individuals to large financial institutions, private equity groups and hedge funds.