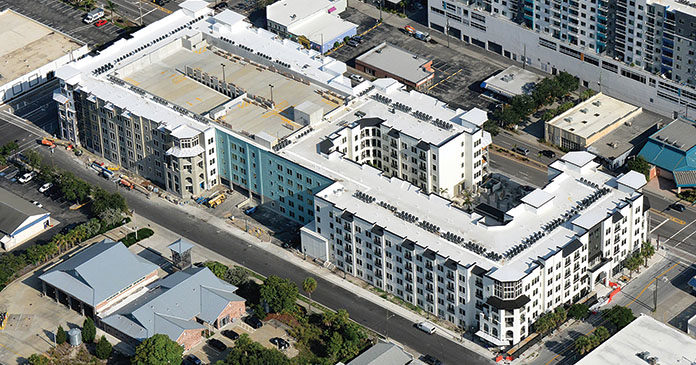 Despite an abundance of new product, interest rate hikes and heightened competition, investors' collective appetite for buying multifamily rental projects region-wide appears to be undiminished.
In the past two months alone, a half-dozen projects throughout the region have traded for in excess of $200,000 per door, or at figures exceeding $50 million—a sign that interest generated by the area's population in-migration and job growth continues unabated.
At least part of the trend can be attributed to the availability of capital. Experts say debt financing remains abundant, years into a growth cycle that has defied economic gravity.
But part of the continued investor interest stems from Florida's population influx. By some estimates, the number of residents grows by 1,000 daily.
"Florida is a very high-growth market," says Peter Collins, co-founder and managing partner of Forge Capital Partners, a Tampa-based investment firm that owns or has financed several multifamily rental projects throughout the region, including the new 228-unit Arcos Apartments in downtown Sarasota—a joint venture with the Framework Group.
"Investors look at the rents being achieved today and those that are forecast out and they like the returns," Collins said. "Buyers ranging from pension funds to private equity to REITs, high net worth individuals to those with 1031 funds, they're all looking to tangible assets like apartments to place capital into."
"Florida is astounding because of all its population growth, and those people coming here all need a place to live," Collins said.
That need has pushed occupancy and rent rates upward over the past five years.
In the metropolitan area that comprises Tampa, St. Petersburg and Clearwater, effective rent rates edged upward by 0.6 percent, to $1,156 monthly at the end of the first quarter, according to statistics from AxioMetrics Inc.
On an annual basis, that increase pushed rents upward by 3.4 percent on an annual basis, the company states.
At the same time, occupancy increased to 95.2 percent at the end of the quarter, up from 94.8 percent during the same period a year ago.
Going forward, AxioMetrics expects rental rates next year to rise by 2.9 percent, with occupancy climbing to 95.3 percent by the end of 2019.
By the close of 2022, annual rent growth is projected to grow by another 2.6 percent—even as occupancy averages 94.8 percent.
Job growth projections are expected to follow suit, with a projected 2.1 percent bump in 2019, resulting in 28,020 new jobs created in the Tampa-St. Petersburg-Clearwater region, according to the U.S. Bureau of Labor Statistics. Between 2020 and 2022, growth is anticipated to be 1.1 percent, the bureau estimates.
As of May, job growth in the area was 2.3 percent, a figure equal to 30,400 new jobs being added on a 12-month basis.
Those figures have prompted industry veterans like Greystar, Passco Cos., Gamma Real Estate, Lantower Residential, Investcorp and others to double down on their multifamily rental purchases and add to their portfolios.
Most recently, Ontario, Canada-based Starlight Investments spent nearly $117 million to acquire the Tuscany Bay Apartments and Preserve at Westchase apartments, both in Tampa. The acquisitions, from IMT Residential of California, brings to 35 the number of apartments valued at $2.7 billion in Starlight's U.S. multifamily portfolio.
Passco officials say the company is eager to add to its Florida holdings, in part, because, unlike many pockets of the country, the Sunshine State remains relatively affordable for apartment buyers.
"We were able to buy at below replacement cost, which is not the case in some markets we look in, where there isn't as much ability to generate income long term," said Colin Gillis, Passco's VP of acquisitions in the Southeast U.S., following the company's May purchase of the 360-unit Longitude 82 complex in Sarasota County.
Passco, like many buyers including Lantower, was drawn to the community because of its relative new age: Longitude 82, for instance, was completed in 2017, while Anson at Palmer Ranch—purchased by investment firm Australian Super and Sentinel Real Estate of New York for $54.7 million in June—didn't begin its lease-up until January.
Gillis says Passco specifically targets new construction because it often means the company can minimize its own capital expenditures initially.
"Because they're new they're low maintenance," Gillis says. "It's good-looking architecture, and the amenity package is as good as it gets."
But multifamily brokers say in-migration and job growth are by far the most important factors that buyers look for when approaching a market, followed by replacement costs.
"For apartments, Central Florida is one of the highest growth markets in the entire country," says Craig Brown, a senior associate and market leader for multifamily properties with commercial real estate brokerage firm Colliers International in the Tampa and Central Florida areas.
"And that's because of net migration and job growth. Many investors continue to look to Tampa and Orlando because they know they can generate better returns than in many other areas. The tremendous demand has pushed capitalization rates to historic lows."
Forge Capital's Collins notes that many purchases of new apartment complexes stem from a dearth of new development. Sarasota, for instance, hadn't had a new apartment community developed in the city in 25 years before a city overlay district boosted density allowances and spurred more than 1,500 new multifamily rental units.
That, in turn, prompts purchases by longer-term investors.
"I'm not so sure I would want to deliver new apartment units in downtown Cleveland, say, but I am very comfortable bringing new units to downtown Sarasota," says Collins. "It's just a matter of looking at the growth and the forecasts to see what the real need for a community is."
And with job and population growth projections for the Gulf Coast continuing to surge for at least the next three to four years, Brown and others maintain that apartment sales will remain steady.

Excerpt: Kevin McQuaid, Business Observer