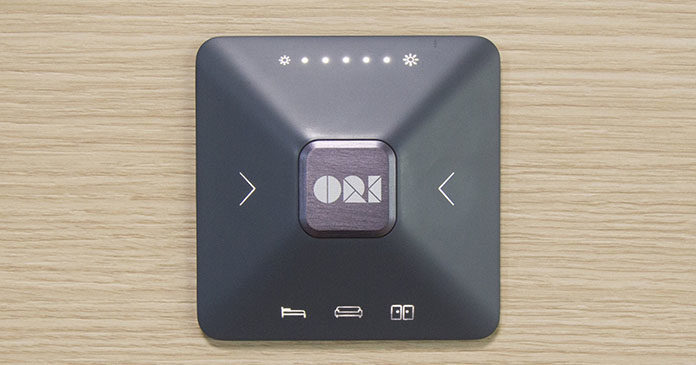 Federal Realty announced today that the Ori robotic furniture system is now available at the residences at Pike & Rose. Ori systems can create a room on demand, morphing a single room from a bedroom to an office, dressing room, or living room at the touch of a keypad, tap of an app, or voice command.
The Ori system is another example of how Pike & Rose offers those who live and work in the 24-acre neighborhood, ease and convenience, but also innovative and revolutionary approaches to living.
"Pike & Rose is introducing advanced and progressive solutions that far surpass traditional consumer expectations," said Mike Ennes, Vice President – Residential, Federal Realty. "The pedestrian-friendly, all-inclusive Pike & Rose is continually employing ground-breaking concepts and solutions in ways not seen before. From the 17,000-square-foot urban rooftop farm to activating a future development space into a beach to robotic apartment furniture, Federal Realty's Pike & Rose has reshaped North Bethesda and set a new standard for mixed-use development across the United States."
"Because the Ori system multiplies the efficiency of space in a small footprint, residents don't have to choose between a prime location or more square footage," said Hasier Larrea, founder and CEO of Ori. "The new Ori-equipped apartments at Pike & Rose give residents the affordability of a studio with the functionality of a one-bedroom."
Pike & Rose's unique features also include:
A 17,000 square foot roof top farm, the largest soil-based roof top farm in the Mid-Atlantic, where all produce grown will travel no more than a few blocks from farm to table.
9 walkable square blocks, to get (and keep) people outdoors, including a short walk to White Flint metro; or an easy bike ride to nearby Bethesda Trolley Trail via Capital Bikeshare located in Pike & Rose.
The Beach, a pop-up summer destination, where office workers can take their meeting outdoors and families can play in the sand
First to market restaurants and retailers such as the newly opened ice creamery The Baked Bear and opening later this year taco and cocktail joint Nada and French-Mediterranean Julii from the founders of Cava.
The Pike & Rose solar program exemplifies Federal Realty's commitment to sustainability initiatives – Federal Realty is the REIT leader in solar installations as a percentage of portfolio.
---
About Federal Realty
Federal Realty is a recognized leader in the ownership, operation and redevelopment of high-quality retail based properties located primarily in major coastal markets from Washington, D.C. to Boston as well as San Francisco and Los Angeles. Founded in 1962, our mission is to deliver long term, sustainable growth through investing in densely populated, affluent communities where retail demand exceeds supply. Our expertise includes creating urban, mixed-use neighborhoods like Santana Row in San Jose, California, Pike & Rose in North Bethesda, Maryland and Assembly Row in Somerville, Massachusetts. These unique and vibrant environments that combine shopping, dining, living and working provide a destination experience valued by their respective communities. Federal Realty's 104 properties include over 2,900 tenants, in approximately 24 million square feet, and over 2,000 residential units.
Federal Realty has paid quarterly dividends to its shareholders continuously since its founding in 1962, and has increased its dividend rate for 50 consecutive years, the longest record in the REIT industry. Federal Realty shares are traded on the NYSE under the symbol FRT.
About Ori, Inc.
Ori is transforming urban living, one square foot at a time. The company's robotic interiors enable the elegant and effortless transformation of any room.